The 5 Best Goalkeepers in the World - Ranked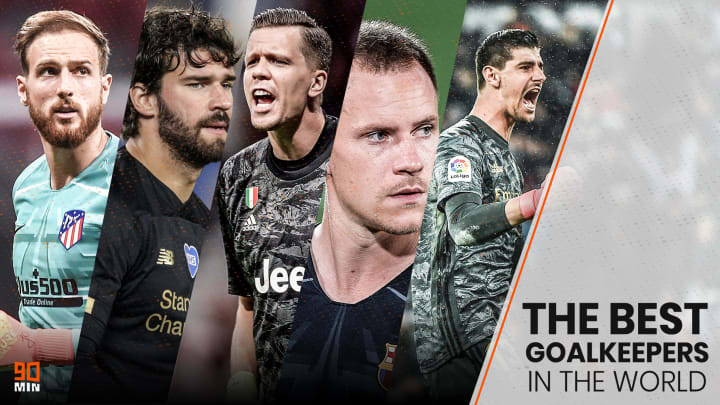 The life of a goalkeeper is lonely but rewarding, unlike any other position in football. They can pull off the matchwinning save and be hailed as the hero, yet one human error invites an onslaught of slander.
Every serial winning team is built on a world class goalkeeper, and while the task of guarding the goal is tough, world football has been blessed with a plethora of talents. Yet whenever number ones are discussed, there is one simple question: who is the number one goalkeeper?
This is 90min's ranking of the top five goalkeepers in the world.
---
5.

Thibaut Courtois
Real Madrid's Thibaut Courtois. / Quality Sport Images/Getty Images
Courtois' rise to the top has been a long time coming, having signed for Chelsea in 2011 before spending three years on loan at Atlético Madrid.

His time at the Vicente Calderon and at Stamford Bridge saw him grow into one of the world's finest goalkeepers, before making a dream move to Real Madrid – where he helped secure a 34th La Liga title (after an, erm, iffy start).

Courtois' huge stature makes him a commanding figure in the box, while still allowing him to get down low for shots in superb fashion. He has won trophies wherever he has played, helping Belgium to a historic third-placed finish at the 2018 World Cup to add to his 11 major club honours.

Read Grey Whitebloom's overview of Thibaut Courtois here
---
4.

Wojciech Szczesny
Juventus' Wojciech Sczcęsny. / Jonathan Moscrop/Getty Images
Although he made his name in England with Arsenal, Szczęsny's move to Italian giants Juventus transformed his goalkeeping status.

Replacing the legendary Gianluigi Buffon was no easy feat, but it was as if he never left with the Pole in goal, thanks to his agility and physical presence in between the sticks. Even when the Italian veteran returned to Turin, Szczęsny's status in goal was untouched.

Three consecutive Scudetti tell you all you need to know about Szczęsny, who has been a consistent figure for the Bianconeri. He was named Serie A's best goalkeeper last season, after keeping 11 clean sheets en route to another league title.

Read Grey Whitebloom's overview of Wojciech Szczęsny here
---
3.

Alisson Becker
Liverpool's Alisson Becker. / Michael Regan/Getty Images
Perhaps no goalkeeper has better bolstered a team than Alisson did when he arrived at Liverpool following two years with Roma. It is no surprise that the Reds have been one of the best teams in European football since his arrival, winning three major trophies within 12 months.

Alisson's reflexes and stunning saves are why he is also Brazil's number one, facing stern competition from Manchester City keeper Ederson. A clean sheet rate of 50% in red is unbelievable, but it's what the Brazilian does best.

The Premier League title was nothing less than he deserved, quickly establishing himself as a top goalkeeper on English shores. At 27, Alisson is entering the prime years of his career, where he can continue to perform at the top of his game for the foreseeable future.

Read Max Cooper's overview of Alisson Becker here
---
2.

Marc-André ter Stegen
FC Barcelona's Marc-André ter Stegen. / Denis Doyle/Getty Images
The untouchable throne of Manuel Neuer means Ter Stegen is the only man here who is not his country's first choice - but that does not hinder his claim to be one of the world's best goalkeepers. Leaving Borussia Mönchengladbach for Barcelona at 22 was a huge move, but one that the German will not regret one bit.

Ter Stegen has picked up 12 pieces of silverware for the Blaugrana, asserting himself as one of La Liga's finest. His distribution is key for a team who plays such fluid football, while he is consistent in making a string of difficult saves week in week out.

He is unfortunate to not be Germany's number one, but Die Mannschaft will be in safe hands when Neuer eventually retires. For all of Barcelona's inconsistent form this season, Ter Stegen has remained one of the brightest stars at the Camp Nou.

Read Grey Whitebloom's overview of Marc-André ter Stegen here
---
1.

Jan Oblak
Atletico Madrid's Jan Oblak. / Soccrates Images/Getty Images
There is little disputing Oblak as the best goalkeeper in the world, the 'Oblaktopus' who has become an unstoppable force for Atlético. Even with the defensive-minded philosophy of Diego Simeone and Los Colchoneros' rigid defensive style, the Slovenian is at the heart of it all.

For six years, he has been Atlético's undisputed number one. His 139 clean sheets give them a breathtaking clean sheet rate of 54.3%, so often impossible to break down. His performance in the 3-2 win over Liverpool was a prime example of why he is such a force to reckon with, making a range of incredible saves throughout the two hours.

Oblak is the goalkeeper that every club in the world would want, the perfect number one to build a team of success on. His quality in between the sticks and statistics are truly unmatched, as he rightfully earns his title as the best goalkeeper in the world.

Read Matt O'Connor-Simpson's overview of Jan Oblak here
---
For more from Nischal Schwager-Patel, follow him on Twitter here!