Major League Soccer
MLS Cup Playoffs preview: Sporting Kansas City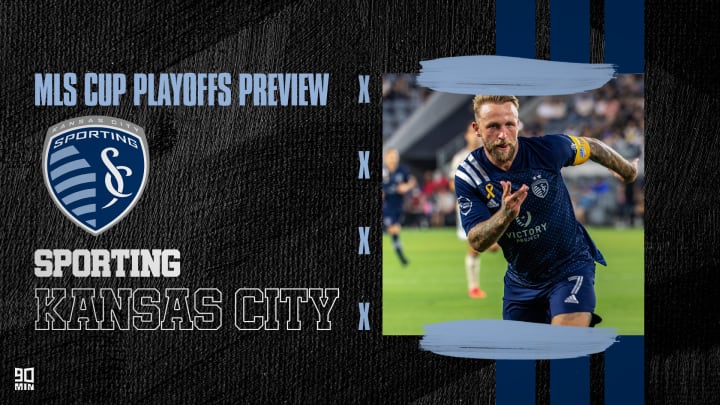 Sporting Kansas City have one of the most fearsome attacks in Major League Soccer. /
Sporting Kansas City head into the MLS Cup Playoffs armed to the teeth and with a point to prove.
Peter Vermes' side were outscored only by the New England Revolution during the regular season. But, as ever, the SKC coach and his players have a chip on their shoulders, somewhat overlooked in contrast to the talent they have. Underestimate them at your own peril.
Here's everything you need to know about Sporting Kansas City ahead of the post-season - from tactics to key players, and their chances of winning the big prize.
---
How did Sporting Kansas City make it to the MLS Cup Playoffs?
Sporting KC jumped into the top three in the West as early as Week 5 and stayed there for the rest of the season. They would have won the Conference, too, were it not for a wildly inconsistent end to the regular season.
But from 4-1 away at LAFC to 3-1 in Seattle, SKC have pulled off some incredibly impressive results. There are defensive worries, but they have more than enough attacking talent to force their way to wins if needed. All they need is for the mid-season juggernaut version to turn up, rather than the soft touch that lost their last three games.
---
Peter Vermes: Tactics and style of play
Peter Vermes is the longest-serving current coach in MLS. / Denny Medley-USA TODAY Sports
Peter Vermes has been in this job since 2009. During that time, he's won MLS Cup once (2013) and the US Open Cup three times (2012, 2015, 2017). In his 11 full seasons in charge prior to this one, SKC have missed the Playoffs once. Let's just say, he knows how to get it done.
The 2021 iteration of this team has been really fun to watch. Vermes usually lines SKC up in a 4-3-3 formation. A central striker (Alan Pulido when fit) provides the focal point and creates space for wingers Johnny Russell and Daniel Salloi to cut inside, often overloading the opponent through the middle,
Further back, the likes of Gadi Kinda, Roger Espinoza, and Remi Walter all offer very different qualities in midfield. But like the defenders behind them, each is great with the ball. And that's Kansas City's biggest weapon: possession and the ability to exploit spaces with it. Vermes likes his side to press, but they're played through easily far too often, so keeping the ball themselves is the safer option.
---
Who are Sporting Kansas City's key players?
Johnny Russell: Maybe it's because he plays for a 'small market' team. Perhaps it's because his national team isn't glamorous. Either way, Johnny Russell is one of the most underrated players in Major League Soccer, and consistently one of the most effective forwards. After a relatively slow start to 2021, Russell went on a tear, posting at least one direct goal contribution in each of his last 10 appearances, notching 11 goals and three assists during that run. The Scottish winger's ability to lose his man at the far post and finish in the blink of an eye means the opposition defense can never switch off. He's always ready to pounce.
Daniel Salloi: After a tough couple of years, Daniel Salloi return to his best this year, scoring a team-high 16 goals during the regular season. And luckily for KSC, the majority of those were earlier in the season when Russell was struggling. The Hungary international will always look to cut in from the left flank and is more than happy taking on shots from distance. Combined with his predatory instincts in the box, there's no one way to keep Salloi quiet. The only worry for Vermes is if both Salloi and Russell have an off-night, the goals dry up a little elsewhere - especially with Alan Pulido struggling for consistent fitness.
Tim Melia: Much of the talk around Tim Melia recently has been regarding that wrestling move he whipped out against the Sounders. But getting real for a moment, he's still one of the better goalkeepers in MLS. Most importantly, he's six for six in matches decided by a penalty shootout during his professional career, and has saved 14 of the 36 he's ever faced in normal time. Absolutely nobody will want a shootout against SKC with Melia between the sticks.
---
How far can Sporting Kansas City go in the MLS Cup Playoffs?
SKC are real contenders / Matthew Burt
If SKC are to reach MLS Cup, they'll probably have to win away at both Seattle and Colorado. But here's the beauty; they've already done that twice against the Sounders this season, while they took draws from both their trips to Denver.
Yes, they allow a few too many goals. But Russell and Salloi can out-punch any strike force in this league on their day - as can Pulido. And sure, they're a little flimsy hunting the ball in the final third. But then, they don't give it away that much anyway.
As long as the last three games of the regular season were an inhale before the big jump, this feels like a team that could go all the way.
Prediction: MLS Cup champions