Major League Soccer
Sean Johnson says MLS Cup Playoff run 'means everything' to NYCFC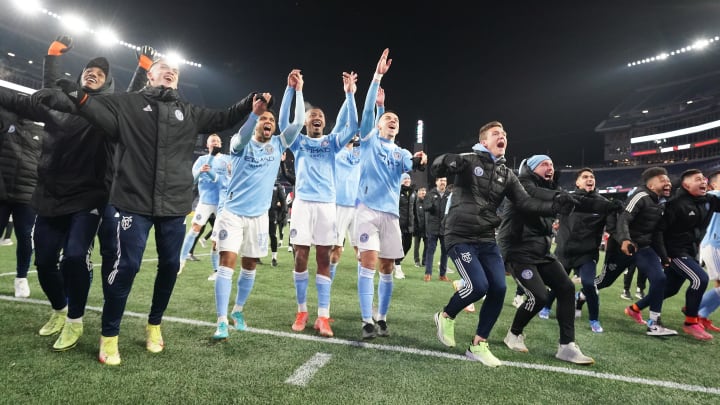 NYCFC have gone beyond the Eastern Conference semi-finals for the first time in their history. / David Butler II-USA TODAY Sports
New York City FC goalkeeper Sean Johnson says it would "mean everything" to lead the club to MLS Cup glory.
After failing to go beyond the Eastern Conference semi-final stage in their previous five Playoff campaigns, NYCFC beat the New England Revolution on penalties on Tuesday night after a 2-2 draw across 120 minutes.
Up next is a trip to the Philadelphia Union in the Eastern Conference final. Safe to say, it's all on the line in the battle for a place at MLS Cup.
"This game means everything. Winning means everything, chasing a trophy for this Club means everything," Johnson told reporters after Tuesday's match.
"As a captain, it was incredible to see the support, our supporter section was unbelievable. They were loud. Our families traveled up to the game, so I think this meant everything and every game now has a significance, and every game is a step to what we want to achieve and ultimately that is the MLS Cup."
Johnson proved to be the hero in the shootout, getting down to his left to deny Revs striker Adam Buksa in what turned out to be the only missed penalty.
The United States international revealed the very simple secret to NYCFC's penalty success after the match: preparation.
"I think as a team, we were extremely prepared for a penalty shootout and it showed tonight," said Johnson.
"We do what we have to do to prepare for the game, prepare for any circumstance and a penalty shootout was one thing that we had talked about and a moment we wanted to embrace. So, myself to all the players who stepped up I think we were ready and prepared to go into the shootout and execute."
The Union will now be firmly in NYCFC's sights but if they're to make MLS Cup, they're going to have to do it without James Sands, who came off injured on Tuesday, and Taty Castellanos, who was sent off for a second yellow card offense.
Midfielder Santiago Rodriguez - who scored the opening goal and was arguably the best player on the night - believes the loss of MLS Golden Boot winner Castellanos is particularly painful, but he's backed his teammates to come together to get the job done.
"It's definitely a big loss. He is our leader and our goal scorer and the guy that leads the attack," Rodriguez said.
He continued: "We have full confidence in the player that is going to take his place. We have a lot of confidence in him, we have a lot of harmony and camaraderie within the group. There is a lot of togetherness, and we know that we're rooting for the next person up who fills his place.
"Obviously, the team is more important than anything else and that's what makes us a strong club. It's what has gotten us this far and we're happy that this is the first time in club history that we're reaching this stage in the playoffs and we just want to bring it back home for the city, the fans, and ourselves because we all play to live for glory."
NYCFC take on the Union on Sunday at 5pm (ET).