World News
San Marino: Meet the amateur side preparing to take on England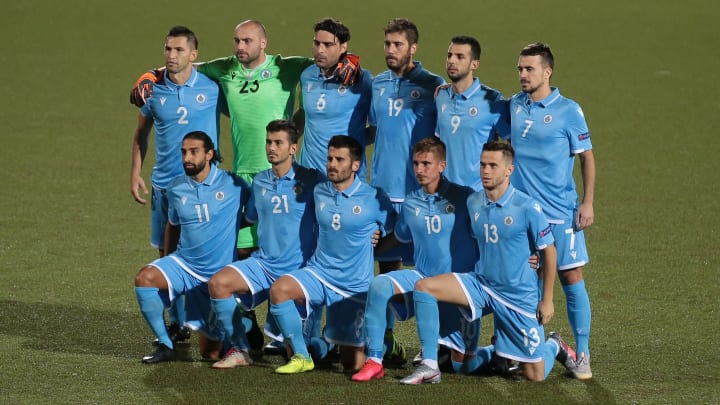 England play San Marino in World Cup qualifying / Jonathan Moscrop/Getty Images
England take on football's ultimate underdogs in their bid to qualify for the 2022 World Cup, with San Marino propping up Group I.
The country has a population of just 30,000 (slightly smaller than Whitstable, slightly bigger than Weybridge), giving them a pretty small pool of players to choose from.
Let's take a look at San Marino's footballing pedigree and who could feature for them during their World Cup qualifying campaign.
---
The history
Former striker Andy Selva is San Marino's all-time top scorer / GIUSEPPE CACACE/Getty Images
San Marino are the lowest ranked FIFA side and have famously never won a competitive match. They received affiliation to FIFA and UEFA in 1988, and played their first official fixture in 1990.
They have one single, solitary victory to their name, coming in a friendly against Liechtenstein in 2004. Their Wikipedia page has a section dedicated to matches that San Marino have not lost. It isn't very long.
It's seven games long, to be precise, with San Marino famously recording back to back draws in competitive matches for the first time ever during the 2020 Nations League, playing out consecutive stalemates against Liechtenstein and Gibraltar.
The national team's all-time top goal scorer Andy Selva has eight goals.
---
The current team
1.

Elia Benedettini
Elia Benedettini is expected to start in goal for San Marino / Jonathan Moscrop/Getty Images
The man with the unenviable task of playing in goal for San Marino is Elia Benedettini.

The 25-year-old - whose cousin Simone Benedettini has also earned seven caps for San Marino - currently plays for Italian Serie C side Cesena. He has plied his trade as high as Serie B with Novara between 2016 and 2018.
2.

Davide Simoncini
Simoncini is San Marino's experienced head / Jonathan Moscrop/Getty Images
Davide Simoncini is the twin brother of San Marino goalkeeper Aldo Simoncini (that's how small the pool of players San Marino have to pick from is), and like his brother, he also works as an accountant.

The pair both scored an own goal during San Marino's loss to Sweden in 2010, the first twins ever to do so in a competitive international match. Simoncini currently plays for Sammarinese outfit A.C. Libertas.
3.

Cristian Brolli
Brolli is a member of the San Marino backline / ANP Sport/Getty Images
Defender Cristian Brolli has quite a cruel Wikipedia page. The second line reads that he 'most notably' scored an own goal against England in 2015. The rest of the entry then just lists other own goals he has scored.

The 29-year-old has never played club football outside of his homeland, and is currently in his second spell at S.S. Folgore Falciano Calcio.
4.

Mirko Palazzi
Palazzi with a fan / Mike Hewitt/Getty Images
Back in his heyday, Mirko Palazzi was famed for being San Marino's only professional footballer.

The full-back played for Italian side Rimini Calcio, and also represented Sanmarinese amateur outfit Tre Penne in the Europa League. Now 33, he plays for Serie D side Marignanese.
5.

Alex Gasperoni
Gasperoni is a bit of a San Marino veteran / Mike Hewitt/Getty Images
Defensive midfielder Alex Gasperoni is San Marino's 10th most cap player, with 48 international appearances to his name. For a day job, he owns his own lighting company, which I think we can all agree is pretty illuminating.

The 36-year-old plays his club football in his homeland with Tre Penne, and was part of the side that made club history in 2013, as Tre Penne beat Shirak FC in the Champions League qualifiers to record their first ever victory at international club level. They didn't quite go on to win the whole thing.
6.

Lorenzo Lunadei
Lunadei works with second hand cars as his day job / Jonathan Moscrop/Getty Images
Lorenzo Lunadei currently works as a car dealer for car dealership Autocom Riccione in Italy.

The 23-year-old midfielder plays for FYA Riccione in the non-professional Italian fifth tier, and earned his first international cap in 2017.
7.

Matteo Vitaioli
Vitaioli played against England in 2016 / Laurence Griffiths/Getty Images
Matteo Vitaioli has scored one goal for the country in 62 appearances - but his solitary strike was one for the history books. When Vitaioli found the net against Lithuania in a European Championship qualifier in 2015, it was his country's first away goal for 14 years.

The striker works in a graphic office for SIT Group - one of Europe's biggest packaging companies.
8.

Filippo Berardi
Berardi has one international goal to his name / Jonathan Moscrop/Getty Images
Filippo Berardi is one of a select group of San Marino players who do not play amateur football, with the winger plying his trade for Serie C side Vibonese.

Berardi is also a member of the elite group of players who have had the honour of scoring for San Marino. Just 16 players have found the net for San Marino in 31 years, with Berardi the most recent in November 2019. In doing so, he ended his side's run of over two years without a goal.
9.

Nicola Nanni
Nanni is regarded as an exciting young prospect in San Marino / ANP Sport/Getty Images
Nicola Nanni is the third and final member of the San Marino squad who does not play amateur football. The 20-year-old is currently on the books of Serie A side Crotone - although he is yet to make a league appearance for the club.

Nanni has spent the last two seasons out on loan, and is currently at Serie C outfit Cesena alongside international teammate Benedettini.
---