Roberto Mancini: The Blucerchiati Hero Who Boasted Elegance & Leadership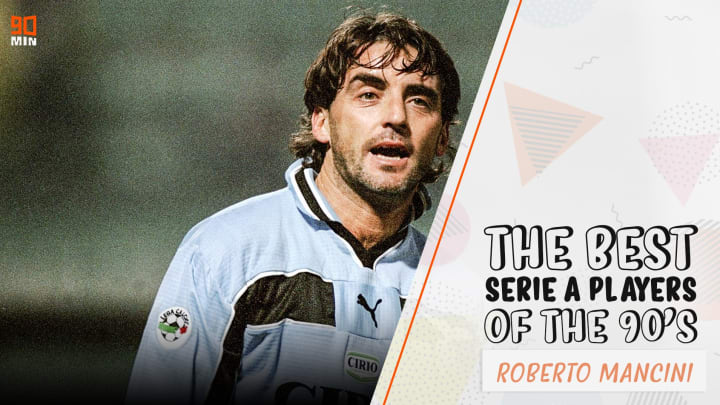 The majority of us are aware of Roberto Mancini, the manager.
You know, the long-haired bloke seen running around the Etihad touchline as Martin Tyler delivered the most iconic sequence of commentary following the most dramatic conclusion in Premier League history. That bloke.
Well, Mancini's since taken the reins as Italy boss and has done a pretty good job managing a talented Azzurri generation since his 2018 arrival. The pragmatic Italian also guided Inter to three consecutive Scudetti between 2006 and 2008 before the work of successor Jose Mourinho completely overshadowed Mancini's impressive achievements.
But hey, that's enough of Mancini, the hugely successful manager, let's discuss an iteration of the Italian that quite a few of us didn't truly appreciate, acknowledge or understand: Roberto Mancini, the superstar footballer.
From the moment he was born in the small town of Jesi, it was clear that he was a little special. A blocked windpipe almost cut his life horrifically short before a slap from his doctor - seriously - and a splash on the face with cold water proved a life-saving combination.
Mancini, who'd grown up in the hills of Roccadaspide and kicked a football about for his local church side, enjoyed a quiet start to life which reflected his personality. Although, a passionate, fiery alter ego emerged once he stepped foot on the pitch.
With his talent markedly superior to his counterparts, a 13-year-old Mancini was snapped up by Bologna at a youth tournament before a switch to Milan following an impressive trial broke down as a result of the Rossoneri sending the teenager's contract to the wrong address. Fate, eh?
He'd spend a sole season in the senior set-up at Bologna before Sampdoria's newly appointed sporting director Paolo Borea, a master in player recruitment, persuaded controversial owner Paolo Mantovani to splurge £2m on this unproven 18-year-old in 1982.
II Blucerchiati were languishing in the second tier when Mantovani took ownership in 1979. Within three years, though, they'd earned promotion to Serie A with Mancini their showpiece signing and the man to spearhead their 'golden generation'. They just didn't know it yet.
Mancini swiftly established himself as the protagonist in the Sampdoria attack. Serving as a deep-lying forward or second striker, the expressive Italian was blessed with the requisite grace and elegance to perform the role to its most aesthetic. He was a genius in possession; boasting a masterful first touch and the vision to pick out angles that would even make Pythagoras a wee bit jealous.
Mancini's artistic skillset combined with his ever-evolving leadership qualities meant he was an incredibly unique profile. He was a calcio anomaly. A soldier and artist combined.
Nevertheless, with Mancini leading the way, Sampdoria would embark on a trophy-laden spell in the mid-to-late 1980s. A triumvirate of Coppa Italia trophies landed in Liguria before continental success arrived in the form of the 1989/90 European Cup Winners' Cup.
That was only the start, though.
Football fever was rife in the wake of Italia '90 and it was in this context that Mancini's Blucerchiati set foot in pursuit of calcio's ultimate prize.
Amid their frequent cup successes, Sampdoria's league performances were often forgettable. Following the arrival of the pragmatic and tactically astute Vujadin Boškov in 1986, Samp had finished sixth, fourth, fifth back-to-back such was the competitive nature of Serie A at the time.
Arrigo Sacchi's Milan were a revolutionary outfit and Europe's supreme side, Inter were buoyed by their German revolution while Roberto Baggio and Diego Maradona were still spearheading Juventus and Napoli respectively.
However, ahead of the 1990/91 season, optimism was rife in Genoa regarding the potential of the Sampdoria side. Complementing Mancini was Gianluca Vialli, the pair being tagged 'I Gemelli del Gol' (The Goal Twins) such was their harmonious dynamic, along with rapid and equally rugged defender Pietro Vierchowod, star goalkeeper Gianluca Pagliuca and 1989 arrival Attilio Lombardo.
With this awesome foursome leading the charge, Sampdoria ensued on a campaign for the ages. They'd finish with just three defeats and five points clear of closest rivals Milan at the top. Vialli's 19 goals saw him crowned Capocannoniere while his master partner in crime notched 22 goal contributions (ten goals, 12 assists), many of them characteristically crucial.
Samp's status as a special cup side was maintained in the wake of their Scudetto success with a remarkable European Cup run in 1991/92, with Mancini now skipper. Johan Cruyff's Dream Team would, ironically, shatter their dreams at the final hurdle, as Ronald Koeman's free-kick signalled the end of an era for Il Blucerchiati.
A major clear-out left Mancini as the sole survivor of the 1990/91 core by 1994, and although the long-time veteran would lead his side to another Coppa Italia crown that same year, a new challenge for Mancini was inevitable.
That arrived in the form of Sven-Göran Eriksson. The Swedish string-puller was Boškov's successor at Samp before he took the Lazio job in 1997 following a five-year stint in Liguria and brought his general, Mancini, with him.
While he was undoubtedly the fulcrum of Il Blucerchiati, the overwhelming talent within Il Biancocelesti squad such was Sergio Cragnotti's ambition meant a 33-year-old Mancini was merely another spoke in the wheel. But the Italian's natural ability to lead combined with his incredible tactical astuteness led to Eriksson overseeing the departure of Lazio icon Giuseppe Signori - whose similar profile to Mancini's meant they couldn't co-exist in the Swede's 4-4-2.
Nevertheless, Cragnotti's heavy investment would pay off in 2000 with a league title after falling agonisingly short the season prior. By this point, though, the Italian had become one of Eriksson's unofficial assistants, with his time in Rome perhaps foreshadowing his eventual success as a manager.
Mancini would finish his career with a mightily impressive haul 156 goals in 567 Serie A games considering his second striker function.
However, the mercurial brilliance of the generation's finest, Baggio, at a time when Mancini was reaching the peak of his powers combined with his underperformance for the national team meant the Sampdoria hero's career almost went under the radar. The emergence of supremely gifted trequartisti Alessandro Del Piero and Francesco Totti once Mancini's powers started to fade also added further cloud to his career in a broader context.
But what can't be denied was the Italian's perfect - and unprecedented - blend of leadership and innovation from a player of his position. He was a rare breed and an icon in Liguria.
Mancini was the captain throughout every one of his 15 years at Sampdoria, even when the armband was someone else's.