Rayan Ait-Nouri: Things to Know About Wolves' Debut Goalscorer
Oct 31, 2020, 2:00 PM GMT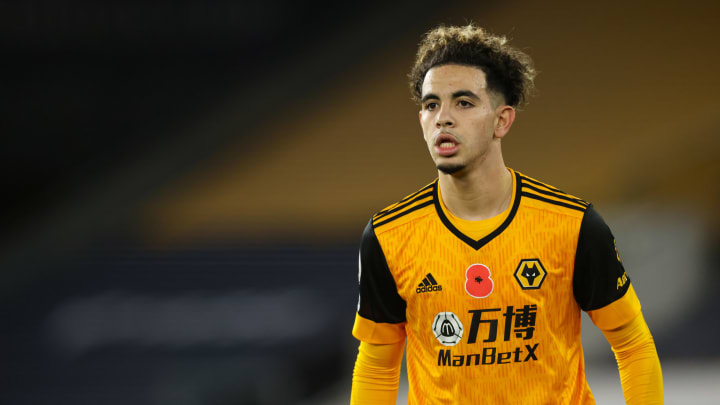 As the teams rolled out for Wolves' clash with Crystal Palace at Molineux on Friday night, there was a universal reaction for anyone not of a black and gold persuasion.
"Who's this Ait-Nouri fella then?"
With Jonny Otto out for the long-term, Ruben Vinagre in Greece and the bullish Romain Saiss perhaps not proving the most dynamic of options, Nuno Espirito Santo decided it was the turn of 19-year-old Rayan Ait-Nouri to have a go functioning as Wolves' left wing-back.
It took just 18 minutes for the teenager to repay Nuno's faith as he sweetly struck home the game's opener in a comfortable 2-0 victory for the hosts, and put in an assured performance overall.
His Friday night showing suggests he's a name we might be hearing a fair bit of in 2020/21 with Jonny sidelined until the new year, especially when you take into account his rapid rise across the channel with Angers.
Thus, let's delve a little bit deeper into the hugely talented France Under-21 international.
1.

Scouted By Chance
Born and raised in Montreuil in the north of France, Ait-Nouri's first big break in the football scene arrived in the form of Paris FC, whom he joined in 2014 after enjoying a pair of two-year spells at AS Val de Fontenay and ASF Le Perreux 94.

However, when Axel Lablatinière, then Angers head of recruitment, saw a 15-year-old Ait-Nouri strutting his stuff at a Parisian youth centre, his career was thrust into an alternate stratosphere.

Invited by Lablatinière to a youth tournament watched on by a number of the club's staff, Ait-Nouri immediately impressed and Angers moved swiftly to secure his services - with €5,000 sent to Paris FC.
2.

Angers' Youth Revolution
Upon his purchase of the then Ligue 2 club in 2011, Saïd Chabane knew that a strong academy was required for Angers to climb up the French football ranks.

Thus, the club opened its academy with brand new facilities in 2013 and Ait-Nouri - following his 2016 arrival - became only the second player brought through this new training centre to make his debut in a Ligue 1 fixture for Angers, an eight-minute cameo in a 3-1 away defeat to Paris Saint-Germain.

Ait-Nouri's rapid emergence has been a celebration of the French club's youth policy spearheaded by manager Stephane Moulin, with Angers' philosophy from the top down designed to facilitate the development and progression of youth.
3.

National Allegiance Decision
Ait-Nouri represented France Under-18's on ten occasions before making five caps for the country's Under-21's.

He made his debut for Sylvain Ripoll's side in a friendly against Albania last September as a mere 18-year-old and was recently apart of the squad which took on and beat Liechtenstein and Slovakia in a pair of European Championship qualifiers earlier this month.

Despite his trajectory suggesting Ait-Nouri may one day evolve into a regular member of the senior French squad, as his name suggests, he's also of Algerian descent and is eligible to represent the north African nation should he choose to.

Ait-Nouri's previously spoken proudly of his heritage.
4.

A Jorge Mendes Client
Well, duh.

Signing Aït-Nouri was one of the first dips into the lesser-known French clubs for the Portuguese super agent Jorge Mendes, who seemingly represents every single Wolves player.

The connection came about via intermediary agent and brother of Napoli full-back Chérif Ghoulam, who is friends with Angers director Abdel Bouhazama.

Reports emerged in September that Mendes was attempting to secure his client a move to Manchester United but the Red Devils held reservations over Ait-Nouri's minimal experience and politely declined.

He'd also come close to wrapping up a deal with Crystal Palace in January, only for the move to be scuppered by the enterprising full-back picking up a major jaw injury in a clash with Nice.

The super agent was finally successful, however, with Wolves agreeing to an initial loan deal with a £20m option to buy at the end of the campaign, one the west Midlanders will inevitably trigger.
5.

Huge Potential
His brief cameo against PSG was the first eight of a mere 53 minutes of Ligue 1 action in 2018/19.

However, he'd swiftly go on to reach new heights and emerge as one of French football's brightest talents the following season.

While playing in a side revered for their stoutness undoubtedly helped improve his defensive nous considerably, it's Ait-Nouri's attacking intangibles which helps him stand out among the crowd.

As he showed on his Wolves debut, the confident 19-year-old boasts supreme technique and especially excels in crossing situations. With the left-winger ahead of him often tucked infield, Ait-Nouri was given the licence under Moulin to maraud into the final third where his distinct composure and mature decision making come to the fore.

The teenager's also mightily athletic and may prove to be a useful outlet for Wolves at transitions.

Overall, there's a general feeling that the Premier League club have stumbled upon an absolute steal in Ait-Nouri.