Plans Being Drawn Up for Premier League Fans to Return in 'Tens of Thousands' By January
Nov 24, 2020, 8:45 PM GMT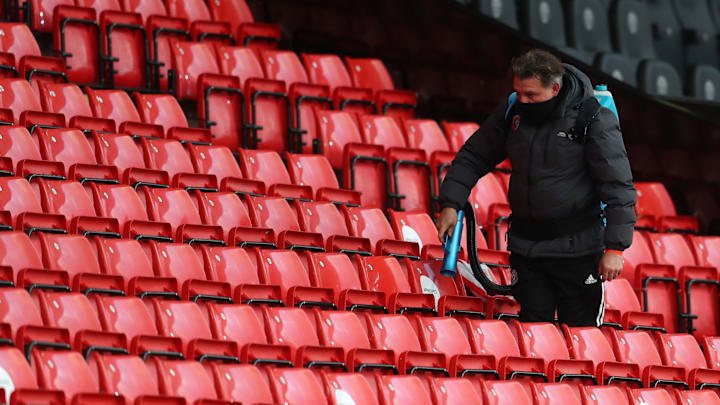 Plans are being prepared to stage crowd pilots involving tens of thousands of Premier League fans in the new year.
The government announced earlier this week that up to 4,000 spectators will be allowed to return to outdoor sports events in England's lowest risk areas once the current coronavirus lockdown ends on 2 December.
England will replace its nationwide lockdown with a second - and stricter - edition of the tier system, with clubs located in tier one or two areas able to welcome supporters back.
Following the recent update, The Telegraph now reveals that proposals have been put forward for some Premier League football clubs to host five-figure crowds as early as January - providing there is no spike in coronavirus cases from the return of supporters following the conclusion of the second lockdown.
The report adds that pilots are planned to be the first step towards that but they won't arrive until after Christmas. There had been hope for these pilots to run in-line with the Premier League's hectic festive schedule but that won't be the case.
In regard to the staging of pilots, the Premier League said in a statement: "Our ambition remains to work with Government to increase attendance to more substantial levels. Until this can be done, many fans will be unable to attend games and our clubs will continue to operate matches at a financial loss.
"Our priority continues to be the agreement of a roadmap, with the Department for Digital, Culture, Media & Sport (DCMS) and the Sports Technology and Innovation Group, for pilot events that can help our clubs quickly scale up to larger capacities in line with the Sports Ground Safety Authority's Covid-secure guidelines and beyond.
"Premier League clubs have a proven track record of achieving high-biosecurity standards and we believe we can play a significant role in the Government's rapid turnaround testing initiative.
"We look forward to working with Government on their next steps."
The return of fans is obviously a huge financial boost for clubs of all levels up and down the country, especially lower-tier clubs - with the majority struggling mightily since the initial lockdown was introduced back in March.