Paraguay legend Jose Luis Chilavert announces his intention to run for president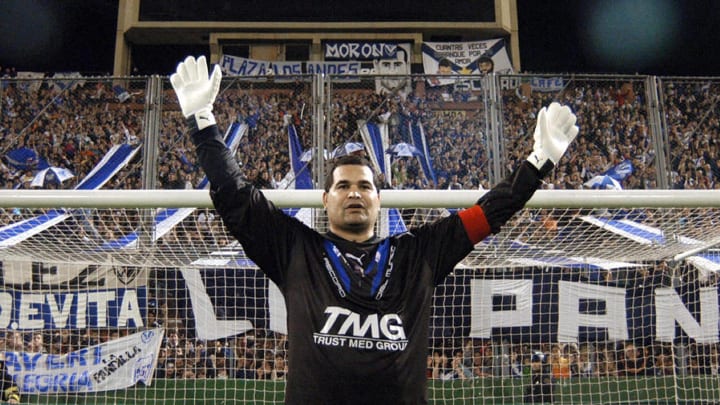 Chilavert for President / MARIANO SANCHEZ/Getty Images
Legendary keeper Jose Luis Chilavert has announced his intention to run for president in the next Paraguayan election in 2023.
Chilavert was widely regarded as one of the best keepers in the world during his prime and was as renowned for his goalscoring antics as his shotstopping ability. He was regularly seen taking free-kicks and penalties and is the second highest-scoring keeper in history, with 67 goals for club and country.
Eight of those goals came for the Paraguay national team, who he represented on 74 occasions. He scored four times on their way to qualifying for the 2002 World Cup, and retired a year later as one of the most famous figures in the history of Paraguayan football.
He never hid his political views as a player and his revolutionary stance earned him comparisons to Che Guevara. Fans and former team-mates often singled him out as a future president, but if that was a joke, then Chilavert didn't get it.
Having spent years calling out 'corruption' within the Paraguayan government, the former keeper announced on Christmas Eve that he will run against Conservative incumbent Mario Abdo Benitez in the next election in 2023.
"Enough of impunity, enough of corruption and enough of the looting of the Paraguayan people," he wrote on his Twitter.
Chilavert playing for Paraguay / Shaun Botterill/Getty Images
The image also reads: "Chila Presidente 2023".
Chilavert made more than 200 appearances for Argentine side Velez Sarsfield, where he won four league titles in his first spell. He scored 36 times for Velez, a strike rate most strikers would be quite content with.
He also featured for Sportivo Luqueno and Guarani in his native Paraguay, and ventured into Europe later in his career. He turned out for Real Zaragoza and French side Strasbourg, though only scored once on the continent, where his goalscoring capabilities weren't as highly valued.
---