Nike Football Drop The 'Neighbourhood Pack'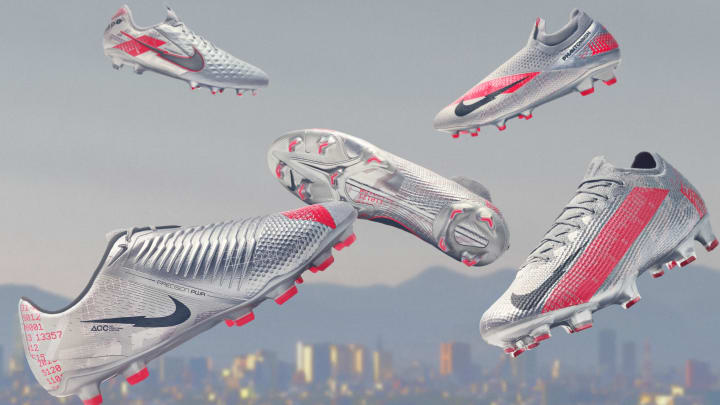 Nike 'Neighbourhood Pack' / Nike Football
Nike have revealed their new pack for the Mercurial, Phantom VNM and VSN II, and Tiempo boots.
The 'Neighbourhood Pack' would almost certainly have featured heavily at the 2020 Euros and Copa America, but due to the ongoing global pandemic both have unfortunately been cancelled.
Nike Neighbourhood Pack / Nike Football
The fresh new pack pays homage to the real home of football, the neighbourhood. The streets, parks and pitches in local areas that shape and create the finest footballers the world has to offer.
There are 11 codes that have been embedded into the boots that appear across the pack, representing neighbourhoods in 10 of the cities that would have been hosting games at Euro 2020 and Copa America 2020 - and areas of the world that have produced some incredible footballing talent.
Nike Neighbourhood Pack / Nike Football
The numbers that are seen running across the textured Flyknit outer layer and along the back of the boots are as followed: Georgia, Nápoles, 03810, Mexico City; Rue Gaston Defferre, 93140, Bondy, Paris; Lavapiés 28012, Madrid; Placa de Josep M. Folch i Torres, 08001, Barcelona; Badstraße 53 13357, Berlin; West Way Fields, White City, W12 0DF, London, Peckham, SE15, London; Via Veglia, 20159, Milan; Av. Cond. Elizabeth Robin, 5120, Sao Paulo; Cerritos Park 110121, Bogota; Barrios of La Boca C1160ABM, Buenos Aires.
Nike Neighbourhood Pack / Nike Football
The full silver-laden pack appear to be a continuation on Kylian Mbappe's 'Bondy Dreams' collection and show Nike doubling down on the idea that the neighbourhood, the very roots of football, are where winners are made.
The Neighbourhood Pack is available from Monday 1st June from Pro Direct Soccer.