New Year's resolutions for every MLS Western Conference team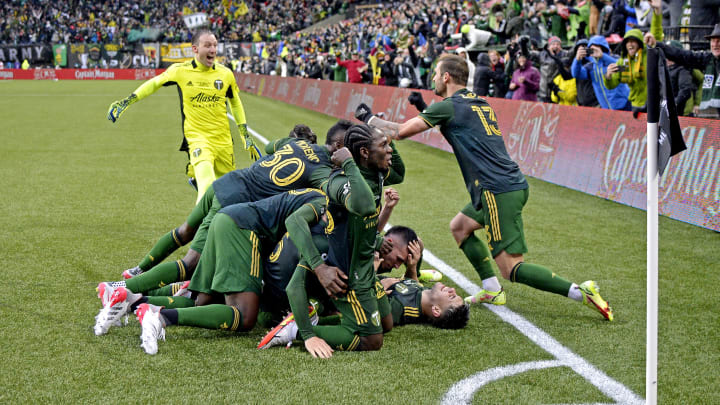 The Timbers will be looking to go one better in 2022 after losing the MLS Cup final against NYCFC. / Troy Wayrynen-USA TODAY Sports
New Year's resolutions; most make them, few stick to them.
Still, there will be plenty of MLS clubs to consider as the 2022 season races into view, and what better time than January to clear out bad habits, reshape a roster, or resolve to do better?
Here's one New Year's resolution for every Western Conference team:
---
1.

Austin FC - score more goals
They may have finished near the bottom of the West, but Austin FC certainly didn't tank their expansion year in the same manner we've seen others do in the past.

There are some pieces there. They play nice soccer and defend relatively well, and they have an incredible stadium with an active fanbase. The only thing that's missing is cutting edge in the final third.

A top-class DP striker might just push them into outside Playoff contention.
2.

Colorado Rapids - fill those DP spots
The Colorado Rapids topping the Western Conference despite having the lowest spend in the league and no permanent DPs - loanee Younes Namli was the only one and spent most of the year injured - is testament to head coach Robin Fraser and every single player on his roster.

But that regular-season success didn't translate to the Playoffs, namely because when the Rapids needed to ask questions of the Portland Timbers, there was nobody there to do it. In one-off knockout matches, you need reliable difference-makers.

Fill out those DP spots and the Rapids could be in for one hell of a 2022 season.
3.

FC Dallas - Reinvest the Pepi money smartly
FC Dallas have sold so much over the years but reinvested that money terribly with so many signings missing the mark. That's why they went from fun and plucky to one of the worst teams in MLS in 2021.

As first revealed by 90min, Ricardo Pepi is being courted by some of Europe's finest, he's effectively gone. Dallas will get a very, very handsome fee for the teenage striker. But unlikely when they've sold the likes of Reggie Cannon and Bryan Reynolds, the Hunts have to use that money smartly or it'll be a wooden spoon race, not a Playoff push.
4.

Houston Dynamo - let Pat Onstad do his thing
Things have been rough for the Dynamo in recent years, but there's the smell of fresh optimism in the air.

A new owner is in town in Ted Segal, who is promising to splash the cash. That cash should be in very good hands with Pat Onstad, who has plenty of experience building championship-winning rosters.

Rebuilds are not easy, but the Dynamo need one. Segal needs to open the checkbook then trust the process. More importantly, he needs to sit back and let Onstad get to work - he knows what he's doing.
5.

LA Galaxy - help Chicharito
Despite playing just 1,736 minutes, Chicharito scored 17 goals last season, leaving him only two adrift of eventual Golden Boot winner Taty Castellanos.

That's a remarkable turnaround from his miserable 2020 form. The only problem? Most everything else from the Galaxy was terrible. No other player scored more than five goals for the club in 2021- if they had, they'd have made the Playoffs.

The likes of Samuel Grandsir and Kevin Cabral need to start supporting Chicharito more, while it'll be interesting to see how the Mexican's partnership with Dejan Loveljic develops, with the two producing some promising moments together. Either way, Chicharito needs help next year if LA are to become a Playoff team again.
6.

LAFC - replace Bob Bradley
Nothing about LAFC's 2022 campaign is certain. The Black and Gold have come down hard from the heights of 2019 and last season, they failed to even make the Playoffs.

Bob Bradley is gone. Eduard Atuesta is gone. Diego Rossi is almost certainly gone. Brian Rodriguez could be gone.

LAFC need to get their head coach hire right. They need someone with roster-building experience and silverware on their CV. Without that, the whole thing could fall apart next year.
7.

Minnesota United - revamp the defense
Minnesota United's defense hasn't quite been the same since they lost Ike Opara and toward the end of 2021, it really started showing. They were ultimately punished in the Playoffs, losing 3-1 to the Portland Timbers.

For Adrian Heath's men to be competitive again next year, you get the feeling they need to bring in at least one top-class center-back, if not two. And a defensive midfielder to replace Osvaldo Alonso. Tighten up at the back and good things will happen, the Loons are more than capable at the other end of the pitch.
8.

Nashville SC - settle on a striker
There really isn't much wrong at Nashville. Gary Smith has his side shutting teams out when required, and playing nice soccer when they can. They make shrewd signings that work from the jump, and there's a very strong case that Hany Mukhtar was the real MVP in 2021.

If there's one area they could possibly do better, it's at center-forward. CJ Sapong came in and did well on a budget, scoring 12 goals in 29 starts. But he's 33 years old and prefers operating off the striker rather than as the focal point. Ake Loba and Jhonder Cadiz just didn't work out.

Get a free-scoring striker and Nashville might just go one step further in the post-season.
9.

Portland Timbers - bring in some fresh legs
The Portland Timbers of 2021 was a team stacked full of MLS legends. Diego Chara, Sebastian Blanco, and Diego Valeri just to name a few.

But Valeri is leaving and Blanco and Chara aren't getting any younger. If they want to build on their MLS Cup final appearance, the Timbers are probably going to have to evolve.

More trust needs to be placed in younger players like Cristhian Paredes, while a couple of sprightly signings could leave them primed for another deep Playoff run. Those fresh legs could come in handy at the tail-end of the season.
10.

Real Salt Lake - find an owner
Up until the Playoffs, we definitely would have been talking about how RSL needed to learn how to defend so they didn't have to score three goals every time they wanted to win a game. Then they went and beat the Sounders without attempting a single shot and sent SKC packing in the next round.

There are some contract issues to fix and players to replace, but ultimately - and sorry for the cliche - they need to find an owner. From the top down, everything becomes easier when you know who's in charge.
11.

San Jose Earthquakes - become more functional
Listen, the Quakes are super fun. There's nothing better than watching them put their foot to the floor to chase down the opposition in their whacky man-marking system. And when it works, they destroy teams. But what about when it doesn't? Well, things get ugly.

That's what cost them a Playoff spot last year, being unable to adjust when they took a punch to the face. When the first line of pressure was bypassed, they crumbled under the weight of numerical mismatches.

Get some experienced heads in the middle and turn the speakers down from 11/10. Then perhaps head coach Matias Almeyda and his team can realize their full potential.
12.

Seattle Sounders - figure out the Ruidiaz situation
Raul Ruidiaz has been at the center of so much success for the Seattle Sounders and, Josef Martinez aside, he's arguably been the most terrifying center-forward in MLS over the last couple of years.

But there are rumblings that he wants to leave, and Liga MX clubs are sniffing around the Peruvian.

Losing him would be a blow but if that's going to happen, better to get it done quickly and start planning to replace him. Or, decide early to keep him and build your team around him again. That's not just fine, it's a proven, winning formula.

The Sounders are usually at their best in the summer market but this time, it feels like they need to tick this one off before the season starts.
13.

Sporting Kansas City - work out how to play without Pulido
Alan Pulido should be up there with Ruidiaz, Martinez, and Taty Castellanos as one of the most devastating strikers in MLS. Indeed, that is the case when he's on the field, with the Mexico international scoring 15 goals and assisting another seven in just 36 Sporting Kansas City appearances.

The problem is those 36 appearances have been spread across two seasons, with persistent injuries keeping him sidelined. And when he's not there, SKC are all the worse for it.

It's tough to advocate for SKC getting rid of Pulido, such is his effectiveness. But finding a way to enact their style as effectively without him would help Peter Vermes' men avoid that late-season blowout they suffered in 2021.
14.

Vancouver Whitecaps - find a consistent center-back pairing
Vanni Sartini is a fun head coach and became immediately popular among Vancouver Whitecaps supporters. Not surprising considering he dragged them back into the Playoffs.

The 'Caps are set up front, too, with Ryan Gauld, Brian White, and Cristian Dajome combining brilliantly.

All that's left now is for Sartini to pick up a center-back, or settle on a consistent pairing to allow some understanding, and Vancouver should be ready for another run into the post-season. Plenty to be optimistic about.
---