Major League Soccer
Bruce Arena humbles his players after 1-1 draw with Columbus Crew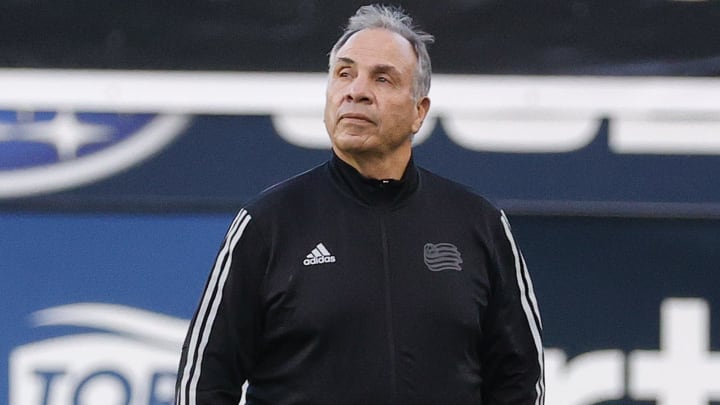 New England Revolution head coach Bruce Arena frustrated after 1-1 result / Tim Nwachukwu/Getty Images
New England Revolution head coach Bruce Arena believes the team's disappointing 1-1 draw against Columbus Crew should humble his players.
The Revolution are 10 points clear of second place Sporting Kansas City in the Supporters' Shield race, but that may change with only eight regular-season games remaining. 
With the trophy on the line, Arena reminded his squad that nothing should be taken for granted. 
"It's a good lesson for them, because all these little things we have to get right if we want to be a team in the postseason that can win games," he said. "So tonight, our players know, and they'll be reminded again tomorrow, some of the things they need to do better. And if we did those little things better today, we would've won the game."
The coach's frustration continued, with Arena claiming the match should have been "a three-zero game" had his team not wasted their chances.
Veteran defender Tommy McNamara agreed with his coach after the match, but justified the situation by claiming "these things happen." 
"It was a very frustrating night not to come away with three points. We played well up until the final pass or the final moment and couldn't get the second goal. We just weren't quite sharp enough. It is what it is. These things happen."
"We just need to make sure that we're prepared to be ruthless in these games and in this final end of the season where teams are desperate, desperate, desperate for points and into the playoffs you need to be ruthless," McNamara said. 
The Revolution held 61 percent of possession and fired 33 shots throughout the 90 minutes against the Crew, but failed to convert any efforts into the winning second goal.
McNamara added: "When you get chances, you need to take them and you need to put the game away when you have them, and on the flip side, you can't give nothing away. And so it's a lesson for us to be ruthless in moments."