Major League Soccer
MLS rivals LAFC and LA Galaxy join efforts to pitch 2026 World Cup host city bid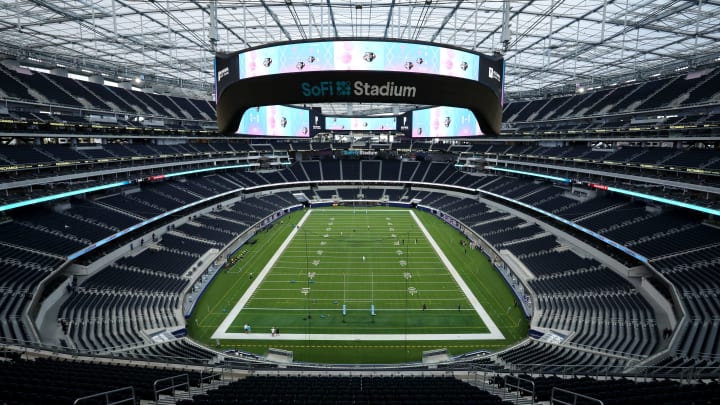 SoFi Stadium stands as a contender to host the 2026 World Cup / Katelyn Mulcahy/Getty Images
Major League Soccer rivals LAFC and LA Galaxy came together to pitch a joint bid to bring the 2026 FIFA World Cup to Los Angeles.
LAFC co-president Larry Freedman and LA Galaxy president Chris Klein will spearhead LA's efforts to host matches during the tournament as co-chairs of the potential pitch through the Los Angeles World Cup Host Committee.
The 2026 edition of the international tournament will be co-hosted by the United States, Mexico and Canada, while specific host cities remain undecided. The two leaders of opposing MLS clubs recently appeared together to advocate for LA's consideration.
"Los Angeles has a rich and storied soccer history with a deeply passionate and diverse community of fans, from youth athletes to global superstars," Klein said in a statement.
"This city is a multicultural epicenter with supporters of teams and nations throughout the world. L.A.'s resources and infrastructure will set the standard for a host city and make it a perfect location for the most celebrated tournament in the world."
Freedman added: "LA is truly a soccer city. From playgrounds to city parks, kids and adults alike play soccer here from dawn until dusk. We are proud to be a part of the Los Angeles World Cup Host Committee, working with other members of the Committee to make our collective vision of bringing the world's best players to the world's city a reality."
The city is pitching two venues, the historic Rose Bowl in Pasadena and the new SoFi Stadium in Inglewood. Both locations have and will play an integral role in the history of sports, as the Rose Bowl hosted the finals for the 1994 men's World Cup and the 1999 women's World Cup, while the SoFi Stadium will host soccer matches during the 2028 Summer Olympics.
FIFA is set to decide the 10 American stadiums for the tournament before the end of 2021 to give host cities plenty of time to prepare for the tournament. As of right now, 18 venues have created proposals to remain in the running.