MLS commissioner Don Garber provides updates on San Diego & Las Vegas expansion teams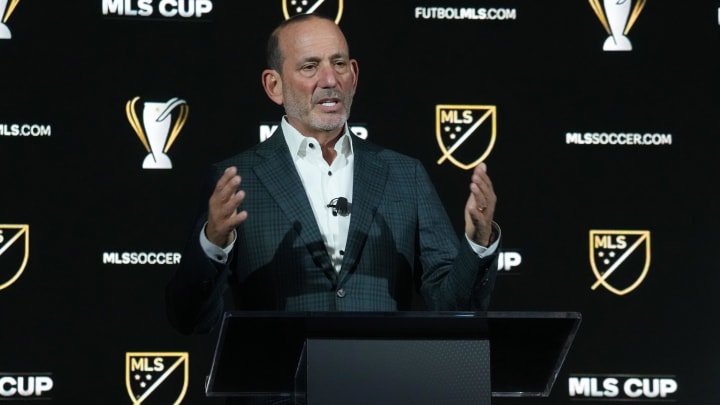 Garber is optimistic about San Diego's chances. / Kirby Lee-USA TODAY Sports
MLS commissioner Don Garber has revealed the league aims to secure its 30th team in the first half of 2023, with San Diego and Las Vegas the leading candidates.
Charlotte FC were the latest team to enter MLS in 2022, finishing ninth in the Eastern Conference and breaking the league's single-game attendance record during their inaugural season.
---
Watch the story of Charlotte FC's journey to MLS in 90min's The Making of Charlotte FC, presented by DoorDash, on 90min channels now. Subscribe to our new US YouTube channel.
---
Meanwhile, St. Louis CITY SC are due to begin play next year, taking the league's total number of teams up to 29 for the 2023 season.
It's understood Garber intends to settle that number at 32, meaning there's still room for three more franchises before expansion of the league is finally ended.
Las Vegas has long been earmarked as a leading candidate but, speaking at his annual State of the League address ahead of MLS Cup, the commissioner revealed his optimism for a franchise in San Diego.
"I'm a big believer in San Diego," Garber said. " I think there's a view that San Diego, it's too nice there and people are out surfing and hanging out at the beach and I just don't buy it. I think San Diego's a great sports market, it's a gateway city."
This wouldn't be the first time San Diego has appeared on the MLS radar. Back in 2018, the 'SoccerCity' project - that included USMNT and LA Galaxy legend Landon Donovan - went to a public vote but was ultimately denied.
However, Garber still believes soccer can find success in San Diego.
"Sometimes it takes a step back to take a couple of steps forward, and we did take a step back," he added. "But I think it's fantastic that they are where they are. I hope we continue to make progress with the ownership group that we're taking to and we're optimistic."
All of that said, Garber isn't discounting Las Vegas as a potential option: "I believe that Las Vegas, like all other leagues do, is going to be a growing market both in terms of the number of people and its ability to drive success for professional sports. We have active discussions there."
On the challenges faced by the Nevada heat, Garber added: "We've got a lot of work to do because you clearly need to build an indoor MLS stadium. Stadiums are expensive. Indoor stadiums are really expensive. So we'll see how all that plays out. It's not a matter of who's first or who's second. Both are very active discussions."