Paris Saint-Germain
Mauricio Pochettino must learn from Spurs mistakes & be cautious with Kylian Mbappe
May 3, 2021, 7:30 PM GMT+1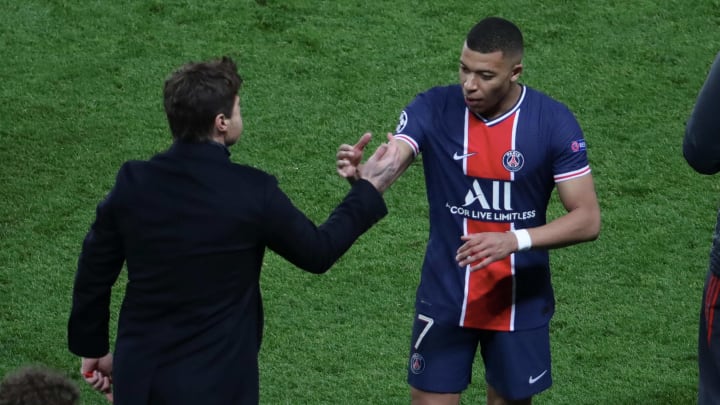 Mauricio Pochettino's managerial career so far has been defined by one night in Amsterdam, his Tottenham team mounting the most unlikely of comebacks to book their place in their first ever Champions League final.
Amid the full-time celebrations was the figure of Harry Kane, clad in a Spurs tracksuit, limping his way onto the pitch, and the realisation set in that he was still a few weeks away from recovering from a serious ankle injury.
Speculation about Kane's fitness dominated the three weeks worth of coverage leading up to the final against Liverpool - would Pochettino stick with newfound hero Lucas Moura, or would he throw Kane back in at the deepest of ends?
The England captain played 90 minutes in Madrid, and his lack of meaningful presence up front set the tone for one of the most drab showcase fixtures in football history. A lot of factors ensured the game wasn't a classic, but your talisman essentially playing on one leg and with half a tank left in him anyway definitely wasn't going to help.
At least Pochettino and Spurs now know that even with Kane starting they couldn't create another miracle, and they don't have to wonder 'what if' the best player at the club didn't play the entirety of the biggest match in their history.
A small silver lining, but now the Argentine must be brave with his handling of Kylian Mbappe's injury.
The rapid Frenchman missed PSG's win over Lens at the weekend with a calf injury, and while he's with the squad travelling to Manchester for their Champions League semi-final second leg with Man City, he was spotted limping heavily ahead of their flight out.
Pochettino saw the effects of playing with the shadow of his best player at a crucial time before, and he can't run the same risk again.
Mbappe's performance in the first leg was so anonymous that many speculated that he was actually injured, anyway. It wasn't surprising that these suspicions were confirmed when the dust had settled.
PSG put City to the sword like no other team has done this season in the first half, running rings around the most tactically astute team in world football. Leading 1-0 at half-time, fans across the continent were waxing lyrical about Les Parisiens' immaculate game plan.
But when the chips were down in the second half, they couldn't pin Pep Guardiola's side back. Neymar was unable to create something out of nothing, a drained Mbappe unable to run in behind.
Pochettino said that the 22-year-old will have a late fitness test before deciding if he can play any part at the Etihad Stadium on Tuesday, but if there's any doubt over his capabilities, then the PSG boss must stand firm and keep him out of the starting lineup.
Tight semi-finals are played a lot like the fourth quarter of NBA playoff games - the clock seems to count down rather than up. Being able to bring a burst of Mbappe off the bench to change the game is a much nicer scenario than having to defend for their lives against Manchester bloody City without another forward threat.
Keeping such a superstar out of the starting XI in such a big game will obviously have a large, novelty magnified glass dangled over it, but Pochettino is not a man with regrets. He's a man with lemons in his office because he believes they absorb bad universal energy.
A lot of the onus would be back on Neymar to play the role of scorer as well as playmaker once again, but that's the way he always thought it was going to be - his team, his responsibility. Pochettino has to make the right call to save PSG's season.
For more from Sean Walsh, follow him on Twitter!