Marseille Drop Stunning New 2020/21 PUMA Kits Inspired by the City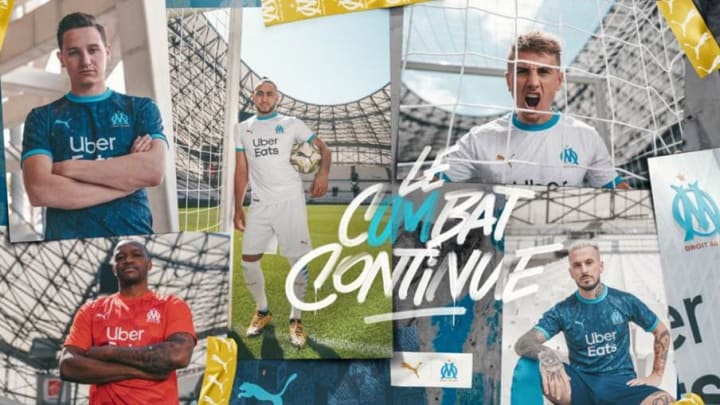 Marseille fans would have been pretty peeved when France curtailed the Ligue 1 season back in April.
Rejuvenated by dashing footballing nomad Andre Villas-Boas, Le Olympiens were sitting pretty in second place - and therefore favourites to lift the 'anyone but PSG' title that French clubs not blessed with untold riches fight it out for each season.
At least their Champions League group stage qualification was eventually secured via points per game, meaning that they will be back mixing with Europe's big boys next campaign.
Thanks to their stunning new 2020/2021 kit that dropped earlier today, they are likely to turn some heads in the process.
Lovingly created by those geniuses over at PUMA, the home strip is a minimalist's dream that pays tribute to the footballing obsessed city's unique 20th century architecture.
PUMA have a range of Marseille gear on sale right now, and the new season's kits are available from the club's website.
The jersey features Marseille classic colour scheme of white and azur blue. This simple familiarity is complemented well by subtle detailing symbolic of key structures and buildings found throughout the Phocean City.
Don't forget the gold embroidery on the back of the collar, which adds a touch of class befitting of a team that can boast the elegance of Dimitri Payet, Morgan Sanson and Maxime Lopez among their ranks.
However, if you think you might spill your dinner down the white jersey you should consider the jaw dropping away jersey.
This beautiful ensemble celebrates the city's diversity, featuring a tapestry of dimly lit houses on a peacoat, navy blue background. Perfect for masking any stains if you are a messy eater like me, and also daring enough to be worn on a night out as well as at the five-a-side cage
Get them now, before all the Villas-Boas-worshipping football hipsters realise how nice they are.