Marcus Rashford
Marcus Rashford murals messages kept alive through digital Wall of Hope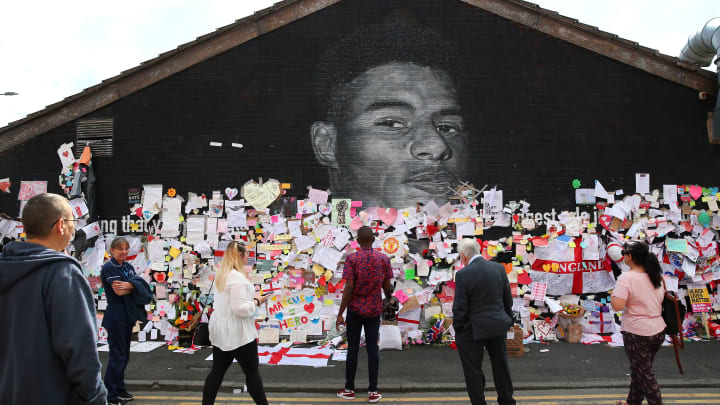 The messages placed on the Marcus Rashford mural in Withington after it was vandalised will now live on in digital form / Alex Livesey - Danehouse/Getty Images
BT's Hope United campaign is keeping the Marcus Rashford tribute messages alive in collaboration with Withington Walls by creating a newly commissioned virtual Wall of Hope.
The physical messages and tributes that were attached to the Rashford mural in Withington in the wake of the Euro 2020 final have been moved to protect them from the weather after recent rain, but the new virtual project means that the messages of hope can live on for everyone to see.
The artwork includes a QR code that visitors can scan to gain access to the Wall of Hope, while it will remain instantly accessible online to anyone anywhere in the world at www.bt.com/wallofhope.
"At one of my lowest points, the outpouring of support around this mural really lifted me and I'm truly grateful for that. It reinforced my belief in the strength of community and the endless pictures being shared of visits left me feeling really overwhelmed," Rashford said.
"I wanted to capture that feeling and bank it for more people to experience and am grateful to BT for enabling me to do that. These messages are not just mine. They belong to everyone. And I hope they can bring joy to many for months to come."
Ed Wellard, founder of Withington Walls, said, "The response to the vandalism of the Rashford mural has been incredible. What started with one small act of positivity, with those first hearts and messages of love and respect, inspired thousands more messages on the wall and online.
In addition to the virtual tributes, a new physical 'Hope Beats Hate' mural has also been created on the walls of Kingsway Football Club nearby the Rashford artwork. It is the work of local street artists Oskar with a K and Katie Jones.
The 'Hope Beats Hate' mural has been created at Kingsway FC near the Marcus Rashford artwork / Decoy Media
"Love drowned out the hate making us all feel more hopeful. This project is rooted in the community and it has been great to work with the Hope United to make a positive impact here in South Manchester, and keep spreading the love."
Hope United will also support Kingsway renovating their clubhouse covering roof repairs, security, a new kitchen, decorating corridors and changing room facilities, improvements that the whole community can benefit from.
BT's Hope United is a campaign aimed at tackling online hate / Decoy Media
Kingsway will also be part of BT's Connected Club scheme, ensuring they receive the very best connectivity for free and delivering digital, coaching and social media workshops with the club in the future.
BT's Hope United campaign is aimed at tackling online hate, giving the nation the digital skills they need to tackle the problem and become good digital citizens, supported by a squad of ambassadors from BT's lead partnership of the Home Nations including Marcus Rashford and Jordan Henderson.
---
For more from Jamie Spencer, follow him on Twitter and Facebook!