Marcus Rashford
Marcus Rashford mural restored after vandalism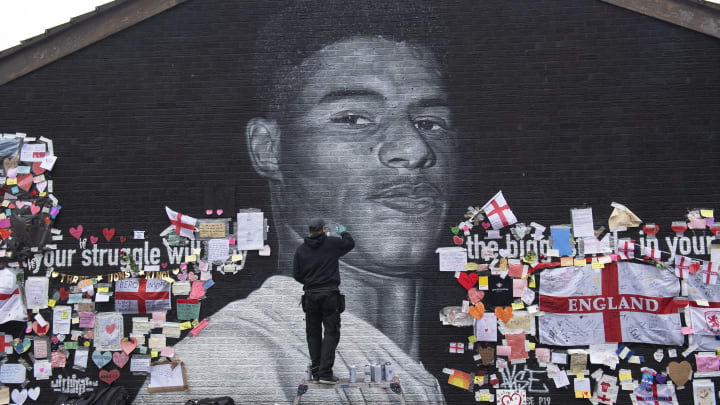 The Marcus Rashford mural has been repaired / Visionhaus/Getty Images
The mural of Manchester United forward Marcus Rashford which was vandalised following the Euro 2020 final has been fully restored by the original artist.
Alongside Jadon Sancho and Bukayo Saka, Rashford missed a penalty in the shootout finale against Italy, and explicit graffiti was soon found on the Manchester mural targeting both Rashford and soon-to-be club teammate Sancho.
Akse has repaired the mural / Alex Livesey - Danehouse/Getty Images
The vile messages were soon covered up by messages of support from the local community in Withington, but thankfully, original artist Akse has returned to the mural to restore it to its former glory.
Thousands of messages of support have been left at the scene, which only adds to the emotional nature of the mural.
"The community coming together has been incredible," Akse told the Manchester Evening News.
Rashford also praised his local community for the support, admitting it had him on the verge of tears amid the abhorrent racist abuse that was thrown his way in the aftermath of his penalty miss.
"I can take critique of my performance all day long, my penalty was not good enough, it should have gone in but I will never apologise for who I am and where I came from," he wrote on Twitter. "I've felt no prouder moment than wearing those three lions on my chest and seeing my family cheer me on in a crowd of 10s of thousands.
"I dreamt of days like this. The messages I've received today have been positively overwhelming and seeing the response in Withington had me on the verge of tears. The communities that always wrapped their arms around me continue to hold me up.
Volunteers have worked to keep the tributes on the mural / Visionhaus/Getty Images
"I'm Marcus Rashford, 23-year-old black man from Withington and Wythenshawe, South Manchester. If I have nothing else I have that.
"For all the kind messages thank you. I'll be back stronger. We'll be back stronger."
---