Marcelo Bielsa rules out Leeds United departure before end of season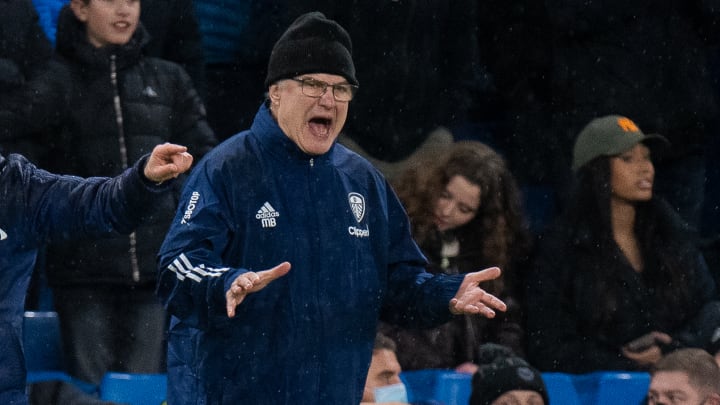 Bielsa is under pressure to turn things around at Elland Road / Sebastian Frej/MB Media/GettyImages
Leeds United boss Marcelo Bielsa has insisted he will not walk away from the job mid-season, but also refused to give any assurances about whether he will remain in charge of the club long-term.
The Whites are going through their toughest spell ever under Bielsa and their last game saw them humiliated 7-0 at Manchester City.
Leeds have just three wins to their name this term, which puts them 16th in the table - a far cry from last season when they finished ninth.
Pressure is now mounting on Bielsa, who only ever signs 12-month deals at Elland Road, as they prepare to host Arsenal this weekend.
Asked at his pre-game press conference if he could confirm whether he will be Leeds manager next season he said: "I never think it's good to promise, and the views being transmitted [by pundits] I don't know how to interpret.
"After a big defeat, you're very sensitive but to say that I've taken them as far as I can is to say it's a closed cycle. Is that how you've interpreted what the fans want?"
"What do you interpret from those pundits that make you ask this question? Why would you ask this question? If those people are saying I've taken the team as far as I can, does that mean you think the cycle is over?
"Of course, I'm going to continue fighting until the end of the season. If you listened to what I said before, I feel that upon adversity you always have to fight. Having said that, I will fight until the end of the season without any doubts.
"And I hope that nothing happens that doesn't allow me to do this. I'm not so vain that I think I can't be sacked. You think that after suffering a defeat 7-0, you think I can discard the instability?"
He later denied that he sees himself as 'unsackable' and stated: "Of course, the job of a coach is not stable. I don't have anything special about me that makes me immune to this characteristic."
---