Manchester City Unveil New Home Kit for 2020/21 Season
Jul 16, 2020, 8:36 AM GMT+1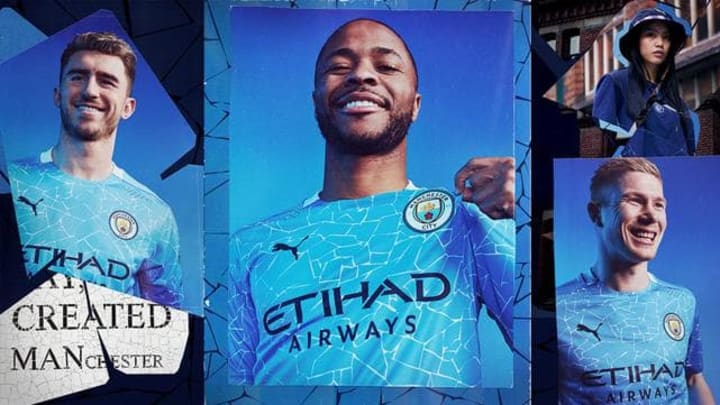 Manchester City and Puma have unveiled the club's new home kit for the 2020/21 season, and it is now available for supporters to purchase.
The shirt, which pays homage to the artistic history of Manchester as a city, will be worn by the men's, women's and youth sides, with its first appearance coming in Saturday's FA Cup semi-final against Arsenal.
Specifically focusing on the mosaics which can be found in Manchester's Northern Quarter, City revealed that this new kit will feature a white mosaic pattern over the traditional sky blue base with a navy trim.
The shirt will be complemented by white shorts and light blue socks, all of which can now be purchased on City's online store.
By reintroducing the mosaic pattern, City are making reference to their history at former stadium Maine Road, which featured the original City mosaic on the gates.
At the City Football Academy, many of the club's all-time greats have been immortalised in mosaic in an attempt to inspire the next generation of blossoming stars.
"When I began my journey as an artist, the Northern Quarter was a derelict area that I looked at and wanted to build up," said Mark Kennedy, the artist behind the mosaics of Manchester's Northern Quarter and the City Football Academy.
"I began creating Manchester icons using ceramic plates and tiles, integrating my own artistic style.
My family and I have always been huge City fans, so I created artwork of the players too.

"Over time I was commissioned to create artwork for the club and the city of Manchester, so I feel very privileged to see PUMA use my art as inspiration for the new City Home jersey."
The new kit has now been released on the City store, where fans of all ages can pick up the new design.