Manchester United
How Man Utd will pay the £72.9m fee for Jadon Sancho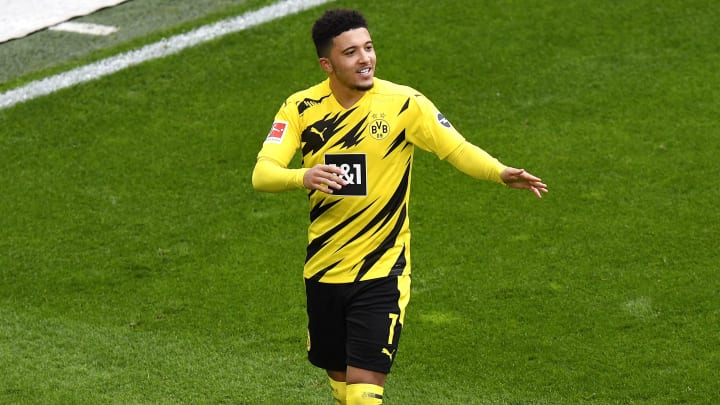 Man Utd have struck a deal to sign Jadon Sancho / Pool/Getty Images
Manchester United have agreed a payment plan with Borussia Dortmund which will allow them to pay the £72.9m fee for winger Jadon Sancho over the next five seasons.
After spending over a year chasing the Englishman, United finally struck a deal with Dortmund on Wednesday which will bring Sancho to Old Trafford on a five-year contract and will be finalised in the coming days.
There had been concerns that United's expensive purchase of Sancho could limit their ability to bring in other targets this summer, but the BBC's Simon Stone notes that United have negotiated a payment plan which will see them hand Dortmund five equal instalments of around £14.6m every year until Sancho's contract expires in 2026.
While £72.9m is obviously a lot of money, United won't have too many problems shelling out just under £15m every season, so they have managed to bring in Sancho without dealing too much of a blow to their transfer budget.
Sancho's wages, which are rumoured to be anywhere between £250,000 and £350,000-per-week, will have some impact on the kind of business United can do over the next five years, but pale into insignificance compared to paying the full fee in one go.
United have agreed a payment plan for Sancho / Chloe Knott - Danehouse/Getty Images
With wiggle room left in the budget, United are now set to turn their attention to plugging the remaining holes in the squad.
Finding a centre-back to partner Harry Maguire is understood to be Ole Gunnar Solskjaer's next priority, with Real Madrid's Raphael Varane his preferred target. United are understood to be close to getting a deal done for around the £43m mark.
Should a move for Varane fail to materialise, United are prepared to move for Villarreal's Pau Torres, but it is thought that Real want the latter themselves and would prefer to sell Varane to get a deal done.
United are close to landing Varane / Soccrates Images/Getty Images
Alongside a new centre-back, United have plans to sign a new midfielder, and if there's any money left in the pot, Solskjaer would also like to see his side make a genuine push to sign Tottenham striker Harry Kane.
With Kane likely to cost well over £100m, United may have to focus on selling players first. Anthony Martial, Donny van de Beek, Jesse Lingard and Dean Henderson are four of several names who have been tipped to leave the club.
---