Manchester United
Man Utd announce planned improvements to Carrington Training Centre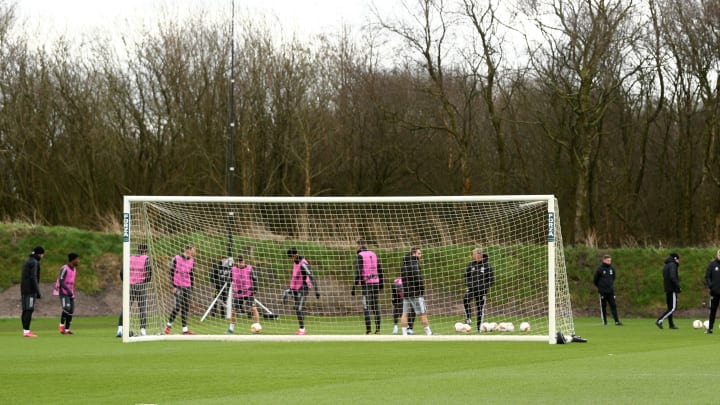 Man Utd want to upgrade facilities at Carrington / Jan Kruger/Getty Images
Manchester United have announced various planned improvements to the club's training complex at Carrington, including additional changing facilities, gyms, offices and an all-seater stand.
The plans are in addition to renovations already carried out over the summer, with pitches rebuilt, women's team facilities refurbished and restaurant areas upgraded. Ole Gunnar Solskjaer's office was also given new life with a lick of paint.
The club has explained that planning applications will be submitted to build 'two new bespoke pavilions to host additional changing facilities, offices, gyms and catering areas', with plans for overflow car parking also 'in the pipeline'.
The planning applications seeking approval for 'new floodlights, a new all-seater stand, improved access footpaths, pitchside toilets, an electricity sub-station and new fencing along the east side of the training centre' have already been submitted to Trafford Council.
The new all-seater stand with a capacity of close to 500 people is proposed as a replacement for two existing smaller stands adjacent to one of the training pitches.
It will have a 'built-in broadcast and performance analysis platform' and 'provide comfortable seating for players, coaches, staff, scouts and other visitors'.
"Longer term, we are looking at fuller redevelopment plans for Carrington to ensure it will be a state-of-the-art, fully integrated facility for our men's, women's and academy groups," chief operating officer Collette Roche told ManUtd.com.
"In the meantime, our team have been working exceptionally hard over the summer and into this season on these improvements.
"Part of the challenge for us is to create an inclusive place for everyone who works and trains at Carrington, while making sure that it is a COVID-secure environment.
"We also want to make the site more accessible for those who may need to use a wheelchair or have disabilities. The new stand and access pathways are important parts of that."
One of the biggest criticisms towards the Glazer family at the peak of the European Super League scandal had been a lack of investment over the last decade on the club's infrastructure and facilities.
Frustration over the standard of women's team training facilities made available was also a major part of the reason Casey Stoney unexpectedly resigned her position as United manager in May.
---
For more from Jamie Spencer, follow him on Twitter and Facebook!