Lionel Messi
How Lionel Messi and Emi Martinez trolled Yerry Mina during Argentina penalty shootout win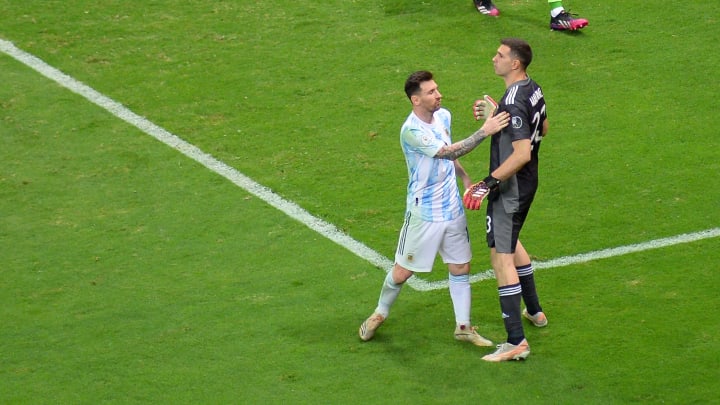 Messi took aim at Mina following his penalty miss / Andressa Anholete/Getty Images
Lionel Messi took an impassioned swipe at Colombia defender Yerry Mina, telling the Everton star to 'dance now' after missing a crucial spot-kick in Argentina's Copa America semi-final shootout victory.
Mina took centre stage in the quarter-finals of the competition, dancing and celebrating after scoring a penalty in the shootout victory over Uruguay.
The Everton star's actions had clearly stuck with Argentina and Messi, who took great glee in giving Mina a taste of his own medicine in the semi-final.
Mina saw his effort saved by Aston Villa star Emi Martinez, and Messi spotted his moment to mock the centre-back, shouting wildly, "Dance now! Dance now!" as he trudged back to the centre-circle.
Messi was caught up in the moment like we've almost never seen him before, leading by example with a stunning spot-kick of his own. He was one of three Argentina players to dispatch their penalties, while Martinez was able to save three of Colombia's attempts, booking their place in the big final.
It wasn't only Messi who was unusually vocal during the shootout, as Martinez himself took great pleasure in needling Mina throughout his penalty ordeal.
The Villa star didn't stop talking to Mina for one second, saying, "You're nervous, eh? I can tell you're nervous. I know where you're going to shoot. Watch and see how I'm gonna eat you up."
Sure enough, Martinez's mind-games worked, as he dived the right way to palm Mina's penalty away from goal, handing Argentina the chance to win the game. Martinez's mind-games didn't stop there however, after he celebrated his penalty save by pelvic-thrusting with some gusto.
Martinez and Messi embraced one another at the end of the shootout, knowing they had each played a huge part in their country's progression to the Copa America final.
Posting on Instagram after the victory, Messi wrote: "Proud and happy to belong to this group!!! One more goal accomplished... Thank you God for continuing to give me these moments. We go for glory.
"Dibu [Martinez], no words, you deserve it BEAST!!!"
Next up is Brazil at the Maracana - and only one game separates Messi and his nation from major silverware.