Tottenham Hotspur
Ledley King: How Harry Kane can become Tottenham's best ever player, Cristian Romero's rarity & more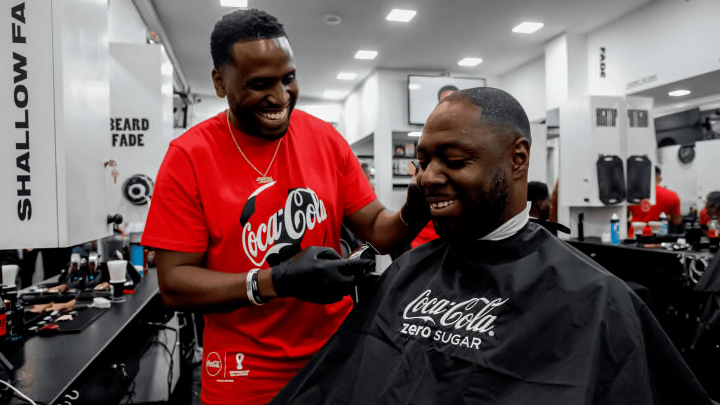 Image courtesy of Coca-Cola
Halfway down east London's Hackney Road sits a quaint barbershop, SliderCuts. It's tucked away behind a couple of high-rises, adjacent to other more modest establishments in this corner of Bethnal Green.
The owner, Mark Maciver, is known for cutting the likes of Anthony Joshua and Stormzy's hair. His shop is also where Coca-Cola are launching their Believing Is Magic campaign ahead of the FIFA World Cup, with Tottenham legend and former England international Ledley King working with them.
"I'm delighted to be here with Coca-Cola, following their FIFA World Cup campaign - Share Your Promise - which is engaging with fans to share their promise of what they would do if their team wins the World Cup," King says. "It's a great way for fans to engage and interact, and hopefully following through with something, whether it's dyeing their hair a certain colour or if you're brave enough getting a tattoo, maybe wearing your rival's shirt for a day or a week. Just fun different things that they can do to get engaged and support their team going into the World Cup."
King is in a jovial mood, both regarding this campaign and his beloved Spurs' prospects for the season, particularly with Antonio Conte at the helm. He's been a huge believer in the Italian's abilities to unite the club again.
"We've had a number of years now since [Mauricio] Pochettino left, we've struggled to find the right balance, we've struggled for stability. We're hoping that Conte is the guy that's able to bring that to the football club.
"He's a winner, someone that's won and achieved things at the highest level, just like the manager before with Jose [Mourinho]. Players jump on board in terms of following and hopefully follow his role in the promise that you'll win things under him. I think when we saw Conte drag the team up into the top four last season - when that seemed for many to be out of reach - it really showed his quality."
One of Conte's biggest individual success stories at Spurs so far has been Cristian Romero, who King is well-placed to lavish in praise given his own standing as one of Tottenham's best ever defenders.
"He's a rare one for me," King says, wiggling his finger a little as if the synapses in his brain have connected to create a lightbulb moment. "He's very calm with the ball, almost kind of stops with the ball and everything slows down, and without the ball he's so tenacious. He wants to get in there and win everything. For me, he's got a perfect balance for being a top centre-half."
King is regarded by Spurs fans as one of their greatest legends. I inform him that most of a certain age point to Glenn Hoddle as their number one pick, while he usually ranks in the top three. He nods along in silent agreement.
But that brings us to where Harry Kane belongs in such discussions. He's closing in on the club's scoring record set by Jimmy Greaves - often the final player on Tottenham's all-time podium.
"He just has to continue what he's doing," King says calmly, smoothly.
"In terms of where he stands, I think after his career is done at Tottenham, then you can sit back and place him. His body of work isn't done. But there's no doubt that he's right there amongst the best ever.
"He's been unbelievable for the club in terms of, not just his goalscoring but his all-round game, it's second to none. He's a complete footballer. Of course, longevity is an important part. He's been at the club for a number of years now and hopefully he's got many more years left at the club. But there'll be no doubt I'm sure that when it's all said and done, he's right there at the top.
"I played with a lot of great strikers - Teddy Sheringham, Les Ferdinand, [Jermain] Defoe, [Robbie] Keane, [Dimitar] Berbatov, [Emmanuel] Adebayor - but Harry has a bit of everyone, or everyone's strengths that they had.
"It shows that I've played with great strikers and how dominant Harry has been to have scored the amount of goals that he's scored at the football club."
While his love-in for Kane is eloquent and thoughtful, King does also spare some love for Son Heung-min, who he believes will also be remembered in the upper echelon of Spurs greats.
"As I said, these players are still working. They're still playing for the club. But when these guys do finish their careers, Sonny will be there in the highest regards of the top group of players that have ever played for the club. There's no doubt."
With the likes of Romero, Kane and Son being led by Conte, Tottenham's present and future is looking bright, and their shiny new billion-pound stadium is the jewel in the crown. King's ready for current and future generations of Spurs to write new history, fittingly on the same site of past glories.
"I remember one of the first times Robbie Keane came [to Tottenham Hotspur Stadium], I asked him does it have a similar feel to the old stadium, and he said it does. I was happy, it wasn't just me thinking that way!
"But that was always important for the club. One, the same location was fantastic, and two, making sure it retains that similar feel to White Hart Lane. I think we've managed to achieve that.
"Obviously it's a different stadium, but the plan is to make great memories and plenty of history in the new one which is the best in the world."
---
Coca-Cola is bringing the magic of football to fans across the world for The FIFA World Cup™. For more information follow @CocaCola_GB
---