Main Stories
Lay's RePlay initiative to build sustainable community football pitches around the world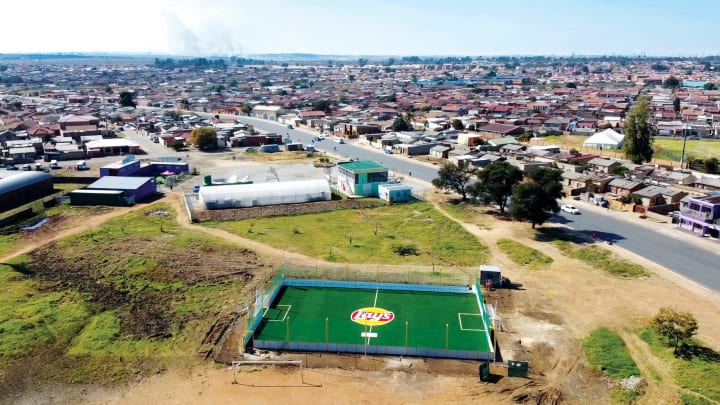 Lay's RePlay will build up to 5 environmentally sustainable community pitches in 2021 / Lay's
Lay's has launched Lay's RePlay, a new global initiative in partnership with UEFA Foundation and streetfootballworld to reuse its empty packs to help create sustainable football pitches, bringing joy to and uniting communities around the world.
Up to five Lay's RePlay pitches will be opened globally in 2021, with the first in Tembisa, South Africa. Others are planned to follow in communities in Russia, Brazil, Turkey and the UK.
There is strong emphasis on including community members and local organisations throughout the phases of planning, construction and maintenance of each planned pitch, with the intention of developing measures to address social issues, at the same time as providing safe access to the sport.
In South Africa in particular, local programming aims to empower youth and promote inclusivity, as well as share key life skills and pro-social behaviours through EduFootball sessions.
Six-time Ballon d'Or winner Lionel Messi is a long-time Lay's global ambassador and knows first hand the good that playing football can do for people.
"I was lucky enough to start playing football at a young age and it transformed my life," he said.
"Everyone deserves the chance to play and fall in love with the sport, and Lay's RePlay is giving communities across the world that opportunity. I'm proud to give back through this project and excited about the impact it can have on the next generation."
Lay's RePlay pitches are designed to be as environmentally sustainable as possible, both in materials and installation. Empty packets are collected in conjunction with artificial pitch manufacturer Greenfields from local waste and recycling sites and given a second life by being shredded and converted into pellets that form the underlying layer beneath the turf, called Ecocept.
Both the turf and Ecocept are 100% recyclable at the end of their expected 10-year life span, while Lay's has also committed to ensuring that every pitch will deliver a net zero carbon footprint.
Lay's RePlay helps turn empty packs into football pitches / Lay's
Lay's RePlay will provide safe access to football & is geared towards supporting local communities / Lay's
An in-depth study has even found that Lay's RePlay pitches have a significantly lower environmental impact than alternative artificial pitches when it comes to reduced greenhouse gas emissions, microplastic pollution, recyclable material and turf, ecological disturbance, and water usage.
"We've seen first-hand how football and sport can be used to better people's lives. By working together and supporting Lay's RePlay, we are having an instant impact on thousands of people who may not otherwise have anywhere to play or an opportunity to develop for the better," said Aleksander Čeferin, Chairman of UEFA Foundation for children.