Manchester City
Kevin De Bruyne reveals extent of facial injury suffered in Champions League final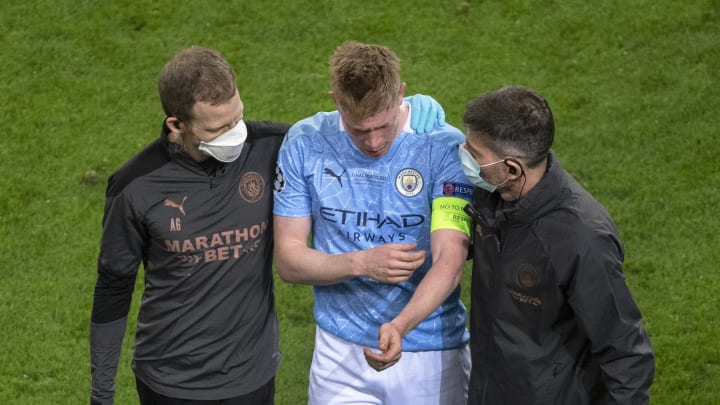 Kevin de Bruyne suffered multiple facial injuries in the UCL final / Visionhaus/Getty Images
Kevin De Bruyne has revealed he suffered injuries to his nose and eye socket in Saturday's Champions League final defeat to Chelsea.
The Belgian led the line for Manchester City for the first hour, but went down in the 57th minute after a clash with Antonio Rudiger and required lengthy medical treatment.
The City medical team were taking no chances with an apparent injury to the head, and De Bruyne was seen in tears as his game ended prematurely, with Gabriel Jesus emerging from the bench to take his place.
De Bruyne was seen on the sidelines nursing a black eye with an ice pack, and there were real concerns over his condition from within the City ranks. He was soon taken to hospital to determine the extent of his injury, and he revealed on Twitter that he has suffered fractures to his nose and orbital bones.
He wrote: "Hi guys, just got back from the hospital. My diagnosis is acute nose bone fracture and left orbital fracture.
"I feel okay now. Still disappointed about yesterday obviously but we will be back."
What the injury means for De Bruyne's short-term future is unclear. He may be able to mask the injury to play at this summer's Euros with Belgium, but that will depend on how serious the fractures are, as it's unlikely the medical staff will want to take any chances - particularly with an orbital injury.
Speaking in the wake of the game, Belgium manager Roberto Martinez felt that Rudiger should have been shown a red card for his role in the injury.
"When you see it at the beginning, you are thinking, 'Oh, it's a clash of heads'," Martinez told CBS Sports. "Rudiger is holding his head and Kevin is in a really bad state.
"Kevin is not a player that he goes down for no reason. You can see the pain and it's a swollen eye.
"For me, Rudiger is very, very fortunate. When you look at the replay there is no clash of heads. He's properly leaving the shoulder against Kevin. And he seems concussed and we will see the state of that.
"But that leaves a sour taste because Rudiger's holding his head, it's almost that he wants to show that he's hiding something. For me, it was excessive force and it was reckless. And it should have been a red card."