Chelsea
Kepa Arrizabalaga wins October Castrol Save of the Month award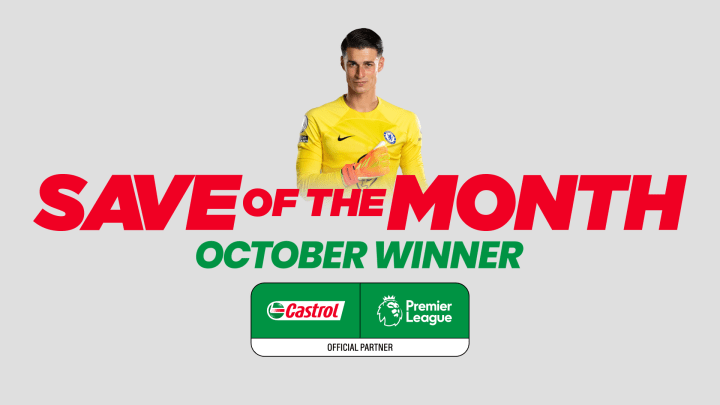 Kepa made a terrific stop for Chelsea against Newcastle / Castrol
Brought to you by
Kepa Arrizabalaga has won the Castrol Save of the Month award for October after producing a wonderful fingertip save against Aston Villa.
The Spaniard has been in sparkling form after wrestling his place between the sticks back from Edouard Mendy, and was at his absolute best during the Blues' 2-0 win at Villa Park.
Dropping down low to his right, Kepa managed to tip Jacob Ramsey's fierce shot onto the post after beating down John McGinn's initial shot - the 28-year-old having little time to react from the first effort on goal before being called into action once more.
The save was one of seven Kepa made on the today, and he's now been rewarded with his efforts with the Castrol Save of the Month award for October.
"It's a privilege to have this award, it's my the first time," Kepa said upon receiving his trophy. "The most important things was the game. We kept a clean sheet, we won the game.
"The first was a strong shot," he continued, referencing the first of a quickfire triple save. "The second one for me was the most difficult one, the third one I touched it, it hit the post and went away.
"You have no time to think, everything you train for everyday is shown in that 10 seconds. Good adjustment, good save, I watched it a couple of times. It's good to have a look at yourself, you see different details, every player, every position, so it's more analytical.
"The emotion is full of adrenaline, but you are happy and you feel a confidence, you feel well when you help the team. "When you are involved there, you are not thinking anything, you are just acting, trying to move fast and as quick as you can, trying to catch every ball."
Kepa follows in the footsteps of Nick Pope and Jordan Pickford, who won Castrol's Save of the Month award in August and September.