Real Madrid
Karim Benzema insists Zinedine Zidane will not leave Real Madrid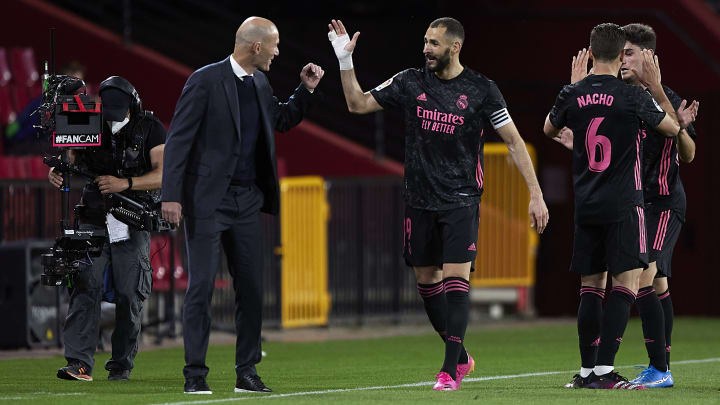 Karim Benzema expects Zinedine Zidane to stay / Quality Sport Images/Getty Images
Real Madrid striker Karim Benzema has adamantly declared that manager Zinedine Zidane will not be leaving the club this summer, despite widespread reports suggesting otherwise.
Zidane was forced to defend himself amid allegations he had already told his squad he was walking away from the Santiago Bernabeu this summer, but while no final decision has been made, there are countless reports claiming his departure is merely a matter of time.
Zidane is widely expected to leave Real / Quality Sport Images/Getty Images
That's the view from outside the club, but inside, it might be a little different as Benzema seemed pretty confident when telling L'Equipe that Zidane is going nowhere.
"He's still the manager of Real Madrid, is he not? I don't seem him leaving," Benzema said. "He's not going to leave, you'll see."
However, he then managed to ruin it all by leaving the door open to a possible exit from the boss.
He added: "If he leaves, he leaves. But right now, I don't see Real without Zidane."
Benzema's certainty appeared to fade / Denis Doyle/Getty Images
The you'll see part of Benzema's message suggests he might know something the rest of us don't, but the fact that he couldn't end it there and still admitted that Zidane definitely could leave doesn't exactly inspire you with confidence.
The Real chiefs are waiting for a final response from Zidane, who could stay if he reveals a desire to do so. However, with so much uncertainty, they are on the lookout for potential replacements, and former Juventus boss Massimiliano Allegri is towards the top of their wish list.
Allegri is top of Real's wish list / LUCAS BARIOULET/Getty Images
According to Fabrizio Romano, Allegri is prepared to rebuff all advances from any other suitors, including Tottenham and various sides across Italy, as he is waiting to see whether he will be offered the Real gig.
The legendary Raul Gonzalez, the club's academy manager, is also under consideration, but it is thought Allegri is the favourite to take over from Zidane if a decision needs to be made this summer.
---