Juventus: Who Is to Blame?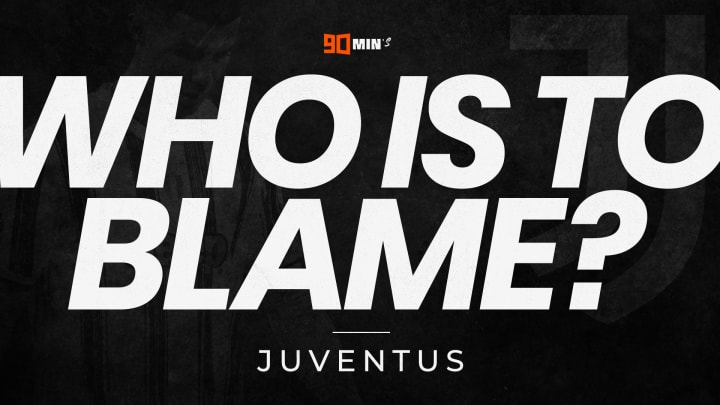 Photo credit: Matthew Burt /
The last time Juventus suffered a damning defeat, we at 90min aired some grievances regarding the club.
We had a lot of problems, and in Frank Costanza style, we let you hear about them.
But after Juve's embarrassing UEFA Champions League round of 16 exit at the hands of Porto, another simple 'airing of grievances' doesn't seem to be a dramatic enough response to the current plight of La Vecchia Signora.
So instead, we've decided to bring back the most dramatic of all 90min series.
That's right, it's 'Juventus: Who Is to Blame' time.
---
30.

Andrea Pirlo - the manager
Andrea Pirlo / Valerio Pennicino/Getty Images
@FunnyBanterFootballMan: 'Andrea Pirlo is Juventus' Frank Lampard LOL!!!'

Last night, Twitter was filled to the brim with idiots blaming Pirlo for Juve's defeat at the hands of Porto.

And while he is an easy target, the club's regression this season is definitely not his fault.

Blame rating: 0/10
29.

Inter
Inter are very good right now / Soccrates Images/Getty Images
There's no particular reason to blame Inter...but we'll do it anyways.

Blame rating: 0.5/10
28.

Shopee

Just...watch the video...I'm off to repeatedly face palm.

Blame rating: 1/10
27.

Leonardo
Leonardo signed Marco Verratti / Marc Piasecki/Getty Images
Way back in 2012 a little Italian child called Marco Verratti was making waves with his Andrea Pirlo-esque performances at Pescara in Serie B.

Juventus were keen to bring him to Turin to play for the team he supported as an even littler Italian child, but it was Leonardo and PSG who swooped in and broke the bank to sign Verratti.

Almost a decade later, Verratti is now a little Italian man and one of the best midfielders in the world, and Juventus are stuck with a boatload of mediocre midfielders. Nice. Thanks Leonardo.

Blame rating 1.5/10
26.

The weird zebra mascot
A true montrosity / Catherine Ivill/Getty Images
I mean, look at it.

LOOK AT IT.

Now imagine it doing Fortnite dances on a touchline like a toddler coked up to the eyeballs on e-numbers.

That has be distracting for the players.

IT HAS TO BE.

Blame rating: 2/10
25.

The Fratellis

It is entirely possible that, after hearing this stupid song (that's played every time Juventus score) for a third time on Tuesday night, the players flat-out refused to score another goal because they didn't want this dogsh*t song to be played over the PA system again.

Blame rating: 2.2/10
24.

Giuseppe Marotta
Former Juventus director Giuseppe Marotta / Alessandro Sabattini/Getty Images
The man who didn't fork out the money to sign Marco Verratti? Giuseppe Marotta.

The man who sold Paul Pogba? Giuseppe Marotta.

The man who sold Arturo Vidal? Giuseppe Marotta.

The man who then went to Inter and signed the best midfielder in Italy (Nicolo Barella)? Giuseppe Marotta.

Look, we know that Marotta did do a great job at Juventus, but from 2015 onwards he really just did not want the club to have a competent midfielder on the books for some reason.

Blame rating: 3/10
23.

Business marketing books
Agnelli needs to stop reading business marketing books / DANIEL ROLAND/Getty Images
Andre Agnelli: please, for the love of all that's good and holy, stop reading business marketing books and running your football club based on your 'learnings' from them.

IT'S NOT WORKING.

Blame rating: 4/10
22.

The kid in the Pepsi ad who rinsed David Beckham

Juventus has lost three UEFA Champions League finals since this Pepsi ad was first aired.

Is that karma for the kid in the ad being a twat to David Beckham? Probably.

Blame rating: 4.5/10
21.

Tiago Mendes
Tiago Mendes at Juventus / Valerio Pennicino/Getty Images
If Tiago Mendes can lock former Juventus president Giovanni Cobolli Gigli in a toilet, why could he not do the same to current president Andrea Agnelli and ensure that he doesn't spout anymore nonsense about a European Super League?

Blame rating: 4.6/10
20.

Steve McManaman
Steve McManaman - weird guy / Julian Finney/Getty Images
No, surprisingly not for his god awful commentary on Tuesday night.

Steve McManaman has made this list for his sins as a footballer, as it's entirely possible that Juventus would have one more Champions League title under their belts had Steve McManaman not been, well, Steve McManaman.

The former Real Madrid midfielder shoulders some blame here because he clipped his own heels after an innocuous challenge from Pavel Nedved (of Cheb, Czech Republic) in the 2003 Champions League semi finals and, after a few forward rolls, managed to get Nedved booked for the challenge and, as such, suspended for the UCL final.

Had Nedved - the best player in the world in 2003 - been available for the final, Juve probably would've won the competition.

Blame rating: 5/10
19.

Pepe
Pepe was stupidly good on Tuesday / Soccrates Images/Getty Images
So who knew that a 38-year-old Pepe was actually prime Franz Beckenbauer?

The veteran centre back was incredible in the second leg of Porto's Champions League tie with Juventus, and by being so incredible, laid bare La Vecchia Signora's lack of game-breaking creativity in attack.

Without Paulo Dybala finding pockets of space in and around the penalty area, the home side were forced to aimlessly cross the ball into the box for 120 minutes, which played perfectly into Pepe's hands.

Blame rating: 5.1/10
18.

Federico Bernardeschi
Once upon a time, Bernardeschi was good at football / Jonathan Moscrop/Getty Images
Over the last two years, Federico Bernardeschi has essentially forgotten how to play football.

And yet, he's still at the club and still plays for the first team on a semi-regular basis.

Blame rating: 5.2/10
17.

Jeep's advertising team

Please stop making advertisements in which Cristiano Ronaldo scores free kicks.

They're unrealistic, and they make him think he can hit free kicks.

Blame rating: 5.5/10
16.

Every free-kick taker who has ever played with Cristiano Ronaldo
That's right, Miralem Pjanic, Paulo Dybala, Xabi Alonso, Wayne Rooney, Marcelo, Sergio Ramos etc. etc. you're all to blame for the mess Juventus are in because you let Ronaldo hit free kicks.

You should not have let Ronaldo free kicks - it's made him think that he can hit free kicks when he can't.

Blame rating: 6/10
15.

Foot Locker
Foot Locker employees wear old Juventus tops to work...apparently / Dia Dipasupil/Getty Images
Here's a fun one.

In 2018, Juventus opted to get rid of the stripes on their kit - which had been a staple since 1905 - because they were worried that Americans might think that the jersey made Juve fans look like Foot Locker employees.

Fun.

Blame rating: 6.3/10
14.

Michael Oliver's bin heart
Michael Oliver sent of Buffon in the last minute of a Champions League game / Quality Sport Images/Getty Images
Michael Oliver: the man with a bin for a heart and a heart for a bin.

Blame rating: 6.8/10
13.

Half-time intervals
Juventus fell apart in the second half of the 2017 UCL final / Jonathan Moscrop/Getty Images
Hot take: top tier professional footballers are hyper-athletes who don't need a half-time break.

Also, if there was no such thing as 'half-time' then half of the Juventus team probably wouldn't have fallen out with one another at half-time of the 2017 Champions League final, and might not have gotten battered by Real Madrid in the second half.

Blame rating: 7/10
12.

Lotto and Kappa
Angelo Di Livio wearing a beautiful football kit / Shaun Botterill/Getty Images
Lotto and Kappa: what's going on?

Why can you not compete with adidas for the Juventus shirt sponsor deal?

What happened?

Blame rating: 7.1/10
11.

adidas
adidas have yet to make a nice Juve kit / Claudio Villa/Getty Images
adidas are a company that designed some of the greatest kits of all time (West Germany 1990, Netherlands 1988 etc.), and yet here they are in 2021, making the worst kits of all time, and making them exclusively for Juventus.

Blame rating: 7.5/10
10.

Intrabrand
Stupid looking badge / Visionhaus/Getty Images
What Intrabrand did in order to make Juventus a more 'high-street ready' brand is still baffling.

It's a half-finished badge.

Where is the rest of the badge?!

Did they go full-university students, leave the design to the night before, load up on energy drinks and draw it mid-300th trip to the bathroom? It certainly looks like they did.

Oh also, Intrabrand is a terrible name for a company - it's like an even more stupid version of the word 'synergy'.

Blame rating: 7.7/10
9.

Max Allegri
Allegri in a nice room / LUCAS BARIOULET/Getty Images
Massimiliano Allegri looks surprisingly well here, right? It must be the lighting.

Anyways, Allegri gets a slice of the blame pie for his post-Champions League final defeat epiphany that Juventus 'needed wingers' to win the trophy with the big ears.

The former Juventus manager got his wish, signing Douglas Costa, Federico Bernardeschi and co., but it didn't exactly work out. In focusing on playing wide players in a 4-3-3 or 4-4-2, Allegri lost sight of what made the 2017 Juve team so good - namely Paulo Dybala, who was forced to play out of position in Allergri's final two years as the club's manager.

Blame rating: 8/10
8.

Arturo Vidal, Andrea Pirlo and Paul Pogba
Why did they have to leave? Why?! Why?!!!! / Shaun Botterill/Getty Images
Arturo Vidal was sold, Paul Pogba was sold, and Andrea Pirlo was, well, allowed to leave, and none of the three have been adequately replaced.

This is mainly due to the fact that, instead of actually spending money on midfielders, have opted to spend no money on midfielders.

Great stuff.

Blame rating: 8.1/10
7.

Average central midfielders
Miralem Pjanic wasn't particularly good at Juve / Jonathan Moscrop/Getty Images
Speaking of Juventus midfielders, the mediocrity of the players the club have brought in has been a pretty obvious problem over the last three or four years.

Here's a few of said mediocre midfielders:

- Miralem Pjanic: b-tech Andrea Pirlo.
- Emre Can: b-tech Sami Khedira.
- Sami Khedira: knees were made of glass.
- Aaron Ramsey: whole body is made of glass.
- Stefano Sturaro: shockingly, was paid by the club to play football.
- Mario Lemina: barely good enough to play for Fulham.
- Adrien Rabiot: completely and utterly pointless footballer.

Blame rating: 8.5/10
6.

Adrien Rabiot
Adrien Rabiot is not good at football / Valerio Pennicino/Getty Images
Yes, we know he score on Tuesday night against Porto to give Juve a glimmer of hope that they might stage a comeback.

But it's the hope that kills you, and Rabiot has been - to but it bluntly - an absolute car crash of a footballer this season; so shoulder some blame buddy.

Blame rating: 8.6/10
5.

Every Juventus team that's lost a European Cup final
2003 Juventus team (minus Pavel Nedved) / Alessandro Sabattini/Getty Images
Simply put, there wouldn't be the pressure that there is on the club to win the Champions League right now had they not lost *checks notes* seven of the nine European cup finals they've been in.

Blame rating: 8.9/10
4.

Serie A
Juventus win in Serie A / Stefano Guidi/Getty Images
Juventus have won nine consecutive Serie A titles.

All of this success has gassed Juve fans up and made them think that their team are capable of winning the Champions League when they are not. Again, it's the hope that kills you.

Blame rating: 9/10
3.

Fabio Paratici
Paratici doesn't even know how to wear a mask / Alessandro Sabattini/Getty Images
When Giuseppe Marotta left the club in 2018, Juventus fans weren't too worried, as most thought that Fabio Paratici was the real brains behind the signings of Paul Pogba, Andrea Pirlo, Paulo Dybala and co.

Well, judging by the business done by the club in recent transfer windows, we can safely say that Marotta was the brains.

One of the key problems Pirlo, Sarri and Allegri have run into in recent seasons has been the lopsidedness of the squad. The squad currently consists of one natural right-back, one senior left-back, no natural left midfielders and literally a million right midfielders.

Building a competent, balanced, starting XI out of the senior squad has been impossible over the last three years - and that is undoubtedly Paratici's fault.

Blame rating: 9.5/10
2.

Cristiano Ronaldo
Ronaldo may be the worst signing in the club's history / Jonathan Moscrop/Getty Images
The sole reason Cristiano Ronaldo was signed, and is currently being paid a *ahem* €31m a year salary (after tax - no seriously, after tax), was to win the UEFA Champions League for Juventus. There was no other reason to sign him.

He wasn't signed to score 30 goals a season in Serie A and win the league title - Juve have done that without him, and will do it without him in the future.

After three years, and three embarrassing UCL exits, it's pretty clear that the 'Ronaldo project' has been a resounding failure. It's also pretty clear that the club can't really afford to have him on the books, and are forced to sell and underpay top quality players (Dybala) to try and pay CR7 his ridiculously huge salary.

It's time to sell him and move on.

Blame rating: 9.99999/10
1.

Andrea Agnelli
Andre Agnelli just doesn't understand what football is / Stefano Guidi/Getty Images
21 of the 29 reasons above why Juventus aren't very good right now are because of decisions made by club president Andrea Agnelli.

Agnelli is the reason the club is financially hamstrung by Ronaldo's contract. He's the reason why they're obsessed with tearing up the club's traditions to become a marketable asset. He's the reason the club appointed a manager on the cheap in 2020. He's the reason Fabio Paratici is in a job at the club. He's the reason adidas make the kits. He's the reason Jeep make terrible ads.

And, to top it all off, he's the reason why a European Super League - which will irrecoverably ruin domestic football - is inevitable.

Blame rating: 10/10
---