Juventus 2020/21 Season Preview: Strengths, Weaknesses, Key Man & Prediction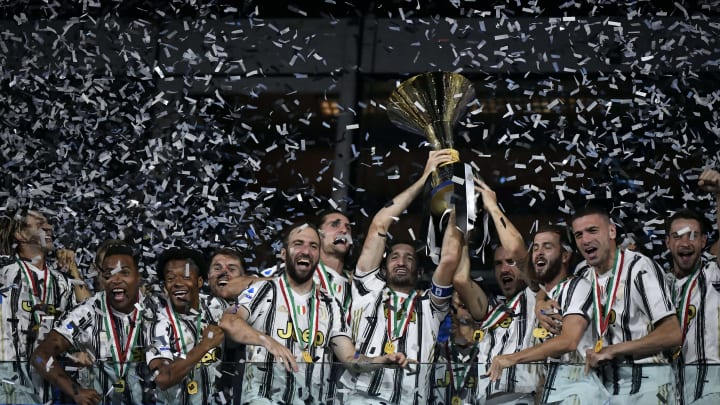 Despite last season's Scudetto win being Juventus' ninth consecutive league title triumph, things weren't as rosy as they seemed in Turin.
Then-head coach Maurizio Sarri was relieved from his duties following his side's Champions League round of 16 exit to Lyon, which capped off a largely disappointing season - one far below the usual standard.
Juve still wound up Serie A winners, but only finished a point ahead of runners-up Inter and looked far from convincing throughout the season. They also fell at the final hurdle in cup competitions, finishing runners-up in both the Coppa Italia and Supercoppa Italiana.
With new head coach Andrea Pirlo in the hot seat for the 2020/21 campaign, the Old Lady are set to undergo somewhat of a transitional period. Pirlo will have to meet the incredibly high standards set in previous seasons, but must also take his squad into a new, younger and more streamlined direction.
It's by no means going to be an easy first season on the job for the Italian, as Juve gear up to defend their Serie A crown, but there is an air of optimism around his appointment. Here's how I Bianconeri are looking ahead of the upcoming campaign...
Strengths
Defence
Despite their inconsistencies last season, Juve go into the 2020/21 campaign with a solid backline - even if it might still need a little bit of work.
They conceded just 43 league goals last season, second only to Lazio who conceded 42. Matthijs de Ligt didn't start last season particularly well, but was exceptional in the second half of the campaign. The youngster will miss the start of the new campaign following shoulder surgery, but will be raring to go when he's available once more.
Leonardo Bonucci looks set for another important season as the veteran at the back after rejecting the chance to move to Manchester City according to reports, and the likes of Alex Sandro and goalkeeper Wojciech Szczesny will continue to be some of the first names on the team sheet.
Andrea Pirlo
It felt like a big risk hiring Pirlo - who had only been appointed Juve's Under-23's manager just weeks before and was yet to take charge of a single game - and there is still some uncertainty around the move, but he could be the exact right appointment at the exact right time for the club.
Juve lost any sense of identity under Sarri. With Pirlo, however, things will be different. Sure, he doesn't have the experience as a manager, but his supreme understanding of the game as a player combined with his importance to Juventus as a club will give him an immense presence in the dressing room.
The players will respect Pirlo, and while it won't be a seamless transition, the change feels refreshing and necessary.
Weaknesses
Midfield
Juventus' midfield has been a problem for quite a while. It's been about as reliable as Italian counterparts Ferrari in Formula 1 in 2020, and is constantly overran by other sides.
The swap deal sending Miralem Pjanic to Barcelona in exchange for Arthur Melo is a step in the right direction, but there are still major question marks over their midfield.
Blaise Matuidi has departed for Inter Miami in another attempt to move on older, fringe players, but Aaron Ramsey's future is still uncertain and new signing Weston McKennie can't exactly carry the operation during his maiden season in Turin.
Juve cannot afford another season with a loosely organised, lacklustre midfield. Creativity from deep was a serial issue last season and teams will be ready and waiting to pick them apart if it remains one heading into the new campaign.
Squad in Transition
With a squad full over players in the mid-30s and early 20s, with very little in between, Juve are very much a team embarking upon a transitional period.
Juve have already made promising signings in McKennie and Arthur and are continually linked with moves to other big names such as Luis Suarez, but it's not going to happen overnight.
Key Man
Juve relied heavily on the goals of Cristiano Ronaldo and creativity of Paulo Dybala last season, and we can expect more of the same in 2020/21.
The Portuguese superstar shocked the world when he swapped Madrid for Turin in 2018, but is yet to win a Champions League in Italy as he'd probably have liked to. He's managed 65 goals and 18 assists from 89 games so far at Juventus, and has been key in getting the best out of fellow forward Paulo Dybala, who looked rejuvenated last season.
Prediction
There's huge pressure on the shoulders of Andrea Pirlo to deliver instantly; being the man to not win Serie A after the team has won it every year since the 2011/12 season wouldn't read well on his CV. But the main thing next season will be an improvement on general week to week performances on the pitch.
Next season will be bumpy, but Pirlo is a football great and a serial winner himself. He has to set the Old Lady back onto the right path, but may struggle in the league to contain an Inter side managed by an experienced Antonio Conte, who looked good enough to win the Scudetto last season.
Prediction: Serie A runners-up