José Mourinho Confirms Tottenham Squad Have All Recovered From Pre-Lockdown Injuries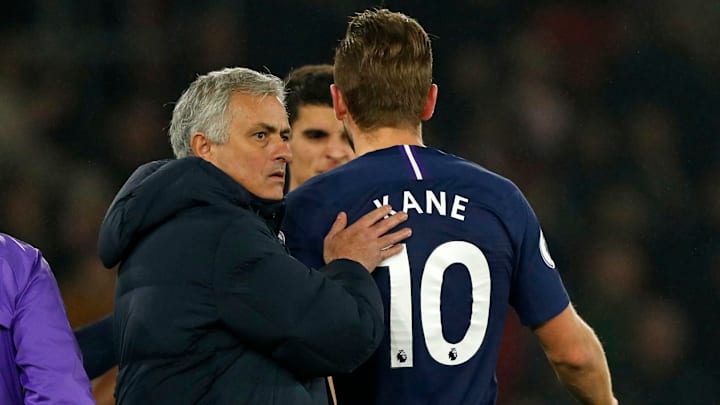 ADRIAN DENNIS/Getty Images
José Mourinho has revealed that his Tottenham squad have all recovered from their pre-existing injuries, but was keen to emphasise that they are far from match fitness ahead of the Premier League's potential restart.
Harry Kane, Heung-min Son, Steven Bergwijn and Moussa Sissoko had all been suffering from injuries prior to football's postponement, forcing Mourinho to field weaker sides during February and March. Their form deteriorated as a result, failing to win any of their last three league games and suffering cup knockouts in the FA Cup and the Champions League.
Michael Regan/Getty Images
Despite his squad now having a clean bill of health, Mourinho insisted they are still some way from being able to play matches. Speaking to Sky Sports, he said: "I cannot say in this moment they are ready to play because one thing is to recover from injury and another is to be ready to play football.
"In Harry's case, I think for about five months he hasn't played, but all of them are not injured anymore. They are training, and training is what it is at the moment, training has a lot of limitations. We cannot compete, we cannot do one versus one, we have to keep at a certain distance, we cannot compete.
"Harry Kane, Son, Bergwijn, Sissoko, all of them are fine. I think with a couple of weeks of normal training, when the authorities tell us we can train normally I think in a couple of weeks, the boys will be ready to play, of course not in the maximum of their potential, I think nobody can do that in this moment.
Julian Finney/Getty Images
"For us, of course, it is a great feeling, because we finished the period with that defeat at Leipzig, where we were really, really in trouble to have 11 players, including attacking players, and in this moment, [Erik] Lamela, Son, Dele [Alli], Harry Kane, Bergwijn, everyone is fit now."
This will be music to the ears of Tottenham fans, whose side, as of football's postponement in March, sat in eight place in the Premier League, just below the Europa League places but nine points away from the Champions League places.