Chelsea
Jorginho sports Phil Foden's haircut following Euro 2020 triumph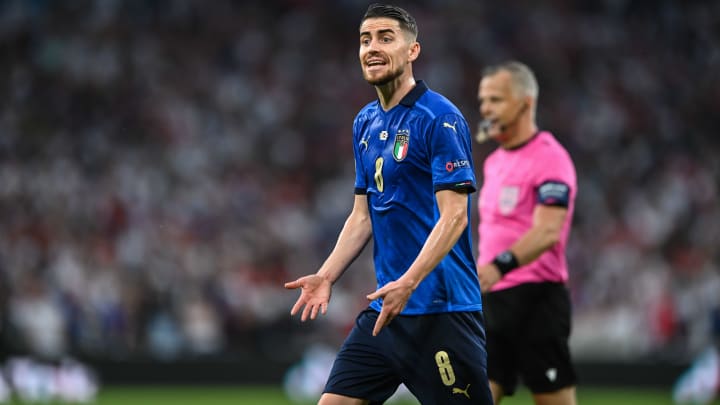 Jorginho is sporting a new look / GES-Sportfoto/Getty Images
After watching Phil Foden dye his hair white to try and inspire England to Euro 2020 glory, Chelsea midfielder Jorginho has gone and followed suit to celebrate actually winning it.
Foden's hairstyle, which drew inspiration from Paul Gascoigne's famous look from Euro 1996, was one of the biggest talking points in the build-up to this summer's tournament and could have even carried over to the new Premier League season, with Foden revealing his England team-mates had vowed to copy his style if they went all the way this summer.
Well, as we all know by now, things didn't exactly play out like that. Jorginho pulled the strings as Italy went on to win on penalties, but he ensured silver hair would make it back to club football by rocking up to Chelsea training with a brand new hairdo.
Is that a dig at Foden?
He's obviously not going to say so, but let's not act like Jorginho is unaware of all the hysteria Foden's hair created last month. He knows what he's doing.
If Jorginho is poking fun at Foden, fair play. He's earned the right to have a little fun at the Three Lions' expense after being told that it's coming home all summer.
To make matters worse, Jorginho wasn't the only Chelsea player to arrive at training with bright white hair. Veteran centre-back Thiago Silva has also whipped out the hair dye over the past few days, although nobody really knows why.
What was the shade of the dye, you ask? Thiago Silver. You're welcome.
Chelsea boss Thomas Tuchel now has all his key players back in pre-season as he prepares to take his side back to the Super Cup on Wednesday for a date with Europa League winners Villarreal.
After that, the Blues will have to switch their attention to Premier League action by kicking off their new campaign with a visit from Patrick Vieira and his new-look Crystal Palace side.