Women's Football
Introducing Ultimate Goal's Anya Donelan & Mollie Rouse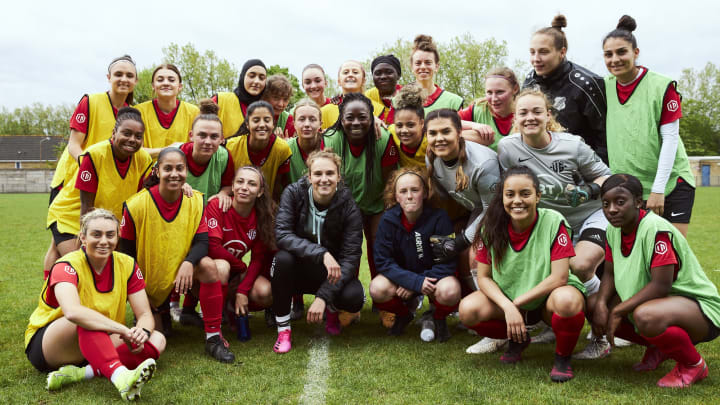 Ultimate Goal participants met Vivianne Miedema during filming / BT Sport
Anya Donelan and Mollie Rouse are two of the 16 players participating in the second series of Ultimate Goal on BT Sport, where young hopefuls competed for a chance to play in front of scouts from women's teams around the world in a bid to become the next female football star.
Both Donelan and Rouse had several years of experience of playing college soccer in the United States before entering the Ultimate Goal process in a bid to make their mark back home.
It is a path that is not uncommon among emerging English talent, giving players a different emphasis in their development than if they solely trained and played at home.
Emerging senior England internationals like Alessia Russo and Lotte Wubben-Moy have both returned home from U.S. college spells within the last couple of years, while the most famous example is 2020 FIFA award winner Lucy Bronze, who spent a portion of 2009 training and playing for the legendary University of North Carolina Tar Heels.
Donelan, who spent two years each playing at Monroe College and the University of Akron, and Rouse, who was at the University of Louisville and later the University of Central Florida, agreed that the American mentality and focus on the physical side helped develop a different edge to their game.
"Being in America, the style is very different," Donelan told 90min. "The way they play and their philosophy is different. The team that I was in was very directional, very forward, and quite aggressive and physical, which I hadn't really been used to before I went out.
"As a small player, I definitely wanted to improve my physicality, strength and power, so going to America definitely benefitted me. They have a huge emphasis on fitness as well, so I definitely got a lot fitter out there, did a lot of weight room sessions and things like that.
"I'm happy I've added that element to my game because I was already quite a technical player, so adding that physicality was definitely useful."
Rouse added that what young players learn off the pitch and the different approach helps lay crucial foundations for a professional career to come.
"The other side of it, off the pitch, the discipline they drill into you and to be so far away from home, you learn a lot about yourself because you don't have that support network right next to you, so you've got to start working things out for yourself," Rouse explained to 90min.
"I think it definitely developed that sense in me as well. It's very fitness-oriented and you're getting up at 6am, lifting [weights] in the morning. Those are things I hadn't encountered until I went to America and you're literally treated like a professional every day.
"The facilities are unheard of, so you get in that professional mindset and I feel that has really helped me as a player because I learned that element without actually technically being a professional. I could learn how to be a professional without the pressure."
---
Introducing Ultimate Goal's Anya Donelan
Anya Donelan has adapted to play football with partial sight / BT Sport
Donelan is a defender and was inspired to apply for series two of Ultimate Goal after watching the first on television. She was born with a hemangioma affecting her left eye that has meant she has been without the majority of her vision in that eye for most of her life.
"Because I've not been used to having that vision on that side, I was used to it and I don't really know any different. I don't know if it does affect my game, but it's just something that I've got used to and adapted to over the years," she explained.
A Manchester United fan who is 'proud' to see the development of a Red Devils women's team, Donelan is also fascinated by crime and criminology, studying it as her degree alongside playing football, although the reality, she says, is 'very different' from what you see on TV.
"I've always had an interest in fighting for equal rights and I believe in lots of things like gender deserves equal pay," she added. "In terms of justice, I have a strong passion for that. I'd like to try and keep communities safe and fight crime."
---
Introducing Ultimate Goal's Mollie Rouse
Mollie Rouse is a midfielder who looks up to Keira Walsh / BT Sport
Rouse plays in midfield and before Ultimate Goal had already been capped by England more than 60 times across various age groups from Under-15 to Under-21 level, including winning a bronze medal at the 2018 Under-20 World Cup as a teammate of Georgia Stanway and Lauren Hemp.
While in America, she trained under the guidance of former UWSNT star, World Cup winner and Olympic champion, Tiffany Roberts. Upon her return to England, she landed a contract at Women's Championship club Lewes, where she saw 'great values' on display and has since signed pro terms with London City Lionesses, but still dreams of playing in the WSL and for England.
Rouse particularly looks up to Manchester City midfielder Keira Walsh because of their similar roles on the pitch and is inspired by what the England international has achieved.
"She's not that much older than me so it's one of those where you can really be like, 'This is where I need to be at', and she's really grown her games in the last few years – now look at her, she's doing incredible things," the player explained.
---
"The quality of the final 16 that we've got is considerably higher."

- Rachel Brown-Finnis, Ultimate Goal coach
Ex-England goalkeeper Rachel Brown-Finnis is one of the Ultimate Goal coaches, returning from the first series, and believes the standard of players in the new series is even better.
"The level of quality this time around is much, much higher than it was last year. That's no discredit to the players who came on the show last year," Brown-Finnis told 90min.
"We had a current England international who was at St George's Park [during filming] go and chat to one of their former teammates who was part of the Ultimate Goal academy this series – they played together for England Under-20s. That just gives you an insight into the quality of players we've got."
Ultimate Goal series two premieres on BT Sport 3 on Tuesday 2nd November at 10.15pm, with episodes airing over the next five weeks on Tuesdays on BT Sport. All six episodes from series two will be available to watch via the BT Sport App from Wednesday 3rd November.
---
For more from Jamie Spencer, follow him on Twitter and Facebook!