World News
90min's Our 21: Sassuolo and Italy's Giacomo Raspadori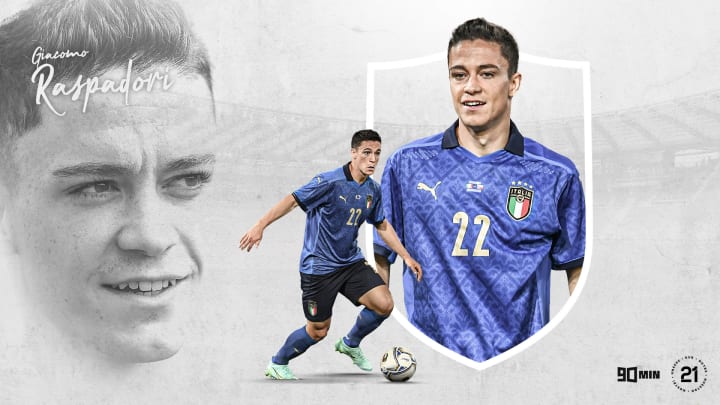 Roberto Mancini was a maverick forward back in his playing days, and it appears he hasn't lost that zany streak in management.
The Italy coach shuffled his cards, and with the stealthiest of fingers, pulled out a joker from the pack. Giacomo Raspadori, a striker for Sassuolo and the Italy Under-21 side, is the surprise inclusion in the Azzurri's 26-man squad for Euro 2020.
Ready for business / Claudio Villa/Getty Images
In a move which shocked everyone, Mancini decided to leave out Paris Saint-Germain forward Moise Kean, and instead opted for the 21-year-old Raspadori - who is yet to make a single appearance for the senior side.
But the reaction to his selection in Italy has been incredibly positive - and that shouldn't come as too much of a surprise. Unlikely heroes play a huge role in the history of this proud footballing nation. Paolo Rossi fired Gli Azzurri to World Cup glory in 1982, while Toto Schillaci was the feel-good story of Italia '90.
In Raspadori, Italy sees the next in a line of cult heroes. Here's everything you need to know about the starlet ahead of Euro 2020.
---
How he's performed this season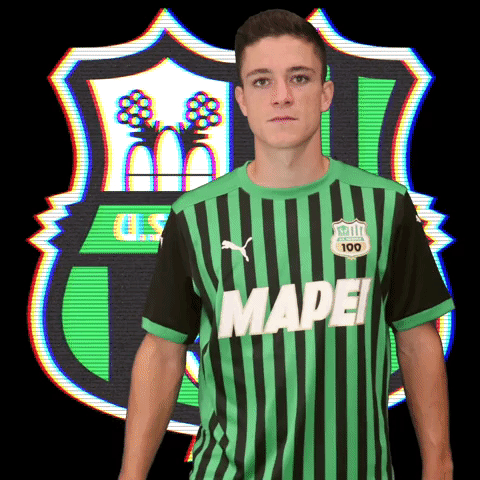 The Sassuolo star began the season slowly, taking his time to acclimatise to the demands of top-flight football. Once he got his feet under the table though, there was no stopping him, as he went on to score six goals in Serie A. His first strike of the season came in a 2-1 victory over Genoa, flying highest to flick home an in-swinging cross with a brilliant header.
He then scored while captaining Sassuolo against AS Roma, before enjoying a 26-minute cameo which caught Mancini's eye. The forward came on as a substitute in the 64th minute with Sassuolo trailing 1-0 to Milan, and proceeded to score a beautiful brace to turn the game on its head.
For his first, he received the ball with his back to goal, instinctively swept it out wide, and made a dash for the penalty spot. Sure enough, the ball fell his way and he stabbed home. Animalistic intelligence.
If the first was a poacher's goal, the second was a thing of beauty.
He received a pass to feet and with one deft touch, managed to sell Fikayo Tomori a dummy and take the ball around the outside of the defender. From there, he hit an inch-perfect strike, bouncing the ball off the inside of the post and into the net.
---
Preferred position
Raspadori is your classic fox in the box. He is an out and out striker, a centre-forward who loves to take up dangerous positions in the penalty area and get on the end of crosses from wide. He's frighteningly two-footed, can finish comfortably from anywhere in the penalty area and also possesses a great leap to nod home crosses.
The 21-year-old likes to operate in tight spaces, and has the calm presence of mind and quick feet needed to shift the ball from one side to the other, before making the room to get a shot away. He possesses that predatory instinct which can't be taught, and just has the knack for goals.
He has been tested in a more supporting role and as an attacking midfielder once or twice, but his nose for goal means he should be as close to the six-yard box as possible at all times.
---
Who does he play like?
Raspadori admires Aguero's qualities / Chloe Knott - Danehouse/Getty Images
It's a bold comparison for someone who has only started banging in the goals this season, but Raspadori boasts a striking resemblance to the style of Manchester City legend Sergio Aguero.
Standing only 5'6" tall, Raspadori is deceptively strong, and much like Aguero, uses his body to excellent effect. They share great similarities when receiving the ball in the penalty area, knowing when to take an extra touch, when to manoeuvre a bit of space, and when to just rocket a shot away first time.
He's lightning fast when racing onto a through ball or running with the ball at his feet, and also likes to drop a bit deeper to provide some link-up to his midfielders and wide men. No matter what though, he's in the box to get on the end of their delivery.
"I am inspired by Aguero, he is my role model in everything," Raspadori admitted. You can tell, too.
---
What people have said about Raspadori
Brothers in arms / Marco Luzzani/Getty Images
"Already at the age of 14-15 he faced everything with the utmost desire but also great serenity and intelligence. The physical appearance can often be deceiving: he is not a giant but he also has a lot of physical strength."

- Francesco Palmieri, Sassuolo scout
"I'm happy for Raspadori because he works hard, he trains to the maximum and is a real talent."

- Francesco Caputo, Sassuolo striker
---
What Roberto De Zerbi and Roberto Mancini have said 
De Zerbi believes in Raspadori's capabilities / Alessandro Sabattini/Getty Images
"He is a great player. In football, players are still judged on weight and height, but he is really good."

- Roberto De Zerbi, Sassuolo manager
"Raspadori has done well over the past three months but even earlier."

- Roberto Mancini, Italy manager
---
FIFA 21 rating and potential
In fairness to EA Sports, Raspadori's rise to fame has only really come to our attention in the past three months or so. With that in mind, they gave the Italian starlet a starting rating of 64 on FIFA 21, although he can grow to a potential of 78.
Perhaps his motivation all along has been to prove EA wrong this season, and inclusion in the Euro 2020 national team is a fortunate by-product of his efforts. Then again, maybe not.
---
Football Manager rating
Football Manager are known for their ability to see into the future, so they've predicted a bit more of a successful career path for Raspadori than EA Sports.
He begins the game as an exciting talent, and given the right guidance, he can become a top striker in Serie A.
---
What boots he'll wear at Euro 2020
Hero in Nike boots / Marco Luzzani/Getty Images
Raspadori has been wearing Nike Mercurial Vapor 14 boots for Sassuolo in recent months, so it's likely that he'll be sticking with the same style, or a special Euro edition, for the summer competition.
---
How involved he'll be at Euro 2020
Eyeing a place in the side / Claudio Villa/Getty Images
In truth, we just don't know how involved Raspadori will be. He is very much the wildcard of the pack, and while many would love to see him thrown on as an unknown entity, heavyweight duo Ciro Immobile and Andrea Belotti stand in his way.
We could see him given his chance from the bench if Italy are comfortably ahead during the group stages, or if they're in desperate need of a late goal to salvage a match. Either way, Raspadori will be presented with the chance to become a national hero, and our instincts say, he'll take it.
---