World News
90min's Our 21: Borussia Dortmund & England's Jude Bellingham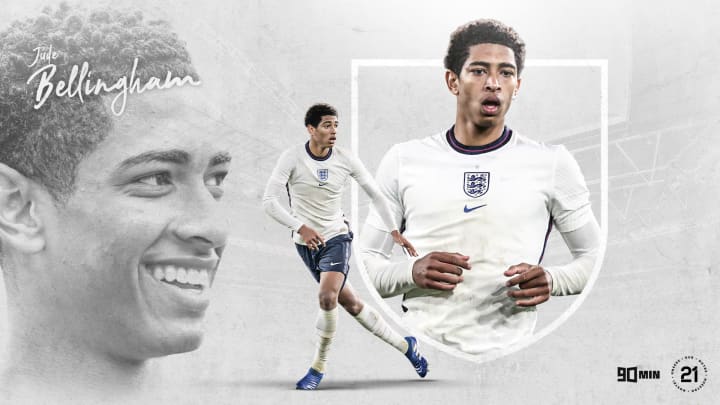 When Birmingham City took the extraordinary step of retiring Jude Bellingham's shirt number following his move to Borussia Dortmund in July 2020 everyone - including us - laughed at them.
One year on, although the move still seems a bit excessive, we have all been seduced by Bellingham's ridiculous talent. The most expensive 17-year-old of all time has taken like a duck to water at Dortmund and thinking about what he might go on to accomplish in his career is a scary thought.
Of course then, he's made his way into 90min's Our 21 series. Here is everything you need to know about Bellingham ahead of his first ever major tournament.
---
How Bellingham's performed this season
While several of his senior colleagues have struggled, Bellingham was consistently eye-catching for Dortmund this season.
Despite his tender age he made 46 appearances in all competitions, including a 45 minute stint in the DfB-Pokal where BVB bested RB Leipzig 4-1. He saved his very best displays for the Champions League, though.
In both legs of his side's quarter final meeting with Manchester City Bellingham was sensational. He terrorised City in the first game with his tireless energy, while his searching ball led to Dortmund's goal in a 2-1 defeat. He should have scored himself as well, only being denied by a comical refereeing decision. He did net in the second leg but it was not enough to prevent his team's exit.
---
Preferred position
Bellingham is best as a shuttling number eight. There are few areas in which he does not excel and his incredible engine means he finds it easy to get around the pitch.
On the ball Bellingham is an accomplished line breaker. His close control and explosive pace means he is dangerous in close quarters and he can also progress the ball with his pinpoint passing from deep.
In addition he is a remarkably intelligent defender particularly in transition. For someone so young he has great discipline as well, enough to occasionally be used as a number six. However, it is generally agreed that his future lies in a slightly more advanced midfield position.
---
Who does Bellingham play like?
Bellingham's all-action style has drawn many comparisons / Mika Volkmann/Getty Images
Thanks to him being such an all-rounder, Bellingham has been compared to every top English midfielder of the past two decades.
Frank Lampard and Steven Gerrard are two names that have come up most often, comparisons that the player himself is not keen on.
"I'm the first Jude Bellingham, and I don't want to be compared with Gerrard or Lampard. They were undoubtedly great players, but I have other qualities. I'm a different player and a different person," he told Sport1 back in 2020.
Bellingham is a bit like Gerrard / Clive Brunskill/Getty Images
Bellingham may not like it but similarities with Gerrard - more so than Lampard - are clear. His ability to evade the press is rather Gini Wijnaldum like as well.
---
What Gareth Southgate has said about Bellingham
Southgate gave Bellingham his Three Lions debut / CARL RECINE/Getty Images
"I couldn't be more impressed with him as a human being."

- Gareth Southgate on Bellingham
After Bellingham made his England debut back in March - becoming the Three Lions third youngest player in the process - Gareth Southgate was full of praise for the midfielder. It was not just his technical skills that impressed Southgate, his temperament pleased him as well - something he values highly in his squad.
"I couldn't be more impressed with him as a human being. His parents have done a fantastic job and should be very proud," he said (via FourFourTwo).
"He's got humility, good manners, confidence and a lovely way about him. There was a video that the FA released of some personal insights of his and I couldn't believe some of his interactions with the fans in Birmingham, at the age of 16, 17.
"Not many players have the confidence to go and get the fans going and get them roaring behind the team when they've just scored, and I thought that was quite significant in showing the level of his thinking and his comfort in going and putting himself out there to do that."
---
What others have said about Bellingham
"He's so good for 17 years old, I cannot believe it. He's a fantastic player."

- Pep Guardiola
"He's a complete midfielder."

- Roy Keane
---
FIFA 21 rating and potential
Boasting a 76 overall at just 17 years old, you will not be shocked to learn that Bellingham would be a smart investment for your Career Mode team. Get him some playing time early on and his overall could rise as high as 88.
Don't expect him to come super cheap, but if you have the cash to spend he is as close to a must buy as you will find when you start the game.
---
Football Manager rating
Any Football Manager fans out there will have been well aware of Bellingham before he got that life changing move to Germany.
For several years now he has been one of the most exciting wonderkids on the game. He boasts some incredible starting stats, as well as the coveted Personality type, 'Professional'. This means that as long as you keep playing him he will develop at a sensational rate.
Here are his stats at the start of the game:
Bellingham's starting stats /
And here is how he looks in 2030:
Jude Bellingham's 2030 stats /
---
What boots Bellingham will wear at Euro 2020
Bellingham is an adidas athlete so he will likely be wearing one of the Copa Sense 1 colourways this summer.
---
How involved Bellingham will be at Euro 2020
This is a golden question. We would be shocked if Bellingham does not play at all at the tournament but his involvement will depend on the fitness of Liverpool captain Jordan Henderson.
Bellingham could be important for England this summer despite his age / INA FASSBENDER/Getty Images
There were brief concerns over whether Bellingham would even make the squad several months back, though the expansion from 23 to 26 players largely put those to bed.
He could be particularly useful in games in which England are likely to see more of the ball. Although the stability of both Declan Rice and Kalvin Phillips will be needed on occasion, playing the two together in some qualifying games felt like overkill at times. Adding an explosive number eight like Bellingham to the mix would shake things up nicely.
---