World News
90min's Our 21: Bayern Munich and Germany's Jamal Musiala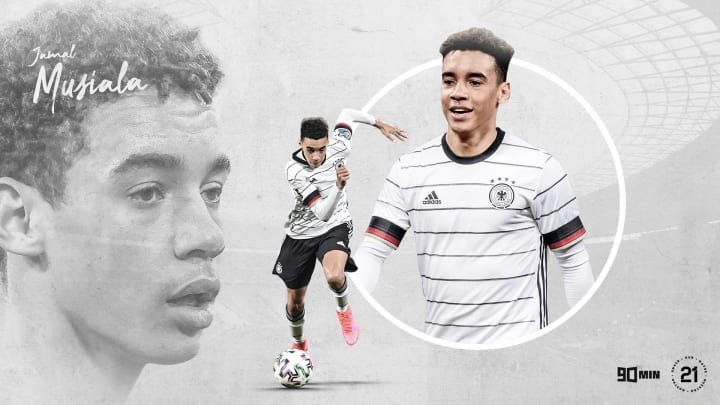 Few players experienced the whirlwind of the 2020/21 season quite like Bayern Munich starlet Jamal Musiala.
Snapped up from Chelsea in 2019, the attacking midfielder made his debut towards the end of last season and has only built on that this year, blossoming into a major part of one of the best squads on the face of the planet.
His astronomical rise brought a battle for his international allegiance, with Germany winning out and calling him straight up for Euro 2020, so here's a deeper look at what you can expect from him.
---
How he's performed this season
Musiala is a core part of the Bayern squad / Alexander Hassenstein/Getty Images
As an 18-year-old trying to make a splash for the reigning European champions, Musiala had to work very hard for his minutes, and the fact he played in 37 different matches for arguably the best team on the planet deserves an obscene amount of credit.
Only 11 of those came as starts, which puts into perspective just how good his return of seven goals and one assist actually was. This was a kid who was not just there for the ride but was actively part of the team's success.
Two of those starts came in consecutive games in April, in which he bagged three goals and was directly responsible for Bayern picking up four points. He made a real impact.
---
Preferred position
Growing up in the Chelsea academy, Musiala was always a 10. In the hole behind the striker, he would constantly manage to steal the show with goals, assists and everything you could want from your attacking midfielder.
Upon moving to Bayern, Musiala saw more minutes as a left winger, where he was tasked with using his mazy dribbling skills to create for others out wide.
Hansi Flick used Musiala all over the shop, including on the right and as a deeper central midfielder, and the German excelled in them all.
---
Who does he play like?
Musiala plays like a young Alli / Ian Walton/Getty Images
When you watch Musiala, it's impossible not to get flashbacks of 2016/17 Dele Alli.
Both are tall, deceptively agile midfielders who can dominate in goalscoring opportunities and just as easily tear a defence apart with a quick pass or a silky skill. English fans were convinced Alli was the future of English football, and Germany fans are just as high on Musiala.
Alli may have struggled to maintain that form, but all the signs suggest Musiala won't succumb to the same fate.
---
What his teammates have said
Kimmich is a big fan / Alexander Hassenstein/Getty Images
"Jamal is amazingly good for his age. He has good ball control and a clear mind. He always has a positive attitude and tries to learn from us. He always plays well. He keeps the ball, is a great dribbler and has already scored two or three goals."

- Joshua Kimmich
"He's a great, great player. The first couple of times he showed up in training we already knew he was going to be a superb player. His talent is amazing. He isn't shy of anything. He has a lot of time on his hands and I hope he will continue to grow, and use his talents for Germany instead of England – to my benefit!"

- Serge Gnabry
---
What Hansi Flick & Joachim Low have said
"He is an exceptionally great talent, absolutely."

- Joachim Low
Flick gave Musiala his big break / Pool/Getty Images
"He has qualities that are not seen that often. Jamal asserts himself under pressure in a tight space. He is intelligent, very smart, can read a game."

- Hansi Flick
---
FIFA 21 rating & potential
Musiala is the definition of a wonderkid / Matthias Hangst/Getty Images
If you want to know how far Musiala came over the 2020/21 season, just look at his FIFA 21 rating. He started the game just 61 overall, but he's climbed all the way up to a 74 these days.
His dribbling stats are already unreal, but they become otherworldly if you can help him realise his 87 potential. You'll have the best playmaker on the game if you play your cards right.
---
Football Manager rating
Musiala's inclusion in Football Manager 2021 was hotly anticipated, and it's not hard to see why.
Before the winter update, he could be signed for pennies if you moved quickly enough, but Bayern have made sure you can't take advantage of them these days and want a huge fee to part ways with their starlet.
Here are his stats at the start of the game.
In this save, he's worth £81m and playing for Real Madrid by the time 2030 hits, and just look at those stats.
---
What boots he'll wear at Euro 2020
Musiala has been sporting Nike Mercurials / Alexander Hassenstein/Getty Images
The Nike Mercurials have been good to Musiala this season, and he'll be hoping to see that trend continue at Euro 2020.
His go-to has been the Laser Orange Superfly 7s, but the teenager has brought out a few different colourways this year and might look to stand out at the tournament with some fresh models.
---
How involved he'll be at Euro 2020
Given he's playing for a nation as big as Germany, Musiala will probably have to settle for a reserve role at Euro 2020.
There are some big names competing for minutes across Die Mannschaft's forward line, so it's unlikely that Joachim Low will hand the youngster too much responsibility this summer, but expect Musiala to get a good few cameos off the bench.
Check back here for Euro 2024 and it'll definitely be a different story.
---