90min's Our 21: Barcelona and Spain's Pedri Image by 90min /
You can be pretty damn sure you're a special talent when Barcelona step in and secure a deal to bring you to Camp Nou aged 16 - not even a month after your senior debut for Las Palmas. And that's exactly what happened to Pedri.
Despite this, no one would have imagined the impact he was about to have on one of the world's biggest clubs at such a young age.
Pedri in action for Spain / Soccrates Images/Getty Images
Coming straight from second tier football, Pedri instantly became an integral component of the Barcelona starting XI and has broken into the Spain team too.
So, ahead of this summer's European Championships, we at 90min thought we'd take you through all you need to know about La Roja's special talent.
---
How he's performed this season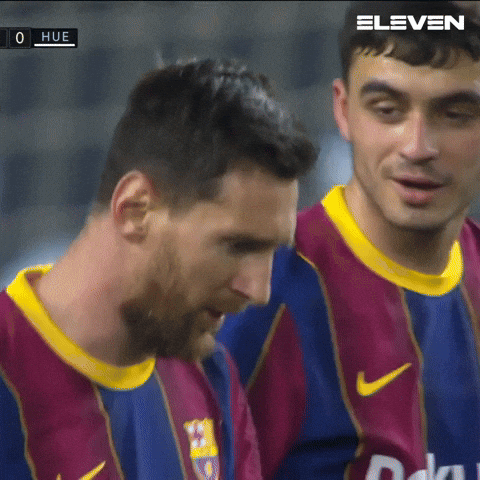 Before you read further, just bear in mind that Pedri was playing second tier football in his first season as a professional last campaign. This term, the now-18-year old has played in all but one of Barcelona's 53 matches across all competitions - that's seriously impressive.
Pedri has never looked out of his depth at La Blaugrana and, indeed, especially since Ronald Koeman switched to a 3-5-2 formation, he's become key in creating and building play between midfield and attack - keeping fellow summer signing Miralem Pjanic out of the side in the process.
With a quick mind and remarkable vision, paired with just ridiculous natural ability, the 18-year old has been able to integrate perfectly into the side, and link up almost telepathically with the likes of Lionel Messi and Antoine Griezmann ahead of him.
Lionel Messi, Antoine Griezmann and Pedri have been excellent together in recent months / David Ramos/Getty Images
Throughout the 2020/21 campaign, he has been capable of finding neat little pockets of space and has demonstrated unbelievable - almost artistic - control and ability to drive past players when he pleases.
Four goals and six assists in 52 appearances this term may not be the most dazzling of returns but his dynamism, tenacity and influence on Barcelona at such a young age has blown spectators away and rightfully propelled him into the spotlight.
---
Preferred position
Up until around December 2020 the youngster hadn't really settled on a specific position. Throughout his time at Las Palmas and his first few months at Camp Nou, he was used either as a left winger or an attacking midfielder.
However, since Koeman's reshaping of the side, Pedri has very much landed upon his ideal role as a central midfielder with license to roam. Barcelona's three at the back allows the two just ahead the holding midfielder to float around a lot, giving them virtually free roles to go and create.
With Spain, Pedri is unlikely to have as much freedom but, in any case, the 18-year old is a team player, and the role he plays isn't of the greatest importance to him. Speaking to Diaria Sport (via tribuna.com), the Barca man said: "I'll play where the coach tells me to. The most important thing is to play but I have to admit that playing more centrally is where I feel the most comfortable."
---
Who does he play like?
Pedri has drawn comparisons to Barcelona legend Andres Iniesta since he arrived at Camp Nou. His silky way of bypassing brutish tackles without looking at all fazed has reminded Barca fans of one of their former heroes.
Pedri has been compared to Andes Iniesta / Quality Sport Images/Getty Images
Pedri himself has admitted that his idol growing up was the Barca legend:
"I always loved Iniesta and his way of playing soccer, because of how he was both on and off the field," Pedri told The Associated Press earlier this year (via foottheball.com). "He has been my reference and I have tried to model myself on him. I never missed a game of his, so I guess some of it wears off."
---
What people have said about Pedri
"[Pedri] has a lot of potential...When he goes out on the pitch, he enjoys the ball and he doesn't look like he's 18! Therefore, the important thing is that he continues to grow, because he sure has a great future at Barça."

- Andres Iniesta
Luis Enrique with Pedri / Fran Santiago/Getty Images
"I understand that Pedri gets compared to Iniesta, but Pedri must be Pedri. He is a great player, he is humble, he works hard and his level is high."

- Luis Enrique
---
FIFA 21 rating and potential
It's not often that you find 18-year olds in the high 70s as a base rating in FIFA, but here we are. After the latest round of updates, you will find that Pedri's 77 overall rating is the second highest among players his age - one less than Eduardo Camavinga and one higher than fellow Barcelona wonderkid Ansu Fati.
And he's well worth buying. His potential overall rating reaches a whopping 91, provided he's given the right training regime and appropriate game time. But who in their right mind wouldn't give him game time?
---
Football Manager rating
Now this is where stuff gets serious.
If you were wondering how special Pedri really is, let the fact that Football Manager has labelled the 18-year old with the coveted 'wonderkid' tag sway your mind. If FM are right, Pedri will go on to become one of the world's best in years to come - both virtually and in real life. You wouldn't bet against it; put it that way.
Here are Pedri's stats at the start of the game:
Pedri's stats at the start of a save /
And here they are nine seasons into a save:
Pedri's stats in 2030 /
---
What boots he'll wear at Euro 2020
Having donned the saucy adidas Copa Sense+ boots throughout the 2020'21 season, he's expected to wear a Euro 2020 variant of those. Silky boots for a silky player.
---
How involved he'll be at Euro 2020
Pedri could be key for Spain / Soccrates Images/Getty Images
Of course, having only played three times for his country Pedri is a very inexperienced member of La Roja. For bigger games, such as their first two group stage fixtures against Sweden and Poland, he may not be one of the first names on the team sheet; although for their third, against Slovakia, he'd be hard done by not to start.
In any case, his astonishing maturity and creative exuberance in midfield will be a massive weapon for Enrique. And, even if the Spain coach opts for the established names like Koke, Thiago and Fabian Ruiz to flank Sergio Busquets in midfield for the most part, do not doubt that Pedri will be involved throughout - he will have his role to play.
---