Major League Soccer
Inter Miami's DRV PNK Stadium to host games at full capacity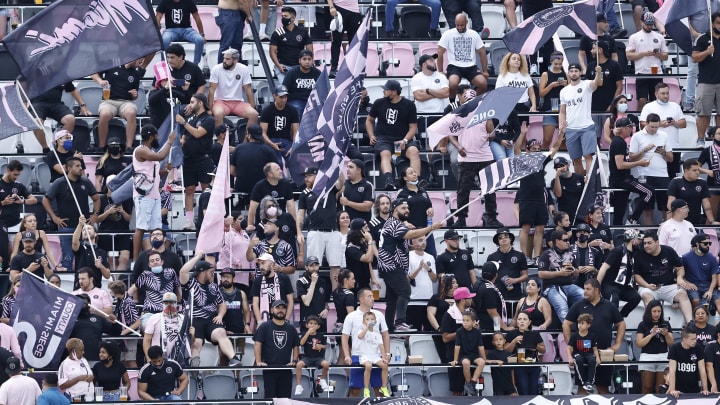 Inter Miami CF will finally play in front of a full capacity DRV PNK stadium / Michael Reaves/Getty Images
Inter Miami CF announced that starting May 29, DRV PNK stadium will begin operating at full capacity. 
On Saturday, Inter Miami will face D.C. United with newly opened DRV PNK Stadium for the first time since early 2020. The team cited South Florida's rapid vaccination efforts and increased ticket demand as the reasons for reopening. 
This is the first time in franchise history that Inter Miami will play at DRV PNK Stadium at full capacity. Their inaugural game was originally scheduled for March 14, 2020, but the launch couldn't be completed due to Covid-19. Though the team has played MLS matches at the stadium since, for safety purposes Inter Miami proposed limited attendance. 
The stadium fits 18,000 fans total. 
"This is an exciting development for Inter Miami, our fans, and partners, who have waited over a year to truly debut our stadium and experience a night of fútbol at full capacity," said Inter Miami CF Managing Owner Jorge Mas.
"Our community is taking great steps forward in helping us get back to normal, especially with the rapid distribution of vaccinations, and this coupled with the high demand from our fans gives us the confidence to operate at full capacity."
Inter Miami confirmed the facilities will continue to abide by MLS guidelines, reinforcing health and safety protocols to maintain the security of players and fans. Face masks remain a requirement during the match as social distancing in concourse areas is highly encouraged. Additionally, the club will follow strict cleaning rules prior and post matches, while providing hand sanitization stands throughout the stadium. 
Now, followers are thrilled to return and breathe a sense of Miami into their stadium. 
This Saturday, thousands of fans will be able to watch Inter Miami challenge D.C. United in a battle for progress on the Eastern conference table. Inter Miami stands in ninth place on the table, while D.C. United sit two spots below.
---