Independiente vs Racing Club: 6 Classic Clashes in the History of the Avellaneda Derby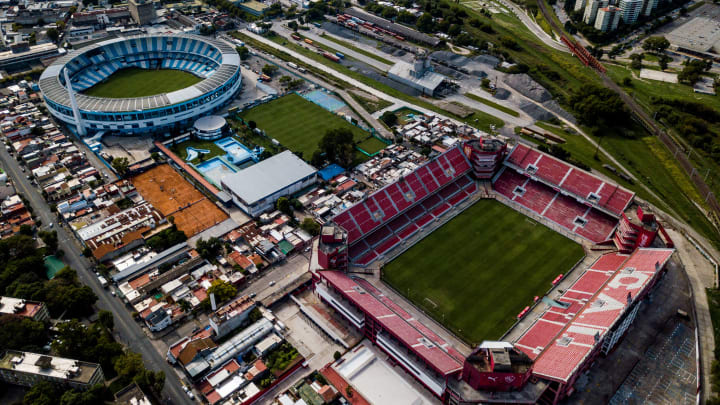 Empty Soccer Stadiums of Buenos Aires During Coronavirus Pandemic / Getty Images/Getty Images
Racing Club and Club Atlético Independiente are two of the biggest clubs in Buenos Aires, the mecca of Argentinian football. Although the Avellaneda derby may not generate as much traction as a clash of the titans between Boca Juniors and River Plate, it is not to be underestimated.
This fixture is one of the most hotly-anticipated games in the Argentinian football calendar, with two teams, supported to the ends of the earth, separated by 300 metres. This derby is just stripped-back, authentic and irreplicable passion.
But which clashes stand out above all the rest? 90min has picked out six classic encounters between these two rivals for you to check out.
---
Independiente 4-1 Racing (1974)
A massive win for Independiente, and a landmark moment in the history of this illustrious derby. There's nothing better than one of your own toppling your enemy. And for the Red Devils, Ricardo Bochini was their very own icon.
And only a couple of years into his career at the Estadio Libertadores de América, Bochini gave supporters one of their fondest memories, bagging a hat-trick against Racing in a dominant 4-1 win. His treble must have lured Independiente supporters into believing it was a sign of things to come, but unbelievably, it was the only hat-trick he scored in his entire career.
What a time to get it, though. Ricardo Bochini, he's one of our own!
---
Racing 5-4 Independiente (1975)
Who doesn't love a goal-fest? In the history of every derby, there's always one match in which defending flies out of the window, and the goals rain down on the bemused and emotionally drained supporters.
And in 1975, that was exactly the case when Racing and Independiente met at el Cilindro, and the duo put on an insane display of attacking brilliance for their spectators. It was a particularly special occasion for local lad Alberto Jorge, who scored four of Racing's five goals during their 5-4 victory.
And Jorge was clearly a man who thrived under pressure, with a hat-trick of his haul all coming from the penalty spot! Talk about confidence. The Argentine remains the only player to score four goals in a single Avellaneda derby match.
---
Racing 2–1 Independiente (1992)
This two-legged meeting is the only time that the two sides have faced off in international competition, and unsurprisingly, it was full of controversy. Racing were the quickest off the mark in this Supercopa Sudamericana tie, when Turco Garcia headed home from a whipped corner kick. Only, he didn't head home - the midfielder leapt, and punched the ball into the net with his fist, and his outrageous infringement was not spotted by officials.
Independiente had the chance to get on level terms in the second half, when the visitors were awarded a penalty, but the Academy goalkeeper threw himself down to his right, parrying brilliantly. And Racing capitalised on this pendulum-swinging moment, doubling their lead soon after.
The Red Devils pulled a goal back, but it wasn't enough, and after the second leg ended 0-0, Racing came out on top in this gargantuan battle.
---
Racing 0-1 Independiente (2017)
So you travel to your fiercest rival's fortress amid a mammoth fixture list, you're forced to field a team of reserves, and get a man sent off with an hour to play. Sounds like a derby nightmare, right? Well, this was the reality for Independiente, who, following Copa Libertadores duties, could only field an extremely weakened side for their huge clash with Racing.
But despite being up against all the odds, Los Diablos Rojos thrived on the challenge, and with the pressure well and truly on the hosts to dispatch their weakened adversary, Independiente pulled off one of the most humiliating victories over their bitter rivals.
Leandro Fernández was the eventual match-winner, robbing his marker of possession near the halfway line, driving towards goal and unleashing a pinpoint strike into the far, bottom corner. Racing were handed a huge boost when Rodrigo Moreira received his marching orders on 34 minutes, but the hosts simply couldn't find a way through their stubborn opponents, and a stunned home crowd left El Cilindro in disbelief. Backs to the wall stuff.
---
Independiente 1-3 Racing (2019)
The opportunity to prevent your arch enemies from lifting a league title doesn't come around too often. And Independiente players and supporters knew they had the unique chance to derail Racing's Superliga hopes, when the Academy made the short trip to the Estadio Libertadores de América in 2019.
Unfortunately for the expectant home crowd, they were unable to fulfil the role of party poopers, although they put up a tremendous fight. Racing took the lead through a lovely Alejandro Donatti header from a corner, but the hosts equalised from the penalty spot to offer their supporters some hope of an upset.
But Lisandro Lopez grabbed the game by the scruff of the neck in the second half, scoring the second goal and laying on a 94th minute third for Matías Zaracho to put the cherry on the cake for the visitors. It proved to be a monumental victory for Racing, who went on to be crowned league champions that season.
---
Racing 1-0 Independiente (2020)
There is no love lost between these two sides, and that hatred can occasionally boil over and spill onto the pitch in the Avellaneda derby - as it did in February - when both teams were incredibly reduced to nine men by the end of the match.
Racing were immediately plunged into trouble, when goalkeeper Gabriel Arias saw red for using his hands to save a shot outside of the box, and the Academy looked to be dead and buried when Leonardo Sigali was later given his marching orders for a stray elbow.
But the home side dug deep, defended bravely, and on 86 minutes, they took a shock lead, when Marcelo Diaz calmly slotted home from inside the penalty area. Independiente lost the plot following this killer blow, and their players saw red - twice, in fact. The Red Devils picked up two red cards in the dying minutes as tempers frayed, and fights began to break out all over the pitch.
Pure drama.