UEFA Euro 2020
How to watch every Euro 2020 game on TV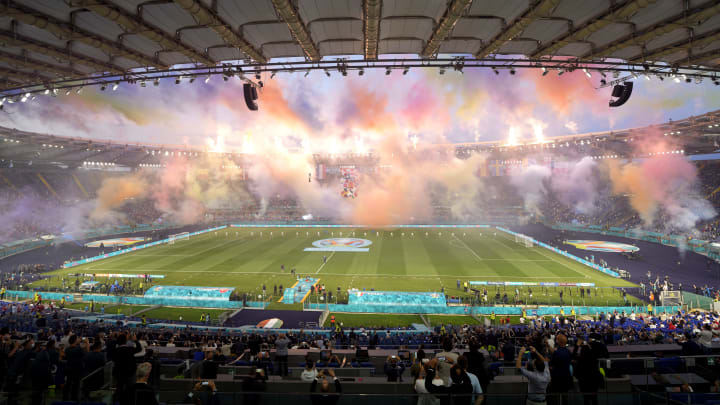 The opening ceremony of Euro 2020 took place in Rome / Andrew Medichini - Pool/Getty Images
The European Championships are in full swing, to the joy of pretty much anybody who has a vague interest in football.
24 teams battling out to be crowned the best team on the continent, though sadly some of the biggest and best stadiums around Europe won't be filled to capacity due to ongoing coronavirus restrictions.
It also means that fan park attendances have been scaled back, pubs aren't as rammed as they once more and, as a result, more and more people are likely to watch Euro 2020 from the comfort of their own home.
With that being the case, it seems ever so appropriate to channel our inner Radio Times, providing you with an all-singing, all-dancing guide to how you can watch every single game of Euro 2020 on TV...
*UK listings, also available online using iPlayer or ITV Hub.
---
How to watch every Euro 2020 group game on TV
Friday 11 June
Group A - Turkey 0-3 Italy (BBC One & iPlayer, 8pm)
Saturday 12 June
Group A - Wales 1-1 Switzerland (BBC One & iPlayer, 2pm)
Group B - Denmark 0-1 Finland (BBC One & iPlayer, 5pm)
Group B - Belgium 3-0 Russia (ITV & ITV Hub, 8pm)
Sunday 13 June
Raheem Sterling scored England's winner against Croatia / Robin Jones/Getty Images
Group D - England 1-0 Croatia (BBC One & iPlayer, 2pm)
Group C - Austria 3-1 North Macedonia (ITV & ITV Hub, 5pm)
Group C - Netherlands 3-2 Ukraine (ITV & ITV Hub, 8pm)
Monday 14 June
Group D - Scotland 0-2 Czech Republic (BBC One & iPlayer, 2pm)
Group E - Poland 1-2 Slovakia (ITV & ITV Hub, 5pm)
Group E - Spain 0-0 Sweden (BBC One & iPlayer, 8pm)
Tuesday 15 June
Group F - Hungary 0-3 Portugal (ITV & ITV Hub, 5pm)
Group F - France 1-0 Germany (ITV & ITV Hub, 8pm)
Wednesday 16 June
Italy coasted through Group A with three successive wins / Mike Hewitt/Getty Images
Group B - Finland 0-1 Russia (BBC One & iPlayer, 2pm)
Group A - Turkey 0-2 Wales (BBC One & iPlayer, 5pm)
Group A - Italy 3-0 Switzerland (ITV & ITV Hub, 8pm)
Thursday 17 June
Group C - Ukraine 2-1 North Macedonia (ITV & ITV Hub, 2pm)
Group B - Denmark 1-2 Belgium (ITV & ITV Hub, 5pm)
Group C - Netherlands 2-0 Austria (BBC One & iPlayer, 8pm)
Friday 18 June
Group E - Sweden 1-0 Slovakia (BBC One & iPlayer, 2pm)
Group D - Croatia 1-1 Czech Republic (BBC One & iPlayer, 5pm)
Group D - England 0-0 Scotland (ITV & ITV Hub, 8pm)
Saturday 19 June
Robin Gosens was electric as Germany downed Portugal / Alexander Hassenstein/Getty Images
Group F - Hungary 1-1 France (BBC One & iPlayer, 2pm)
Group F - Portugal 2-4 Germany (ITV & ITV Hub, 5pm)
Group E - Spain 1-1 Poland (BBC One & iPlayer, 8pm)
Sunday 20 June
Group A - Italy 1-0 Wales (ITV & ITV Hub, 5pm)
Group A - Switzerland 3-1 Turkey (ITV 4 & ITV Hub, 5pm)
Monday 21 June
Group C - North Macedonia 0-3 Netherlands (ITV & ITV Hub, 5pm)
Group C - Ukraine 0-1 Austria (ITV 4 & ITV Hub, 5pm)
Group B - Finland 0-2 Belgium (BBC One & iPlayer, 8pm)
Group B - Russia 1-4 Denmark (BBC Two & iPlayer, 8pm)
Tuesday 22 June
Group D - Croatia 3-1 Scotland (ITV 4 & ITV Hub, 8pm)
Group D - Czech Republic 0-1 England (ITV & ITV Hub, 8pm)
Wednesday 23 June
Group E - Sweden 3-2 Poland (ITV 4 & ITV Hub, 8pm)
Group E - Slovakia 0-5 Spain (ITV & ITV Hub, 8pm)
Group F - Portugal 2-2 France (BBC One & iPlayer, 8pm)
Group F - Germany 2-2 Hungary (BBC Two & iPlayer, 8pm)
---
How to watch the knockout stages of Euro 2020 on TV
Round of 16
Saturday 26 June
Wales vs Denmark (BBC One & iPlayer, 5pm)
Italy vs Austria (BBC One & iPlayer, 8pm)
Sunday 27 June
Netherlands vs Czech Republic (ITV & ITV Hub, 5pm)
Portugal vs Belgium (ITV & ITV Hub, 8pm)
Monday 28 June
Croatia vs Spain (ITV & ITV Hub, 5pm)
France vs Switzerland (ITV & ITV Hub, 8pm)
Tuesday 29 June
England vs Germany (BBC One & iPlayer, 5pm)
Sweden vs Ukraine (BBC One & iPlayer, 8pm)
---
Portugal are the defending champions / Soccrates Images/Getty Images
Quarter-Finals
Friday 2 July
France/Switzerland v Croatia/Spain (Channel TBD, 5pm)
Belgium/Portugal v Italy/Austria (Channel TBD, 8pm)
Saturday 3 July
Netherlands/Czech Republic v Wales/Denmark (Channel TBD, 5pm)
Sweden/Ukraine v England/Germany (Channel TBD, 8pm)
---
Semi-Finals
Wembley will host the semi-finals and final / Marc Atkins/Getty Images
Tuesday 6 July
TBC vs TBC (Channel TBD, 8pm)
Wednesday 7 July
TBC vs TBC (Channel TBD, 8pm)
---
Final
Sunday 11 July
TBC vs TBC (Channel TBD, 8pm)