Inter Milan
How Inter won the Scudetto
May 5, 2021, 5:45 PM GMT+1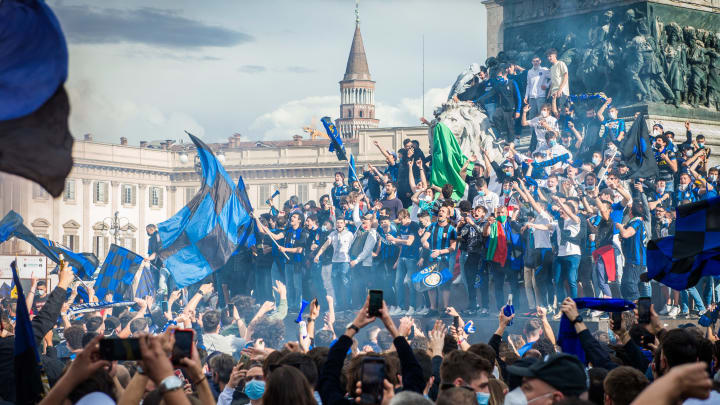 Inter fans celebrate their title win / Mattia Pistoia/Getty Images
So, after 11 long years, Inter have finally won the Serie A title once again and the hero to have brought the Scudetto back into the hands of the Nerazzurri is Antonio Conte.
After a rocky couple of opening months to the campaign, Conte's side really found form and have avoided defeat since early January. And after Atalanta's 1-1 draw with Sassuolo on Sunday, Inter were confirmed as champions with four matches to spare.
In this brilliant season for Inter, let's take a look at the matches that were key to their Serie A triumph.
1.

Inter 4-3 Fiorentina - Matchday 1
Without stating the obvious, a decent start to a season can set you up pretty well.

Lautaro Martinez's strike and an own goal from Federico Ceccherini were cancelled out by three Fiorentina goals and, by the 87th minute, it looked as though Inter were down and out.

Step forward one of the heroes of their season: Romelu Lukaku.

The Belgian netted the first of his 21 league goals of the season (to date) to equalise in the 88th minute, before Danilo D'Ambrosio bagged the winner in the 89th minute to give Inter three points on matchday one.
2.

Inter 4-2 Torino - Matchday 8
A Lukaku brace sandwiched by goals from Alexis Sanchez and Martinez gave Inter a resounding 4-2 win over Torino on matchday eight.

Crucially, this victory came after a run of just one win in four league matches, leaving the Nerazzurri seventh in the table - the lowest they've been all season.

The win lifted them to fifth and set up a run of eight consecutive victories.
3.

Inter 1-0 Napoli - Matchday 12
Guess who? That's right, it's Big Rom again!

The Belgian netted a 71st minute penalty in this tight and heated affair to secure a vital 1-0 win over Napoli who, at the time, were just one place below Conte's men in the table.

The fifth victory in the previously mentioned run of eight moved Inter to within one point of leaders AC Milan.
4.

Inter 2-0 Juventus - Matchday 18
Nico Barella and former Juventus man Arturo Vidal gave the Nerazzurri a crucial win in January as they beat the Old Lady 2-0.

Not only did the result move Andrea Pirlo's side down to fifth in the table, but it was also one of the most impressive performances of the season from Conte's men.
5.

Inter 4-0 Benevento - Matchday 20
A run of just one win in four was put to an end with this thrashing of Benevento.

It secured the double over the Stregoni, after a 5-2 trouncing on matchday two. Lukaku scored his second brace of the season against them, while an own goal from Riccardo Improta and a Martinez strike capped off the 4-0 win.

It set Conte's side away on a streak of 11 consecutive victories.
6.

Inter 3-1 Lazio - Matchday 22
A Valentine's Day victory to make the romantics dream of a first Scudetto in over a decade.

Lukaku's brace and Martinez's strike gave Inter a solid 3-1 win over Lazio to move them to the summit of the Serie A table on matchday 22 - and they haven't looked back since.
7.

AC Milan 0-3 Inter - Matchday 23
Just a week later, the Nerazzurri secured a massive derby win over AC Milan.

Martinez's brace alongside Lukaku's 66th minute strike gave them a comprehensive 3-0 victory over the Rossoneri, moving them four points clear at the top of the table.
8.

Inter 1-0 Atalanta - Matchday 26
By the time Inter faced Atalanta on matchday 26, La Dea had picked up form and were advancing up the table.

Conte's men remained unfazed and Milan Skriniar's second half goal was enough to put an end to their opposition's four-match winning run and keep Inter firmly in charge at the business end of the table.
9.

Napoli 1-1 Inter - Matchday 31
This match may have seen the end of Inter's 11 match winning streak, but it made the Serie A crown all the more likely.

Christian Eriksen's second half equaliser made sure of the continuation of their long unbeaten run while second-placed AC Milan had begun to pick up form once again.

Although not three points, it was a crucial result nonetheless.
10.

Crotone 0-2 Inter - Matchday 34
Conte's men followed up their 6-2 mauling of Crotone earlier in the season with a much more modest, but much more crucial, 2-0 victory over them on matchday 34.

As then second-placed Atalanta drew 1-1 with Sassuolo the day after, this was the match that sealed the title with four matches left to play.

Eriksen and Achraf Hakimi goals in the second half secured the comfortable win and, in doing so, bagged Inter's first Scudetto in over a decade.