Women's Football
Gotham FC head coach Freya Coombe praises defensive efforts after OL Reign win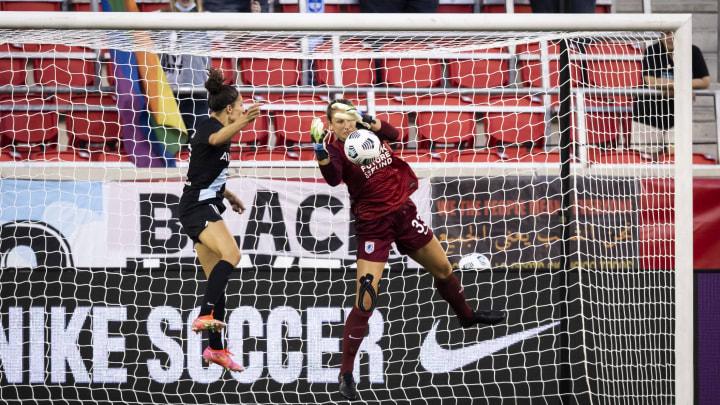 OL Reign vs NJ/NY Gotham FC during the 2021 NWSL season / Ira L. Black - Corbis/Getty Images
NJ/NY Gotham FC head coach Freye Coombe has praised her side for defeating a strong OL Reign side on Saturday.
The two teams faced off for the first time this season in Red Bull Arena, with Gotham triumphing 1-0 after a phenomenal strike by Ifeoma Onumonu. Despite the performance, this is only Gotham's second win of the regular 2021 season. 
Both sides kicked off the match strongly, seeing heavy offensive action on either ends of the pitch. OL Reign began to edge out Gotham as Rose Lavelle dribbled easily past defenders to find a perfectly placed Megan Rapinoe. The USWNT striker failed to convert the opportunity into a goal, an action they would later come to regret. Gotham retaliated with a corner kick by Caprice Dydasco that inspired Onumonu to swiftly find the back of the net. 
"I thought we had a very strong first half with our ability to create chances, we moved the ball well, we defended well." Coombe said post-game. "Obviously they put us under a lot of pressure in the opening minutes and I thought we rode that storm and we were able to weather it and then we had some really good spells in the game."
The game's lone goal by Onumonu was her first of the season, displaying great potential from the experienced striker. 
Defensively, Gotham goalkeeper Dijana Haracic excelled at retaining a clean sheet despite moments of opportunities by the opposition. 
"DiDi's done it again tonight, being able to keep a clean sheet," Coombe said. "She's been doing really well and I think we have got real depth of goalkeepers at the club and it's really, really pleasing for us to know that without Kailen, we can put DiDi in and she's going to do an absolutely great job."
Gotham enters the international break in third place with four matches played, standing behind Orlando Pride in first and the Portland Thorns in second. The NWSL returns to action on June 20.