Get #EUROHyped with the official finals playlists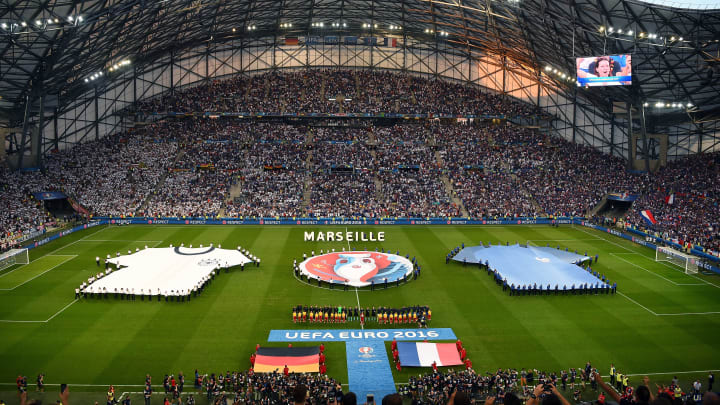 National anthems won't be the only music at EURO 2020 / Laurence Griffiths/Getty Images
The official UEFA EURO 2020 playlist, presented by Martin Garrix, is now available with UEFA EURO 2020 stars including team captains and dressing room DJs keeping the tunes flowing.
The playlist is on all major music streaming platforms including Spotify, Apple Music, Deezer, Tidal and Napster. Selected EURO teams and players have already added their first set of EURO bangers, with updates to come every Friday. Keep track of the top tracks using the #EUROHyped hashtag.
In addition to the overall selection, every team will have their own UEFA EURO 2020 playlist, featuring songs selected by the players.
Keep your eyes on this page, which will highlight some of the player selections.
Keep up with the latest additions to the UEFA EURO 2020 Official Playlist throughout the tournament
Meanwhile, We Are The People, the official song of UEFA EURO 2020, has been officially released. The track, from legendary Dutch DJ/producer Martin Garrix, also features Bono and The Edge.
The song launch is part of UEFA's plans to get football fans in the mood ahead of the tournament, with players participating in the summer's tournament contributing to the official UEFA EURO 2020 playlist which will be curated by Garrix and made available on all major music streaming platforms, in addition to each participating national team's own UEFA EURO 2020 playlist.
The #EUROHyped social media challenge invites fans to show everyone how they are getting in the mood for UEFA EURO 2020.
Czech Republic: Jakub Jankto
"Everyone can connect to the speaker," says Sampdoria midfielder Jankto of the Czech Republic's dressing room music policy. "But usually it's me." The 25-year-old has been dominating the behind-the-scenes vibes since his second week with the national team, with his playlist including stadium house biggies like Gala's Freed From Desire, while Spanish-language reggaeton tunes are post-match favourites. Jankto adds: "We like a lot of genres. We don't have one specific one. Of course, we often sing the Czech classics."
England: Declan Rice
Declan RIce tuning up the band at West Ham / Pool/Getty Images
West Ham defensive midfielder Rice says there is an very inclusive music policy in the England dressing room. "No one is particularly opinionated," he explains. "It's a combination of rap and hip-hop and a bit of R&B in there too." Rice mixes it up on his personal playlist – Pop Smoke's Got It On Me and Lady Gaga's Shallow both favourites – but one of the old England anthems from EURO '96 still does it for him, Three Lions still encapsulating that England camp feeling.
Croatia: Šime Vrsaljko
Domagoj Vida is the dressing room DJ, with patriotic songs firmly on the menu. Mladen Grdović provided the celebration song of choice at the 2018 FIFA World Cup, and after beating England in the semis the squad were joined by the veteran Croatian singer for a deafening rendition. The Atlético Madrid defender's personal favourite is the late great Dino Dvornik: "When I hear Jače Manijače (Harder, You Maniac) before we go on the pitch, I just feel that anything is possible."
Russia: Artem Dzyuba
Russia striker Artem Dzyuba / Thomas Eisenhuth/Getty Images
Electronic house, Christian rock and 1980s German pop-dance all makes the playlist in the Russian dressing room, but don't expect to hear much after the final whistle. "We have no music after the matches – just before," explains captain Dzyuba. "We listened to music after matches during the 2018 World Cup, but we lost." The Zenit forward admits that the music isn't to everyone's taste, and some seek solace in their headphones.
Ukraine: Oleksandr Zinchenko & Andriy Pyatov
In musical terms, it is every man for himself in the Ukraine dressing room: "We have different tastes and prefer to have our own playlists," explains Manchester City's Oleksandr Zinchenko. Goalkeeper Andriy Pyatov reckons Zinchenko has potential as a musical performer, but when it comes to singers, there is video evidence that defender Serhiy Kryvtsov is Ukraine's star man.
Switzerland: Manuel Akanji
The towering centre-back joined Dortmund from Basel in 2018 but reconvenes with former colleagues from his former club when on international duty. "I know from my time at Basel that Yann Sommer sings and plays guitar," he said, before expanding on his role as dressing room deejay. "I play what goes down best with the majority of my team-mates," he says. "It's a mix of US rap and hip-hop, French and African music. I guess that reflects the make-up of our team."
Finland: Tim Sparv
"No matter what happens, you'll see a team that will give absolutely everything," said the 34-year-old midfielder as he established the dressing room vibe for Finland's EURO debut. The team playlist, meanwhile, represents a diverse squad who go for "all kinds of Finnish music, rap, hip-hop or pop" – with plenty of golden oldies still getting a spin, provided goalkeeper Anssi Jaakkola doesn't object. "He just sits in the back of the bus and shouts abuse if the music is not up to his standards," Sparv explains.
Slovakia: Marek Hamsík
Slovakia star Marek Hamsik / Matthias Hangst/Getty Images
At 33, Hamšík is the player the Slovakia team look up to, but he lets others take responsibility for the dressing-room music. "Normally the DJ in the team is Juraj Kucka," he says, with the 34-year-old Parma midfielder charged with bringing the noise for EURO 2020. Slovakia's big dressing room tunes are "mostly Slovak songs" – usually on the boom box, though Hamšík says his team morph into performers on good days: "We have our own shout called Palmolive after each of our own victories."
Croatia: Domagoj Vida
Patriotic bangers dominate Beşiktaş defender Vida's dressing-room choices. "We usually use my phone and playlist," he says. "But [full-back] Šime Vrsaljko is a high-energy guy, with good ideas when it comes to a song selection." Vida reckons Croatia have musical skills too; winger Ivan Perišić can sing, and goalkeeper Dominik Livaković is their top dancer. "They're from our beautiful coastal region of Dalmatia, where everybody is quite musical," he says. "Just give them any Dalmatian song and watch them go."