Major League Soccer
Gerhard Struber calls for 'resilience' as New York Red Bulls' winless streak extends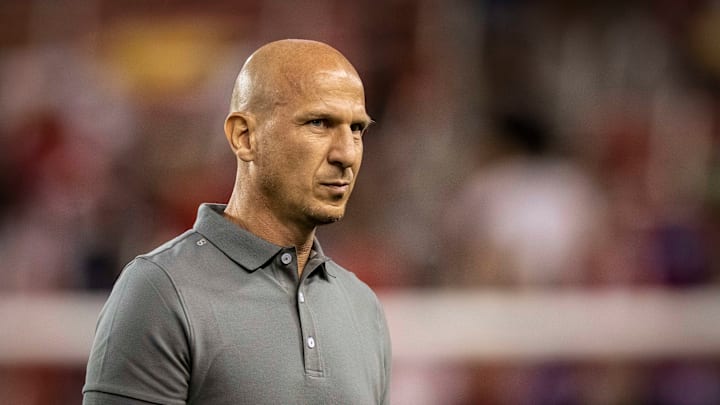 RBNY are now winless in their last seven MLS games. / Ira L. Black - Corbis/Getty Images
New York Red Bulls head coach Gerhard Struber has called for 'reslience' from his players following their 2-1 defeat to CF Montreal on Saturday.
Despite leading 1-0 at half-time, Sunusi Ibrahim's strike and a 98th-minute Victor Wanyama penalty were enough to condemn the Red Bulls to a fourth defeat in five, while their winless streak now extends to seven games.
As a result, RBNY sit ninth in the Eastern Conference, seven points below the playoff line. But Struber isn't giving up on post-season qualification just yet.
"It's clear that the playoffs are a clear goal for us, and we fight and we work for this goal," Struber said after the match (via the official New York Red Bulls website). "We always speak about the big vision, we build up a team with a clear goal this season to come one more time in the playoffs, I think this is very, very important."
To reach the playoffs, though, Struber believes his side need to show resilience and belief in their identity.
"We have to be very resilient in this moment, and this is not easy for me and for my coaching staff, and also for the players to realize at the moment these results," he added. "But we have to be very close together. We have to believe in our identity and also that we build up a big resilience in these moments.
"It's very, very important for us to be very close together. Find a good mindset for the game on Wednesday. Right now, we have to reflect [on] it, and to be very clear for the next game, and this is the most important thing right now."
One source of comfort comes in the fact that RBNY's next four MLS games come at Red Bull Arena. Struber's side have lost just two of their eight home ties this season, and those defeats were at the hands of New England Revolution and Sporting Kansas City, respective leaders of the Eastern and Western Conferences.
The first of those home games is against reigning MLS Cup champions Columbus Crew on Wednesday before a Hudson River derby clash with NYCFC on Saturday.