Lists
Must-see footballer vs professional wrestler feuds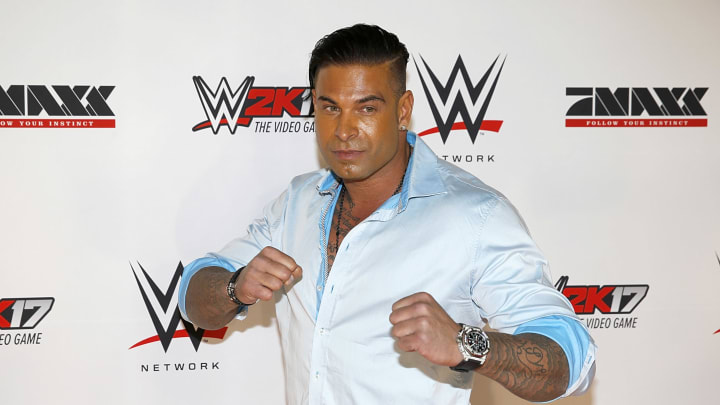 Goalkeeper Tim Wiese opened the forbidden door in the 2010s / Dominik Bindl/Getty Images
There are a few of us at 90min who have, truthfully, never properly grown up and still insist that professional wrestling is brilliant as a result. Because it is.
We've picked footballer tag teams, selected finishers for players and even paired up clubs with some entrance music, but it's time to put it all to the test. What's a gimmick without putting your brand on the line for the world to see? It's time for some ruthless aggression.
Combining the world of professional wrestling with football once again, here are 25 crossover feuds that would be enough to start a promotion that trumps both WWE and AEW. We're that confident. You want some? Come get some.
---
25.

Kurt Angle vs Tim Wiese
Wiese is now built like a machine / TF-Images/Getty Images
The battle of two jacked men who were tempted by a secondary sport. The feud you never knew you needed.

Imagine the scenes when Angle - straps down - flattens Wiese with a textbook German suplex, but the goalkeeper no sells and locks in a claw grip to tap out the Olympic wrestler.
24.

Luis Suarez vs Tajiri
Suarez has met his match, here / Masashi Hara/Getty Images
Mist is an underused trope in western wrestling. We're bringing it and Tajiri back into the limelight.

This match ends when either Suarez or Tajiri blinds the opponent with the perfect gust of green mist. No holds barred.
23.

Paul Pogba vs Scotty 2 Hotty
Pogba is made for wrestling / Matthias Hangst/Getty Images
Pogba would make the ideal professional wrestler in WWE. Incredibly charismatic, a physical beast and insanely talented.

Top of the card or bottom, he'd make things entertaining and must see. A ten-minute classic with Scotty 2 Hotty involving flips, trips and each man doing the worm or some other dance to pop the crowd. Perfect appetiser.
22.

Grant Holt Battle Royale
Holt briefly entered the wrestling business after retirement / Mark Runnacles/Getty Images
We mentioned the Grant Holt Memorial Battle Royale when fantasy booking Summerslam into a football card, but it's time to take it up a notch.

Ten footballers, ten wrestlers. Fringe and youth players, lower mid-carders from any and all promotions. The winner lifts a massive trophy of Grant Holt and gets a title opportunity/cup final start guarantee, any time, any club, any place.
21.

Roy Keane vs Sabu - Hardcore match
You might need that, Roy... / Mike Hewitt/Getty Images
No nonsense, just how Keane likes it. No rubbish promos, no unnecessary storytelling. Just two industry psychos going at each other no holds barred.

Watching Keane work his way around a wrestling ring with more weapons than imaginable at his disposal would be interesting. Just a shame he'd be against one of wrestling's greatest ECW alumni.
20.

Billy Sharp vs Mick Foley - battle of the best friends
Sharp is a big Foley fan / Robbie Jay Barratt - AMA/Getty Images
Having shared breakfast together following Foley catching wind of Sharp's 'Mr Socko' celebration in 2019, some friendly competition wouldn't go amiss.

Pinfall, submission or by way of the shared finisher, only one person can rightfully own Mr Socko following the result.
19.

Britt Baker & Becky Lynch vs Megan Rapinoe
Rapinoe would make a great wrestler / Richard Heathcote/Getty Images
For as good as Rapinoe is at football, her character away from the pitch has been rather polarising. That's exactly why she'd be box office in the squared circle.

Put her in a handicap match against two of the women's divisions greatest talkers and athletes and watch the magic happen. Rapinoe would turn up the drama and benefit regardless of the result, heel or babyface.
18.

Chris Jericho vs Joshua Kimmich
Jericho would humble Kimmich / Etsuo Hara/Getty Images
From Lionheart to Le Champion, the man of a thousand gimmicks would meet his footballing match; the man of a thousand positions.

What Kimmich might lack in charisma compared to Jericho he makes up for with technical excellence and serious versatility, giving us a match for the real technical grappling enthusiasts. Give Jericho a list or a plant to spice things up, if needed.
17.

Pierre-Emerick Aubameyang & Alexandre Lacazette vs The Young Bucks
The pair should try something new / Shaun Botterill/Getty Images
Mikel Arteta seems pretty frustrated with his pair of strikers in the footballing world, so why not ship them off to be useful elsewhere?

Aubameyang and Lacazette have fine chemistry together and would provide great babyface competition for AEW's Young Bucks, who are despicable in every sense of the word. Hell, a valiant display might get Arsenal fans back onside.
16.

Sheikh Mansour vs Tony Khan - Battle of the billionaires 2
Aguero would fly the flag for City once again / Mike Hewitt/Getty Images
Mr McMahon vs Donald Trump at WrestleMania 23 was nothing short of iconic, with Umaga and Bobby Lashley brawling as Stone Cold Steve Austin refereed.

It's time for a stipulation revisit, but refreshed. With Sergio Aguero representing Mansour and Cody Rhodes representing Khan. And for good measure, Mike Dean can referee. Losing billionaire goes bald, of course.
15.

Team Premier League vs Team Bundesliga vs Team WWE vs Team AEW
Bundesliga have talent at their disposal / Visionhaus/Getty Images
What's a wrestling extravaganza without a big, messy bragging rights battle?

Football fans argue which league is best just like wrestling fans argue with which promotion is best. Three MVPs from each division show up and - no disqualifications - fight it out to see which of these elite groups is truly the top trump. Send Shane Duffy over for the Premier League, purely for the slide tackles.
14.

Raul Jimenez vs Rey Mysterio
Jimenez has whipped out a lucha mask in the past / Catherine Ivill/Getty Images
It's simple. Mask versus mask.

Jimenez has celebrated in the past by donning the iconic luchador luck and Mysterio is wrestling's most famous ever at this point. Big versus small, this one has all the hallmarks of a classic. If Jimenez wins, he gets to wear a luchador mask in every football game he plays going forward. And he gets pyro.
13.

Lionel Messi & Cristiano Ronaldo vs Daniel Bryan & Will Ospreay
When worlds collide / Nicolò Campo/Getty Images
The best versus the best. The very pinnacle of excellence in each industries coming together for the bigger picture and fighting the cause.

For the only time ever (unless PSG have something to say about it) Messi and Ronaldo join forces, while two of wrestling's very best technical workers team up also. One for the enthusiasts, this. Sod it, have plenty of flashy golden belts up for grabs here, too.
12.

AJ Styles vs Nani
Michael Carrick wouldn't be in Nani's corner / Michael Regan/Getty Images
Stories are fun, and big blokes from different sports lamping one another is great. But deep down, we all love the daft, flippy matches.

AJ Styles can do just about everything and is entertaining in every sense of the word, while Nani lit up the Barclays and gave Sir Alex Ferguson heart palpitations every weekend with his flips. Put them in a ring and let the magic happen.
11.

Romelu Lukaku vs CM Punk
Rom's return was overshadowed / JUSTIN TALLIS/Getty Images
Nothing pops a crowd like a hearty return story. And while CM Punk shocked the world by showing up at AEW, Lukaku was doing the same at Chelsea.

Have the two fight it out to see who has truly proven to be the smartest bit of business. Lukaku would come out on top, though, with interference with fellow Chelsea returnee Lauren James, before standing tall with some CM Punk ice cream bars to rub salt in the wounds.
10.

CM Punk vs Jamie Vardy
Vardy would send Punk back to UFC / Rey Del Rio/Getty Images
After losing to Lukaku, Punk turns heel and pulls double duty on the show to make the most of that return.

Reverting back to his straight-edge society gimmick, he's humbled by Leicester's erratic striker. Vardy - swigging vodka Red Bulls like a prime Stone Cold - comes out and hands Punk some more humble pie.
9.

Ramos, Rojo & De Rossi vs Bullet Club
Ramos is made for professional wrestling / Angel Martinez/Getty Images
If there's any stable of footballers that could band together and stop one of modern wrestling's biggest factions, it's this trio of nutters.

Winning pedigree with Ramos, and all out aggression with Rojo and De Rossi. No holds barred. Weapons and the lot. We've seen what Rojo is capable of since signing for Boca Juniors. This one would go down in history.
8.

Jose Mourinho vs Mr McMahon
Mourinho could give McMahon a run for his money / Justin Setterfield/Getty Images
It's not box office level football without Mourinho involved. Likewise, it's not box office wrestling if Mr McMahon isn't out heeling it up.

Football and wrestling's strongest and most entertaining characters. Ego vs ego. Heritage vs heritage. Imagine the promos and storylines in the build-up to this. We'd never see entertainment like it ever again. Loser goes bald stipulation too, just for a laugh.
7.

Declan Rice & Mason Mount vs The Hardy Boyz
Eyeing up wrestling gold / Marc Atkins/Getty Images
A battle of brothers. Rice and Mount finally get the chance to play on the same side, and can draw on history and England chemistry in a tough contest.

Tables, ladders and chairs. Experts in football vs experts in tag wrestling, and fan favourites all round. Expect for it all to be left in the ring with this one, but also a potential villainous turn from one of Rice or Mount should they lose.
6.

Adebayo Akinfenwa vs Braun Strowman vs Adama Traore vs Brock Lesnar
Built like a world champion / Alex Livesey/Getty Images
Two of football's biggest units. Akinfenwa and Traore would no doubt be a champion within weeks if they ever headed to WWE.

Put them inside the ring with two of wrestling's biggest lads and that's a fatal four-way that can only end with the ring literally exploding. Box office.
5.

Rojo and Ramos vs the Dudley Boyz
'Sergio, get the fire extinguisher' / Pool/Getty Images
Having lost De Rossi to the Bullet Club, Rojo and Ramos have gone as a duo in pursuit of the top of the tag team mountain.

Where is that mountain? Dudleyville, of course. Let two of football's biggest psychos loose against two ECW originals. Rojo will not sell that 3-D through the table and have the crowd roaring as Ramos comes in off the top rope.
4.

Lionel Messi vs Daniel Bryan
Bryan would have plenty to say about the economics of Messi's transfer / Catherine Steenkeste/Getty Images
We've had a tag team showdown of the best versus the best, but this is where the money is.

When an unstoppable force meets an immovable object. The trailblazer of each industry going at it, no time limit, full capacity. The story writes itself; bonus points if Bryan reverts back to his eco-warrior character and lectures Messi on the environmental impact of his PSG transfer.
3.

Francesco Totti vs Undertaker
Totti's career resembles the Undertaker's in length and history / Laurence Griffiths/Getty Images
Let's pretend for a minute that the Undertaker losing his streak at WrestleMania 30 didn't happen, for the greater good of this match - and mankind.

Totti is the Undertaker's football equivalent - minus the trench coats, deathly tones and Harley Davidsons - so to have two legends pitted against each other in a streak versus streak match is vital. Gives the card the edge of tradition and heritage it needs.
2.

Ballon d'Or in the Bank
It's gonna take some doing suspending that above a ring / Philipp Schmidli/Getty Images
Who doesn't love money in the bank? Add a bunch of footballers into the mix and watch the carnage multiply by ten.

A mix of high-flying superstars and risk-taking, ambitious footballers desperate for a shot with the elite. First to climb the ladder and retrieve the Ballon d'Or trophy gets one added to their CV; wrestlers get their usual title shot. But let's hope a footballer wins.
1.

John Cena vs David Beckham
Becks has already got his style sorted / Mark Brown/Getty Images
This is it. This is what Vince McMahon's dreams are made of. The ultimate franchise face off.

Cena once teased David Beckham about a wrestling match at WrestleMania 30 way back in 2007, but don't think we forgot about the offer, John. The time is now, and in the hybrid of the two sports, there can only be one franchise player. Mr football versus Mr wrestling. A 40 minute clinic for the ages. Merchandise sales through the roof.
---