Lists
The football teams Conor McGregor & other UFC stars support
Conor McGregor got knocked out on Saturday / Handout/Getty Images
The sporting world was served up a huge shock in the early hours of Sunday morning, as the legendary Conor McGregor was knocked out by Dustin Poirier in UFC 257.
But getting literally battered into unconsciousness probably won't have been the most painful experience of the Notorious' week, as he was forced to watch on while Celtic were held to a 2-2 draw against Livingston on Wednesday.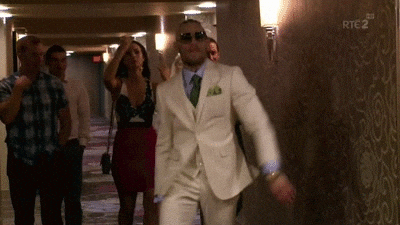 Ouch, indeed. The Irishman is a big supporter of the Hoops, and he'll be smarting over his side's capitulation in their bid to win a tenth successive Scottish Premiership title...perhaps their poor form affected his display - who knows?
McGregor is not alone in his shared passion of fighting and football in the world of UFC. So, which fighters are fans of the beautiful game, and which clubs do they support?
---
1.

Conor McGregor - Celtic & Manchester United
As mentioned, McGregor loves Celtic - and it makes sense for one former champion to love another giant on the verge of losing their crown. Nine years of success are set to come to an end, but if there is one consolation for the Hoops, it's that their celebrity supporter won't be too heartbroken.

The fighter is also a Manchester United fan, stating in an interview with the club that he was attracted to their winning mentality.

"I was attracted to the success and winning mentality of the club and people surrounded by United. Irish legends like Denis Irwin and Roy Keane were dedicated to their craft and had that winning mentality." Makes sense.
---
2.

Khabib Nurmagomedov - Various
McGregor's nemesis Khabib Nurmagomedov may be decisive in the Octagon, but he has some trouble picking a side away from his natural habitat.

The UFC legend has been spotted wearing the jerseys of a number of clubs, including Anzhi Makhachkala, Galatasaray, Real Madrid and Liverpool. He has also donned the Celtic shirt before, although presumably he'll have to fight McGregor to become their number one fan.

He's also got the skills to pay the bills, as the video above proves. A second career, perhaps?
---
3.

Michael Bisping - Manchester United
Man Utd are well supported among the UFC faithful, with Michael Bisping also representing the Red Devils in the Octagon. The retired MMA fighter is known as the Count, and worked in a slaughterhouse in his early years.

Perhaps he is the man needed to give the half-time team talks when Ole Gunnar Solskjaer is struggling to motivate some of his superstars...

15 minutes with Bisping, and you'll exit that dressing room a changed man.
---
4.

José Aldo - Flamengo & Chelsea
Jose Aldo has dedicated his life to the world of mixed martial arts, and he has enjoyed enormous success in his field. But there is another passion that burns within the Brazilian, and that is Flamengo.

The 34-year-old is a huge supporter of the Brazilian side, and he probably lost his mind when they scored two goals in the last five minutes to win the Copa Libertadores back in 2019.

However, he does also support a Premier League side - Chelsea... presumably he was a big Willian fan.
---
5.

Ronda Rousey - Flamengo
So, Ronda Rousey is not a major 'soccer' fan, but she has been pictured in a Flamengo shirt, so we're nailing her colours to that mast.

The female MMA star defeated Bethe Correia inside 34 seconds in 2015, and she decided to stick around in Brazil to celebrate her victory.

In fact, she even attended her first ever football game with Aldo, when she witnessed Flamengo take on Santos at the Maracana. If you're going to pick your first ever football match, make it a good'un, eh?
---
6.

Darren Till - Liverpool
Born in Merseyside, Darren Till is a Red. He has supported Liverpool for years, and took great pleasure in their famous title win in 2020.

In an interview with TalkSport, the fighter admitted he went to the ground when the title was confirmed, but couldn't enjoy the festivities for too long, as he had training the following day.

"Oh it was good! I went down to the ground [when the title was confirmed], but I couldn't stay long because I had training the next day!

"So I only stayed until about one in the morning and celebrated with all the fans. And there was a few of the players there as well so it was good. And then the next day we all went down to the Albert Dock, which is like our sort of pier head, and it was good."
---
7.

Paul Craig - Kieran Tierney/Celtic?
Finally, we have Scottish UFC star Paul Craig. Incredibly, he began his sporting adventure as a footballer, and played for the Hearts youth team as a youngster.

Ultimately, his dreams of becoming a professional footballer never quite came to fruition, but as one door closed, another opened. Craig discovered he had a natural gift for fighting, and the rest is history.

He also had the support of Celtic's finest back in 2017, when Kieran Tierney went to enjoy a training session at his gym. Craig also put the Celtic Girls football team through their paces in 2018, so his links to the club are undeniable.
---