UEFA Euro 2020
Flying ants could swarm to Wembley for Euro 2020 final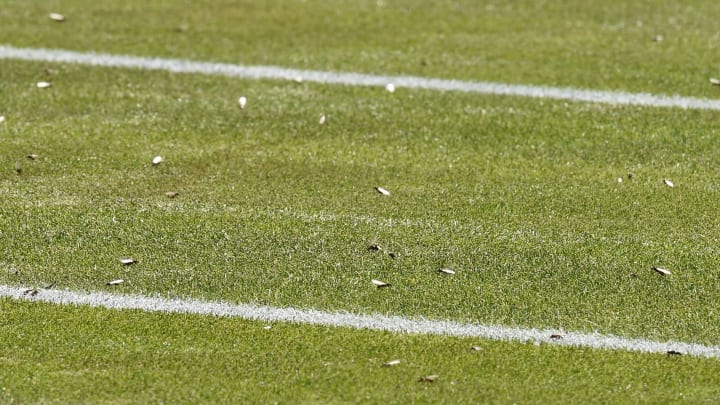 Flying ants could be an issue at Wembley on Sunday night / AFP Contributor/Getty Images
England and Italy may not be alone on the Wembley Stadium turf for the Euro 2020 final on Sunday evening, as millions of flying ants have been detected flying over London and the south east of the country.
The insects mate during their flight between the months of June and September, making it difficult to typically predict when they are likely to take to the skies throughout the summer. But experts have spotted some major activity from the flying ants, and the evidence suggests they could return to being a nuisance on Sunday.
In fact, the Met Office has detected millions of flying ants on their radars flying over London, which could cause a disturbance on the pitch for the players during England and Italy's Euro 2020 final at Wembley.
Adam Hart, professor of Science Communication at the University of Gloucestershire and a fellow of the Royal Entomological Society, told Sky News that Sunday's sightings of the ants were only the beginning for the summer period.
"If conditions are right on Sunday there may be more than three lions on shirts at Wembley and all around the country," he quipped.
"It's exciting to see the first of the big 'flying ant' events that will continue over the summer.
"Unlike the wingless worker ants we normally see, 'flying ants' have wings and are quite a bit larger."
England and Italy supporters will hope these insects don't cause too much of a distraction for their heroes on the Wembley pitch, as they look to claim Euro 2020 glory in the grand final.
It wouldn't be the first time, either. Euro 2016's final between France and Portugal was interrupted by an invasion of moths which took every opportunity to land upon the players and float around the pitch.
Let's hope the ants play less of a role this time round.