England
FIFA issues statement on racist abuse of England players in Hungary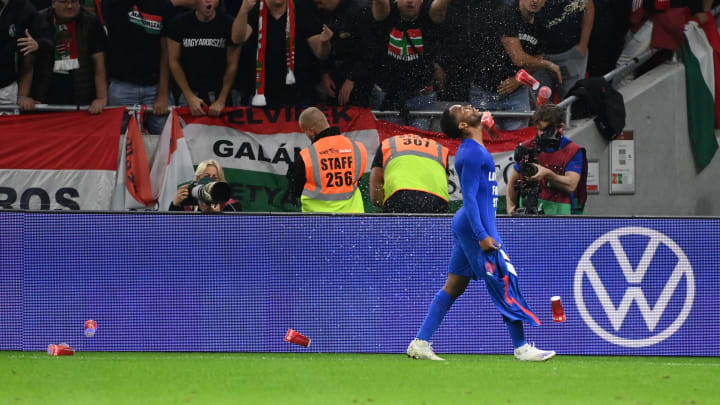 Racist abuse was directed at Sterling / ATTILA KISBENEDEK/Getty Images
FIFA have issued a statement confirming they are set to investigate the racial abuse of Raheem Sterling and Jude Bellingham by Hungary fans.
The England players were subjected to monkey chanting by the Hungarian supporters during the Three Lions' comfortable 4-0 win in the Puskas Arena on Thursday evening.
In the statement issued by footballing governing body, FIFA confirmed that 'adequate action' will be taken:
"First and foremost, FIFA strongly rejects any form of racism and violence and has a very clear zero tolerance stance for such behaviour in football.
"FIFA will take adequate actions as soon as it receives match reports concerning yesterday's Hungary-England game."
The statement comes after FIFA were heavily criticised for not sanctioning three of Hungary's home World Cup qualifiers to be played behind closed doors. UEFA had banned fans from three games after Hungary fans hurled racist and homophobic abuse at players during Euro 2020. While a UEFA ban doesn't technically fall under FIFA jurisdiction, it was hoped that some common sense would prevail - which it didn't.
Speaking after the game, England manager Gareth Southgate condemned the Hungary fans as 'dinosaurs':
"I have heard reports of racism and we were not aware of that during the game," he toldBBC Radio 5 Live. "Everyone knows what we stand for as a team and that's completely unacceptable. It's been reported to [FIFA].
"I am not sure we were particularly sensible celebrating right in front of their fans with the flare but the racism is the key part. We try to take a right stand, we knew taking the knee would get an adverse reaction and anything of that nature is unacceptable.
"I don't think our players can do anything more, in terms of getting the messaging out. It's up to other people now. They shouldn't be subjected to any form of racism.
"People stuck in their prejudices are going to be the dinosaurs in the end. Because the world is modernising."
---