FIFA 23
How HyperMotion 2.0 works in FIFA 23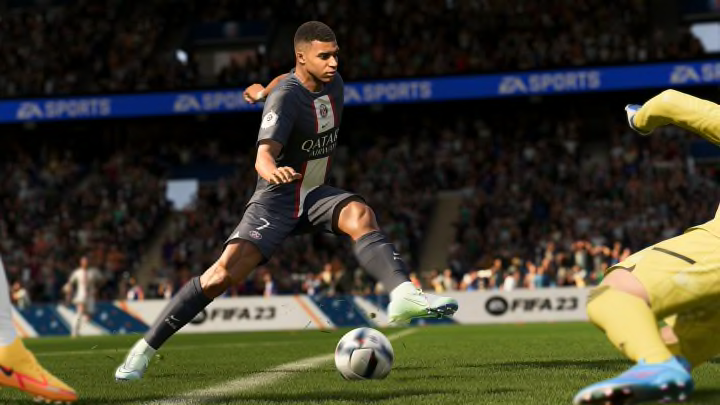 Mbappe in action in-game / Courtesy of FIFA 23
Brought to you by
The introduction of HyperMotion 2.0 to FIFA 23 has only added to the realism of EA Sports' latest release.

Next Gen players can experience the latest technology and all its benefits, which have been calculated and drawn up after extensive testing.
Here's a closer look at HyperMotion 2.0.

---
1.

Advanced 11v11 Capture

A lot of research and motion capturing went into the development of the original HyperMotion technology, but those efforts were more than doubled for the new-and-improved model.

All about watching and capturing the real-life moments of your favourite players, Xsens suits were used to track millions of frames of animation from two full, high-level matches between professional players.

Researchers also tracked player movements across five intense training drills in order to build the best-possible animations for FIFA 23.
2.

Machine Learning

An updated Machine Learning (ML) algorithm was developed to make the most of all the new motion captures and implement them effectively into a match.

As is the case on the real pitch, players need to be able to react to anything and everything, from deflections to teammate movements, and the new ML system makes that a real possibility.

A more reliable, accurate series of movements can be expected from virtual players in FIFA 23.
3.

Powering the Women's Game

Women's football plays a major part in FIFA 23 and a unique set of animations have been created to ensure the gameplay is as realistic as possible.

Special motion capture events were held and women-only animations have been created, ensuring women's football is not impacted by the same game mechanics given to the male players.

Certain star players, including Sam Kerr, have even been given their own authentic, unique running style, which only adds to the realism.
4.

Technical Dribbling

A new, more intelligent dribbling system has been created to improve all aspects of dribbling and ball control.

With the ML active all the time, player animations will be decided by the speed of movement and distance to the ball, while the attributes of each virtual player will also have a major impact on the game.

Players with high dribbling, ball control, agility and reactions will feel a noticeable improvement in the responsiveness of their actions, ensuring those star players really feel as special as they are.
5.

AcceleRATE

One of the most important aspects of HyperMotion 2.0 is the creation of the AcceleRATE system, which splits players up into three acceleration styles: Controlled, Explosive and Lengthy.

Controlled players will accelerate at an average speed, whereas Explosive players will reach their top speed faster and will win races over shorter distances. Lengthy players, which tend to be the game's taller athletes, are slower to reach full acceleration but can maintain their top speed for longer.

The impact of these acceleration styles is massive and something which needs to be considered when putting your team together.

This article is brought to you by FIFA 23. Play Now
---