FIFA 23 Player Ratings: 23 best players on FIFA 23 announced by EA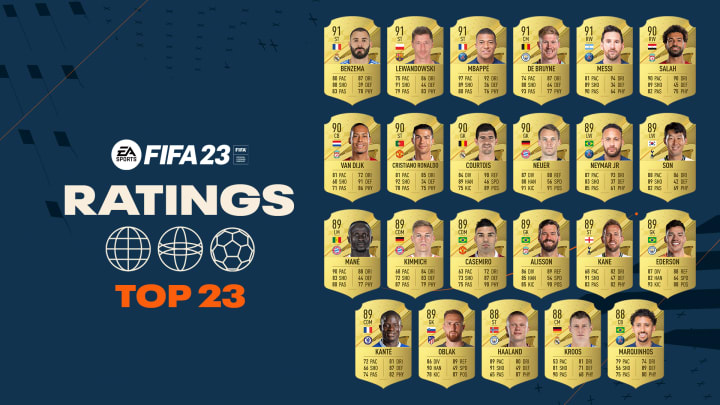 The FIFA 23 ratings are here / EA Sports
The top 23 players in FIFA 23 have been revealed, with five players sharing the honour of being the game's top talent.
Usual suspect Lionel Messi is there at 91 overall, but this year, he is joined by Karim Benzema, Robert Lewandowski, Kylian Mbappe and Kevin De Bruyne.
It's the first time in Ultimate Team history that five players have shared the game's highest rating and the first time since FIFA 19 that Messi hasn't been on his own at the top of the rankings.
The top players in FUT 23 / EA Sports
Behind them is the 90-rated group of Mohamed Salah, Virgil van Dijk, Thibaut Courtois, Manuel Neuer and Cristiano Ronaldo. For the latter, it's his lowest rating since he came in at 89 in FIFA 10 and FIFA 11.
There are plenty of 89-rated players, six of whom play their club football in the Premier League: Son Heung-min, Harry Kane, Casemiro, Ederson, Alisson and N'Golo Kante.
Neymar flies the flag for Ligue 1 and Jan Oblak is La Liga's sole 89, with Bayern Munich duo Joshua Kimmich and Sadio Mane also making the cut.
Rounding out the top 23 are Erling Haaland, Toni Kroos and Marquinhos, all of whom have been given 88-rated cards.
The top players in FUT 23 / EA Sports
The top 23 players in FIFA 23 Ultimate Team - ranked
Kylian Mbappe - 91
Karim Benzema - 91
Robert Lewandowski - 91
Kevin De Bruyne - 91
Lionel Messi - 91
Mohamed Salah - 90
Virgil van Dijk - 90
Cristiano Ronaldo - 90
Thibaut Courtois - 90
Manuel Neuer - 90
Neymar - 89
Son Heung-min - 89
Sadio Mane - 89
Joshua Kimmich - 89
Casemiro - 89
Alisson - 89
Harry Kane - 89
Ederson - 89
N'Golo Kante - 89
Jan Oblak - 89
Erling Haaland - 88
Toni Kroos - 88
Marquinhos - 88