World Cup
Faces of Football: Qatar - a letter to the national team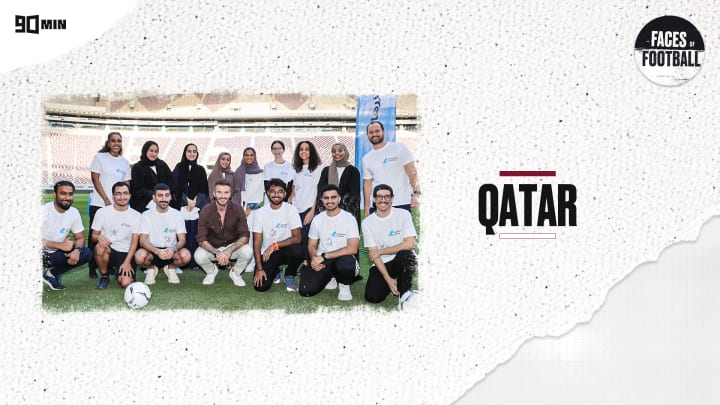 Image by Matthew Burt- 90min /
Dear Qatari national team, 
I am Maha Albadr, an 18-year-old girl from Doha, Qatar. As a young girl, I was always interested in football, having grown up seeing how passionate Qatari people are about the sport and how much they show that week in, week out at stadiums across the country.
I still remember attending my first ever game - it was magical. I was only six years old at the time, and I attended Al Sadd vs. Al-Gharafa in Jassim Bin Hamed Stadium. My most vivid memory of that game is how big everything seemed. I'm sure it was a regular sized stadium but I was so little and was used to watching games on tv that everything seemed huge in real life. 
My dad used to always say that the golden era for the Qatar national team was in 1992 when we won the Gulf Cup and that nothing would ever compare to that, but here we are 30 years later gearing up to watch our national team play at the FIFA World Cup. 
I am super proud of our national team and I know that I speak for all Qataris when I say that. 
When I say that football brings us together, it truly does. For example, when Qatar competed in the Copa America, there was a huge time difference between Qatar and Brazil but it didn't stop us from supporting our team. We woke up at 2am to watch our nation play.
I can't believe that we are hosting the World Cup! We are so excited to welcome the whole world to our country, it is a dream come true. I attended the 2018 World Cup in Russia and all I could think while I was there was how it would be when we hosted in 2022, cheering on our nation and celebrating the beautiful game.
To my national team and the coaches: thank you! We are all proud of you. You are creating history for our country, and I know that there may be pressure to perform but, regardless of results, we will celebrate you all. We will cheer for you. We will always support you. 
Yalla Qatar!